The Lagos state All Progressives Congress (APC) and their governorship candidate, Akinwunmi Ambode, again amassed massive support and reception today as the entire campaign train continued their march of victory into the Oshodi-Isolo Local Government Area (LGA).
This was evident at the Ejigbo Playing Ground venue of the rally, where thousands of party faithful and supporters had gathered from Oshodi, Isolo and Ejigbo to rout support for Ambode and his the winning team.
The party itself didn't disappoint as they were consistent in their promise of a people-oriented government, reassuring the crowd that Akinwunmi Ambode will consolidate on the wonderful manifestations of good governance that Lagos is known already for.
Ambode appreciated the crowd turnout and readily identified with the people having served in the LGA as a Treasurer in the course of his 27-year career in public service. "I appreciate you all my dear people of Oshodi-Isolo and I bring good tidings. I am part of your story, and this gives me an understanding of what you deserve in governance. Our state has witnessed irreversible growth in the past 16 years, therefore, the message we've brought today is continuity."
Ambode promised the implementation of policies and programmes that will ensure rapid development within the LGA and the whole of Lagos.
"I promise the implementation of interventionist policies in our transport, infrastructural and economic sectors, that will ensure rapid development, create wealth and bring comfort to you all. We will consolidate on this excellence we are being celebrated for in Lagos.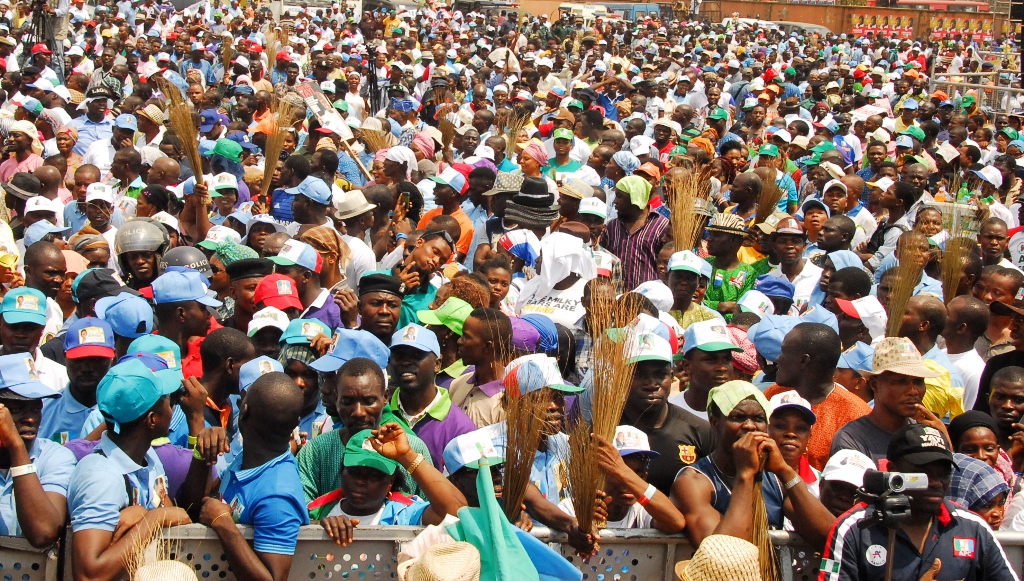 He spoke about his plans to implement an Employment Trust Fund and a Project T.H.E.S.E (Tourism, Hospitality, Entertainment, Sports and Excellence), which he will create jobs and make the youths productive. He stated that another project tagged "20-20-57" will see to the construction of 20 roads with 20 street lights every year in each of the 57 LGAs and community development areas in the state.
He added, "the great promise is the prosperity of all Lagos inhabitants. There will be prosperity and no one will be left behind".
"No retreat no surrender" was the mantra as the Oshodi electorate s brandished their brooms is assurance of their support for Ambode and the APC, despite the postponement by the INEC. Ambode further urged them to use the six weeks to strengthen their resolve to vote for good governance in Lagos and especially at the centre. "They have changed the date, but, I'm assured you won't change your mind.
The rally also witnessed a defection of members from the Peoples Democratic Party (PDP) to the APC, all expressing their assurance of adding to the APC votes that will ensure Ambode for continuity.