The tumultuous reception that greeted the entire APC Campaign train at the Amuwo campaign ground today practically cemented the victorious fate of the party in Lagos. The contagious excitement and enthusiasm expressed by the people of Amuwo-Odofin and Ori-Ade Local Government Areas proved beyond doubt that they are ready for the much needed change at the centre and the continuity in Lagos.
National Leader of the party, Asiwaju Bola Tinubu, Governors of Imo and Lagos states, Owelle Rochas Okorocha and Babatunde Fashola (SAN), with other prominent leaders of the party were all present at the campaign, and urged that the people vote for a breath of freshness over the country.
In his own speech, the All Progressives Congress (APC) governorship candidate in Lagos state, Akinwunmi Ambode, said that the he brings good tidings that will surely better the lives of every Lagosian resident, Festac residents inclusive. He promised further that the developmental programmes to be implemented by his administration when elected, will restore the whole Amuwo-Odofin to her old glory.
He mentioned the completion of major and inner roads, the exploration of Festac's waterways and tourism potentials, building of a Sports' complex, among other people-printed and issue-based programmes already enlisted by his administration to make Amuwo-Odofin greater.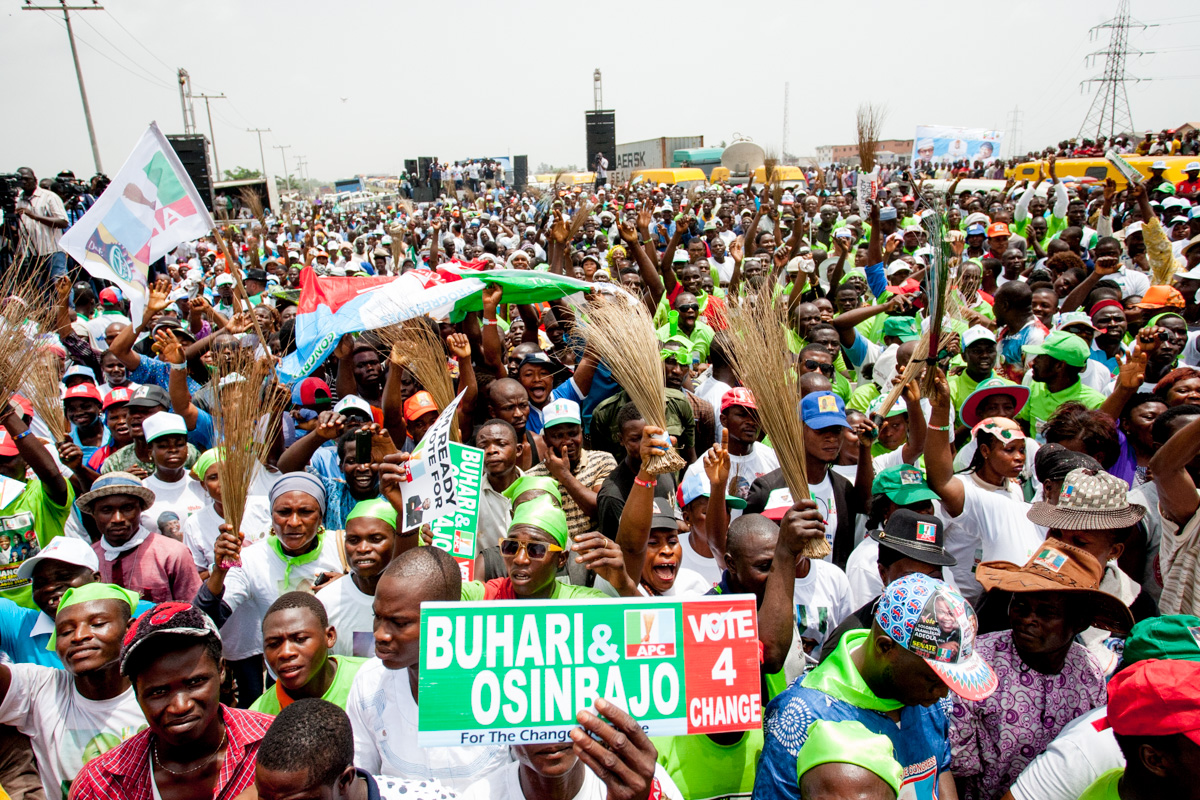 Asiwaju Tinubu also appraised Ambode's candidacy as a promising one, while likening it to Fashola's stance 8 years ago. He stated that Fashola has unarguably performed best despite his unpopularity from the outset, he then added that, there's confidence that an experienced Ambode will even perform much more.
Ambode joined all the political leaders and actors to canvass votes for effective Change in the country starting from March 28.
Governors Fashola and Okorocha decried the failures and incompetence of the PDP government, as they together strongly urged the people to vote them out and vote for all APC candidates to ensure an all-encompassing brand of good governance throughout the country.
Okorocha stated that he was at the campaign to announce the death of the PDP in Nigeria, adding that all of PDP's present tactics to upturn the fate of the country and the will of the people in the coming elections has already failed.
While urging the people to vote for the candidates of the APC in forthcoming elections, Tinubu underlined the importance of unity in the choices of people, saying that fruits of bad governance do not discriminate between tribes or religion. He enjoined them to make their votes competence and performance-dependent, and not get blinded by ethnic sentiments.