…Mulls Partnership On Security, Energy, E-Education
 The Ambassador of Finland to Nigeria, Pirjo Suomela-Chowdhury at the weekend said Lagos remains the nerve centre for trade and investment in Nigeria, just as she expressed the willingness of investors from her country to partner the state on several areas of interests.
 Suomela-Chowdhury, who spoke to Government House Correspondents shortly after she led a delegation including the Deputy Minister, Finland Ministry of Foreign Affairs, Mr. Matti Anttonen, to a meeting with Governor Akinwunmi Ambode at the Lagos House, Alausa, said they were in Nigeria to explore opportunities of cooperation, saying Lagos was the destination of choice considering its massive economic potentials.
 "Seriously when you talk about promoting trade and economic relations in Nigeria, you have to come to Lagos because everybody knows that it is the business centre of Nigeria. So we are very happy to be here.
 "We've just had a fantastic meeting with the Governor and we very much appreciate his disposition to meet all the businesses that were in the meeting and in the delegation and this is what we have been talking about in the meeting," she said.
 She said multinational companies from Finland have been doing business in Nigeria for several years, including Nokia and Wartsila, adding that several other companies and investors are willing to partner the state in the areas of health, ICT, education, security and energy.
 "They are basically in business in Telecommunications and also in public safety and also we have smaller players in many different sectors; in heath, ICT and so on. Education is also very interesting and it's up to the companies where they find these opportunities and win-win situations that they are going to invest and have operations in Nigeria," she said.
 Speaking on behalf of the State Government, the Special Adviser to the Governor on Oversea Affairs and Investments (Lagos Global), Professor Ademola Abass said the state government will look to explore several areas of cooperation with the Finnish government as a means to promote economic and trade relations.
 "As you know, Finland is a very big economy in Europe, it's about the fourth largest economy in Europe and Lagos is the fourth largest economy in Africa. So, we explored areas of cooperation, that is between Finland and Nigeria and specifically, Lagos state and we would take certain decisions which my office will be coordinating with the team, being the office responsible for overseas affairs, so that's what the meeting was all about.
Abass listed security, education and energy as the three major sectors which the meeting focused on, expressing optimism that the partnership will benefit Lagos immensely.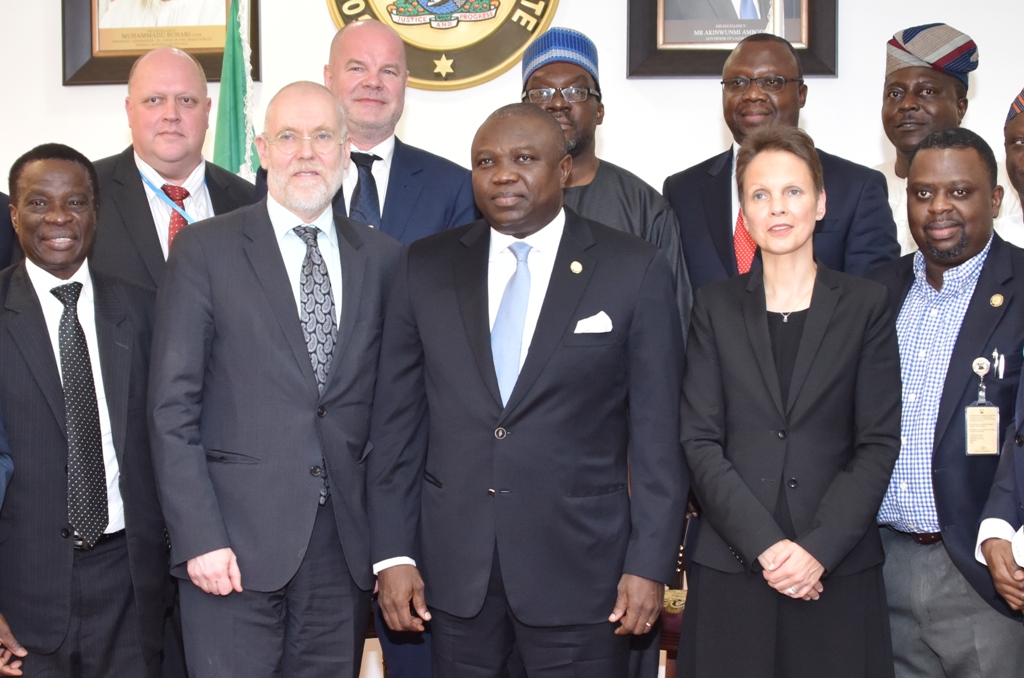 "We zeroed in on three areas; security, which one of the sectors that was present in the Finnish delegation, that is Nokia, is extremely strong in cyber security. We also did talk about they helping in the educational aspect and also in terms of energy because as you know the current drive of Lagos state is to ensure that we light up Lagos on 24/7 basis and we have been seeing evidence of that across the city.
"We have been partnering with a very strong country like Finland because of its track record in energy, Lagos stands to benefit tremendously from that relationship. So those are the areas that we have itemised, but of course as the relationship develops there would be other areas that we are going to explore with their country," Abass said.
On his part, the Deputy Minister, Mr. Matti Anttonen expressed optimism of the various opportunities in existence for both Lagos and Finland to benefit from.
"Finland is very strong in areas that are of interest to Nigeria; Power, electricity, healthcare, education, water, telecommunications and all those things which make the lives of the people better and also bring our countries closer to each other," he said.