Lagos State Governor, Mr. Akinwunmi Ambode and his Kebbi State counterpart, Alhaji Atiku Bagudu on Wednesday launched the much anticipated Lagos-Kebbi Rice christened LAKE RICE, saying that the partnership which culminated into the launch was not only designed to ensure food security but showcase the ability of Nigeria to become a producing nation.
Speaking at the launching ceremony held at Lagos House in Ikeja, Governor Ambode said the development was a great and historic moment for both states and Nigeria, as the rice would not only be sold at highly reduced price, compared to what obtains in the market, but is also very fresh and safe for consumption.
"Today is an historic day for Lagos and Kebbi States. In March 2016, we signed an MOU with an understanding that we, being proudly Nigeria, we want to come out with what is made in Nigeria and what is good in Nigeria. We took all that President Muhammadu Buhari said that we need to grow our food and we decided that we will prove a point and that is what today is all about.
"LAKE RICE is of good quality. The major difference between LAKE RICE and the ones imported is that the imported has a minimum storage of five to six years storage life span, but LAKE RICE is fresh," the Governor said.
He said the partnership would in the nearest future lead to an expansion of production of the rice, saying that Lagos has the largest consumption market.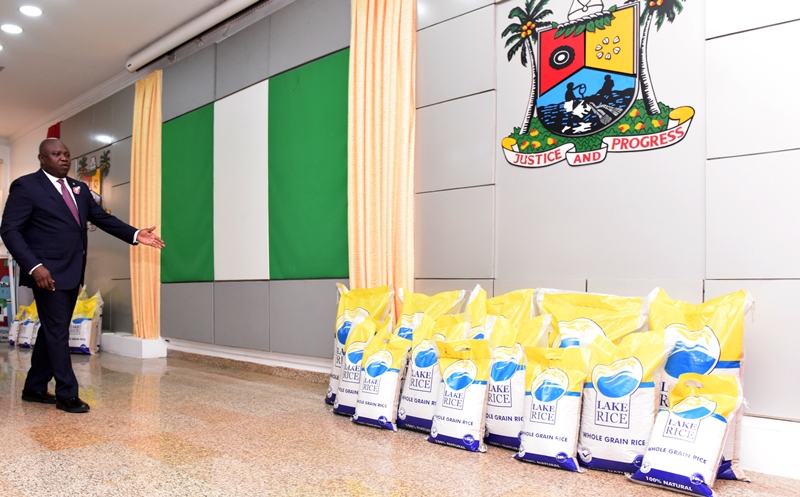 Giving a breakdown of the prices, Governor Ambode said that while the 50kg will sell for N12, 000, 25kg would go for N6, 000 and 10kg for N2, 500, adding that for now, an individual would only be allowed to purchase a bag to enable it go round.
He also commended President Muhammadu Buhari for supporting the collaboration between Lagos and Kebbi, just as he disclosed that the Federal Government has donated two rice mills to the State Government to increase production of rice next year.
Also speaking, Governor Bagudu, who went down memory lane of how the collaboration started with a discussion between him and Governor Ambode during a meeting in Abuja, said   the partnership was a confirmation of both State Governments' commitment to the agenda of making Nigeria a big market in Africa.
He said while Kebbi State has comparative advantage in area of rice production, Lagos boasts of the largest consumption market, saying that the LAKE RICE can stand any integrity test in Nigeria.
"Our rice is of quality. I am proud of this joint venture. We can do more with other commodities like Cocoa, Soya beans and Sorghum and I am very glad that we are launching the LAKE RICE today," Bagudu said.
In an earlier announcement Special Adviser to the Governor on Food Security, Ganiyu Okanlawon Sanni, who disclosed the process of purchasing the rice, said collection would be allowed after payment at designated banks or through POS, while an individual would only be allowed to buy one bag at a time to make the product reach vast majority of the people.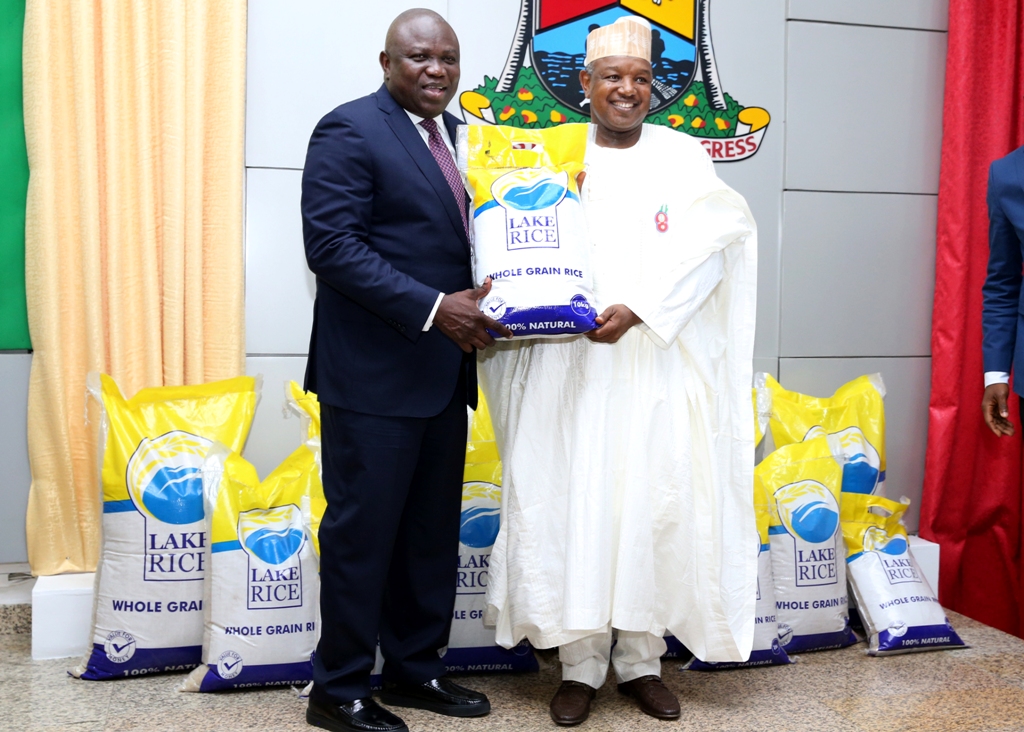 In Lagos East Senatorial District, Sanni said the rice would be available for sale at Odogunyan Farm Service Centre in Ikorodu; Temu Farm Service Centre in Epe; Naforiji Town Hall in Eredo; Magbon Alade School in Ibeju and SUBEB Premises in Maryland.
In Lagos West, the Special Adviser to the Governor said the rice would be available for sale at LSADA Farm Service Centre, Oko-Baba in Agege; LAISA in Ojo; Coconut House in Mowo; Farm Service Centre, Marina in Badagry and Ikeja Grammar School in Oshodi.
According to him, in Lagos Central, the rice would be available for sale at Agric Area Office in Ajah; LASTMA Works Yard in Adeniji/Freeman, Lagos Island; Alakoto Senior High School, Tolu in Ajegunle; Teslim Balogun Stadium in Surulere and Mobolaji Johnson Sports Centre (Rowe Park) in Yaba.
He said officials of the Committee set up by government to monitor and be in charge of the sale would be present at all the centres from Tuesday, while payment can be made to bank officials at the centres, after which the product would be given to buyers.
"Slip will be given to each customer willing to buy indicating the quantum of rice the buyer wishes to buy and we will also have officers from the bank at each of the centres where people can make payment and confirmation can be done immediately. Once they pay and we are very sure they have made payment, the bag of whatever quantum they have paid for will be given to them there and then and so we will continue this exercise until we are satisfied that Lagosians are very much satisfied based on our promise.
"An individual will only be entitled to buy one bag whether it is 50kg, 25kg or 10kg. We are about 22 million people in Lagos State and we believe there is need for the government to make sure that at least every individual is given the opportunity to buy the rice as promised earlier so that at this time of the Yuletide, everybody can have opportunity to buy and because the prices of the rice outside are so exorbitant, we believe we should allow everybody to have opportunity to buy.