Lagos State Governor, Mr. Akinwunmi Ambode on Wednesday swore in 19 new Permanent Secretaries in the State Civil Service with a call on the new appointees to immediately get to work and prove themselves, just as he urged them to make the common good of all Lagosians their watchwords.
The Governor, at the ceremony held at the Banquet Hall, Lagos House, Alausa, admonished the new appointees to ensure proficiency in the discharge of their duties, charging them to be committed to the principles of good governance, probity, transparency and accountability.
"I expect you to apply the best tenets of the Civil Service in your roles as Permanent Secretaries, making service and the common good of all Lagosians your watchwords".
"Your primary allegiance is to the people of Lagos, irrespective of creed or colour. This is the banner of this administration. You must today rededicate yourselves to the service of Lagos State", he said.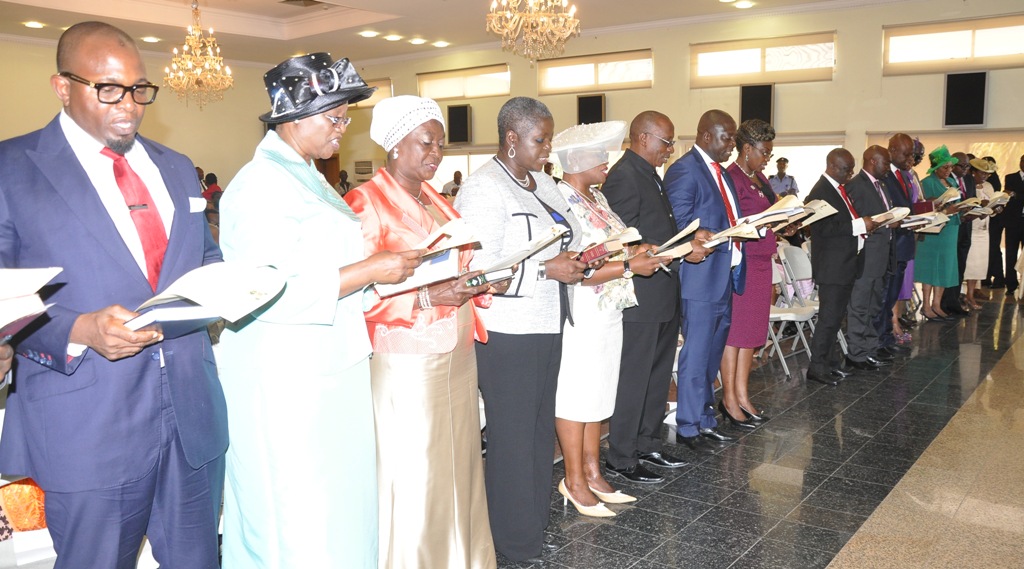 Governor Ambode said that the quality of service by his administration will be measured on daily basis, hence the Permanent Secretaries must up the ante and be alive to their responsibilities.
"Any ministry where the quality of service is compromised, the Permanent Secretary, as Accounting Officer, should be held liable. I expect nothing but excellence in this centre of excellence", he said.
He said the Permanent Secretaries were drawn from a pool of equally competent and qualified substantive directors, while a careful selection was done based on merit, professionalism and proven track record of service to the state.
Governor Ambode said the intention of his government was to carry out public sector reforms in line with one of his campaign promises to run an inclusive government and create better opportunities for residents. He said the next phase of his administration's agenda will involve constituting the State Executive Council so as to consolidate on the foundation laid in the last 60 days.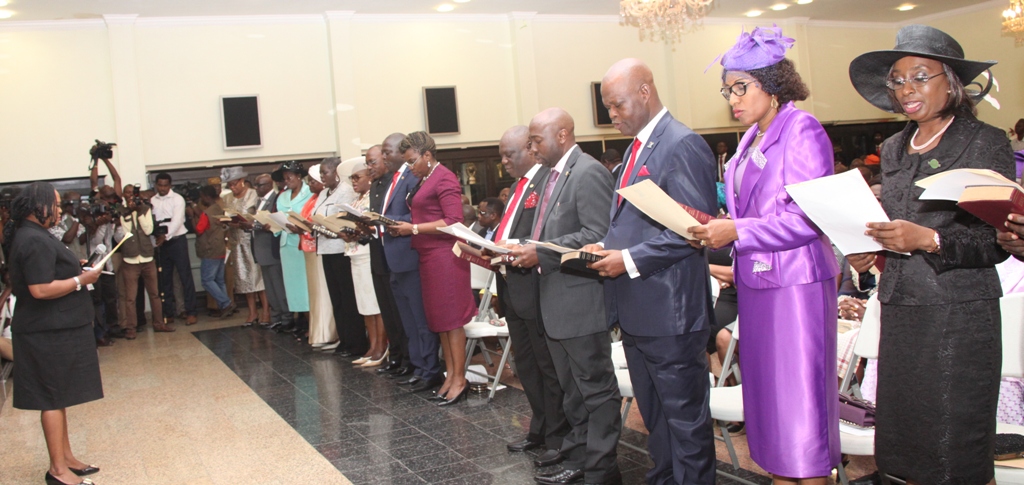 Earlier, the State Head of Service, Mrs. Folashade Jaji, who presented the new appointees to the Governor, thanked him for recognizing exemplary performance and merit as core criteria for elevation into accountable posts in the state public service.
"There is no doubt in my mind that with these appointments, a strong message has been sent across in the state public service by His Excellency that diligence, dedication, commitment, loyalty and hard work will ultimately be rewarded", she said.
Speaking on behalf of her colleagues, Mrs. Adekanye Elizabeth Adebunmi, now Permanent Secretary, Office of Civic Engagement, pledged that the confidence reposed in them to serve the state in a higher capacity will be diligently achieved.
The ceremony which was attended by retired Heads of Service and Permanent Secretaries also had family, friends and well wishers of the newly sworn in Permanent Secretaries in attendance.