The Governorship Candidate of the All Progressives Congress n Lagos State, Akinwunmi Ambode was at the swearing-in ceremony of the Executive Secretaries of the 57 Local Government Areas (LGAs) and Local Council Development Areas (LCDAs) in the state. The new Executive Secretaries were sworn in by the Governor of Lagos State, His Excellency, Babatunde Fashola (SAN).
At the event held at the Adeyemo Bero Hall in the Lagos State secretariat, Governor Fashola described the inauguration as a "short, solemn, but very important event", which ensures continuity of service delivery at the level of the LGAs and LCDAs. He said the Executive Secretaries were all inheriting a great legacy in their transitional capacities, and therefore urged them to continue the great work that has been done in their respective zones. He specifically noted security, sanitation, primary health care and education as key areas he expects them all to keep up with.
The Governor wrapped up his speech by urging the Executive Secretaries to rigorously engage all the residents in their jurisdictions to get their Permanent Voters' Cards (PVCs), an act he described as a "civic and non-partisan responsibility".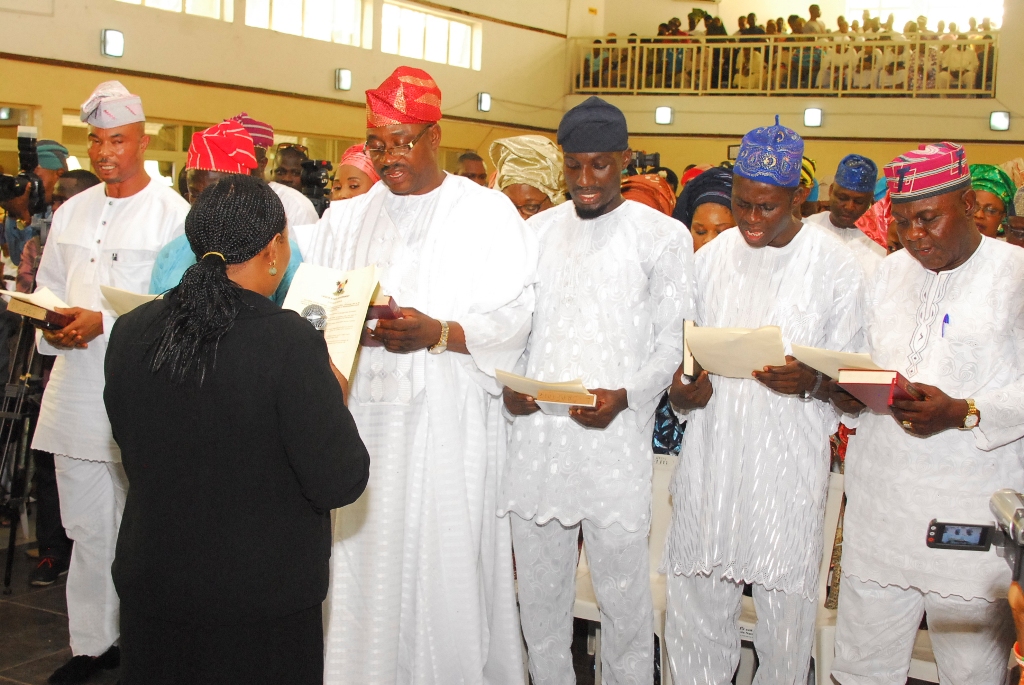 The governorship candidate of the All Progressives Congress (APC) in Lagos state, Mr. Akinwunmi Ambode was present at the event in solidarity with the process. He was introduced by Governor Fashola as "the very very esteemed and much-loved flag bearer of our great party", to the cheer of the audience.
On behalf of the new 57 Executive Secretaries, Barrister Omofunmilewa Ade-Jombo of Agege LGA, gave a vote of assurance which stated "commitment, dedication and faithfulness" as the watch words they will employ to discharge their responsibilities.
Present also at the event included the deputy Governor, Princess Adejoke Orelope-Adefulire, the Secretary to the State Government and gubernatorial running-mate, Dr. Oluranti Adebule, the state's APC party chairman, Otunba Henry Ajomale, the Commissioner for Local Government and Chieftaincy affairs, Barr. Ademorin Kuye, the Attorney-General and Commisioner for Justice, Barr. Ade Ipaye, other members of the state's Executive Council, and a large number of the party faithful.