The Obi-Igbo, a coalition of marketers, professionals, traders, and members of the Igbo community in Lagos, today pledged their total support for the APC and its governorship candidate, Akinwunmi Ambode, to ensure success in the April 11 gubernatorial elections.
They gave this assurance at a Press Conference to restate their support and approval for continuity of the APC government in Lagos.
Speaking through the leader of the delegation, Chief Charles Ahize, the Lagos Igbo community expressed their readiness to vote for the APC in Lagos, in order to contribute their quota to the maintenance of the excellence in the state.
"We are here on behalf of the Lagos Igbos to reassure the APC and Akinwunmi Ambode, the Party's gubernatorial candidate, that the Igbo community is solidly behind them. We have been supporting him and we are resolved to keep doing so", Ahize said.
"Lagos is home for all of us. There is no acrimony between the Igbos and the Yorubas in Lagos. We are united in one purpose to make Lagos greater and we have duly recognized that continuity is the only way this greatness will be achieved".
"To this end, we assure you that the APC will get landslide victory in the Igbo-dominated areas on April 11 of April", Ahize further pledged.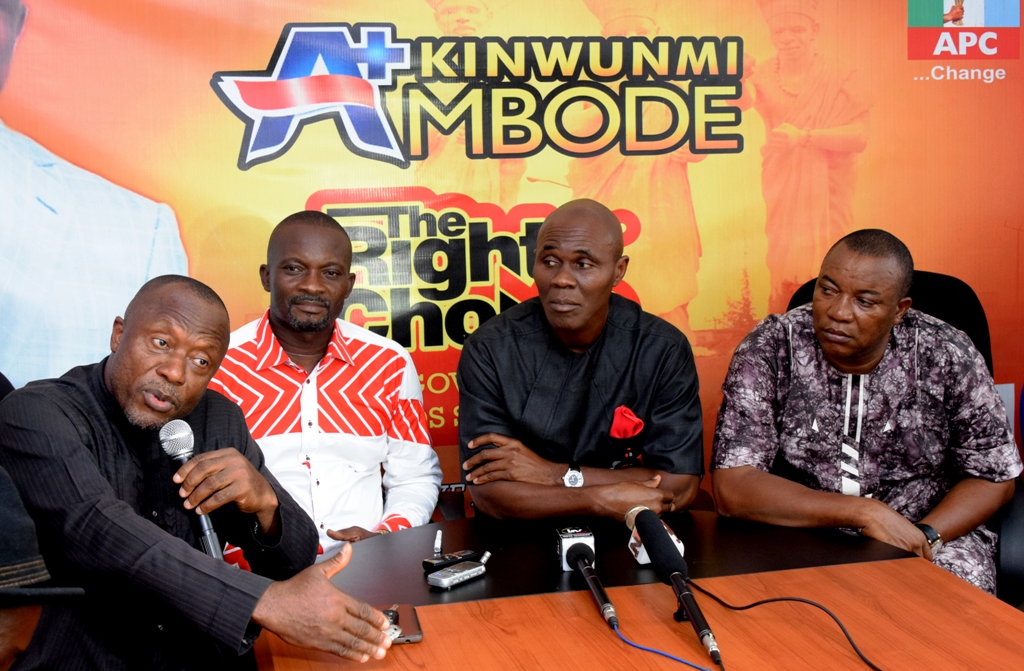 They also promised to extend their support to the APC candidates for Lagos State House of Assembly, identifying them as the ones who will work together with Ambode to guarantee that much-needed progress in the state.
While answering questions during the media chat, Sir Nnamdi Nwigwe, President, Coalition of Traders and Market Associations in Lagos, another member of delegation, doused rumors of a romance with the opposition by stating that the results of the Presidential elections in Lagos simply show how very important and politically aware the Igbo community are, stating that this awareness will be put to work for Ambode's victory.
"The Lagos Igbos are politically aware and the APC has assured us that we are partners in progress. They are a winning party and we are ready to key into their programmes to make Lagos one of the best cities in the world", Nwigwe stated.
Other Leaders of the Igbo community present at the press conference include Chief Nathaniel Anigbogu, the Chairman, Olojo drive, Alaba International Market, Barrister Charles Edward Obi, Legal Adviser, Obi-Igbo Organization, Pastor Okey Anorue, President, All Igbo States' Town Unions in Lagos, Don Metche Nnadiekwe, President-General, United Berger Motor Dealers' Association, and Chief Sunnex Ohason, Representative of All Markets Under Trade Fair Complex and President, Ndigbo Amaka Lagos.