Lagos State Governor, Mr. Akinwunmi Ambode on Sunday said his ascension into office one year ago as the 14th Governor of the State was an assignment from God, just as he vowed to continue to serve humanity selflessly throughout his tenure and lifetime.
Governor Ambode, who spoke at a thanksgiving service held at the Chapel of Christ the Light, Alausa, Ikeja in commemoration of his  first year anniversary, said his election despite many challenges, was a clear indication that God was involved right from the beginning and as such he would continue to draw strength and inspiration from the Almighty.
He said: "Exactly a year ago today, I stood before a larger congregation trying to commit myself to the opportunity that you gave me to serve you and I have tried as much as possible not to misplace that opportunity.
"I just want to thank everybody for believing in me. When I became a politician, I used to call myself a techno-politician, that is a technocrat and a politician. I never believed that I could ever survive up till this moment if not for the grace of God.
"I believe so much that this is an assignment from God and that is why I am doing it with all my totality and give back to humanity. God has been too kind to me and for that reason, I have decided that I will serve the people selflessly to the will of God," the Governor said.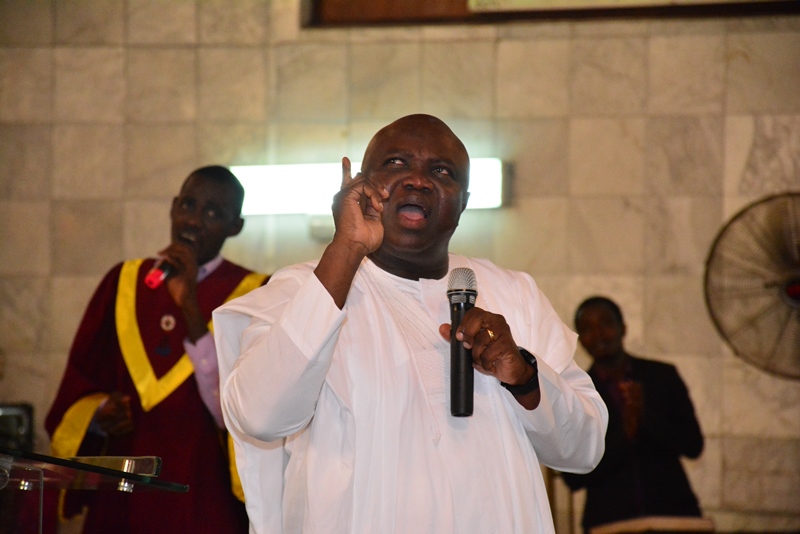 Governor Ambode, who thanked all those that stood by him, specifically appreciated his mother, family and his wife, Bolanle, who he described as a prayer warrior standing in the gap of prayer for him.
The Governor also thanked the National Leader of All Progressives Congress (APC) and former Governor of the State, Asiwaju Bola Ahmed Tinubu and the Oba of Lagos, HRM Oba Rilwan Akiolu for believing in him and supporting him.
He said: "I want to openly thank God for using them (Tinubu and Akiolu) and believing in me as well as supporting me and giving me to Lagos State. I want to thank all our party members and leaders led by the State Chairman, Chief Henry Ajomale. As much I was new, I was the new face of Lagos and they supported me."
He thanked members of the State Executive Council, civil servants, religious leaders, the Judiciary and the Legislature, saying the three arms of government in the State have worked greatly together in the last one year, which was why the State is progressing.
In his sermon, Presiding Chaplain of the Chapel, Ven. Femi Taiwo commended Governor Ambode for his sterling performance in the last one year, saying it was audible and visible for everyone to hear and see.
The clergyman, who said he was not given to praising people especially when not necessary, said the administration of Governor Ambode was a regime of noiseless transformation and alluded to the various road projects, educational transformation, street light project, massive investment in security, among others.
Earlier, Governor Ambode in his Democracy Day Broadcast Message to Lagosians, which he titled, "Daring to Dream and Ready to Actualise", said that despite the fact that the global economy is in turmoil and the Nigerian economy is facing huge challenges, Lagos has continued to march on with confidence and a clear vision.
Highlighting some of his plans for the next one year, Governor Ambode said that plans are underway to install a fiber optic network around the State to boost broadband access to our homes and offices, improve the transportation system as well as continue the massive infrastructural development ongoing across the metropolis.
"We shall build and rehabilitate more roads; we shall ignite our Tourism and Entertainment potentials by approving a new International conference center and entertainment and theatre district; our television and radio stations will be fully overhauled to make them first class.
"We shall automate our bus system and introduce new buses; we shall overhaul our garbage collection system to make it more efficient; we shall build and refurbish more schools; we shall commence disbursement of loans to entrepreneurs and our youth under our Employment Trust Fund; establish a Rent-To-Own housing scheme and many more initiatives.
The Governor said that more importantly, greater attention would be paid issues involving the elderly, the youth and the people living with disabilities in the coming year, while schools and hospitals will receive special attention comprehensively.
"Fellow Lagosians, I renew my oath and pledge to serve you diligently, with passion, love and perseverance. I have always wanted to serve and I just ask that you continue to give me the cooperation to serve you and together, we will all realise the Lagos of our dreams where we thrive and not just survive.
"I also ask you to dream along with me as we actualize a vision of a vibrant, non-discriminatory, clean, prosperous, safe Lagos that we can all be proud of and God will help us all achieve our dreams," Governor Ambode said.