…Destroys N10m Worth Pirated Movies, Duplicating Machines
The Lagos State Government on Monday urged hotel and club owners to voluntarily register with the State Government to facilitate the ongoing classification and grading of hotels or risk their businesses being shut down.
The State's Acting Commissioner for Tourism, Arts and Culture, Hon Adebimpe Akinsola, who said this at the ongoing Ministerial Press Briefing in Alausa as part of activities marking the second-year anniversary of Governor Akinwunmi Ambode's administration, said it was important for the practitioners in the sector to key into the vision of the present government to scale up the tourism potentials of the State.
She commended hotel owners that have already registered with the State Government, saying that others should emulate such practitioners for government to have proper records, which according to her, would facilitate proper planning and classification.
"I want to tell you that all the hotels that have registered with us, we are monitoring them. And for those hotels that have not registered with us and have not taken steps to register, after today, just come to our Ministry, ask questions and let us put you on our register.
"Let us come and inspect your establishment, let us grade you and then you continue to do what is expected of you by the law. If you have not done that, the Lagos State Ministry of Tourism, Arts and Culture will be after you. We have begun to close all these illegal establishment," she said.
Speaking on efforts to change the aesthetics of the State with special focus on tourism, Akinsola said four projects were currently ongoing in National Stadium, Ojuelegba, Falomo and Ikeja, while others were being planned to beautify under bridges across the State for relaxation activities, which would go a long way in driving miscreants who hitherto hibernate in such areas.
She also revealed that the State Government had intensified efforts on tourism mapping of the State, while a Tourism University is being planned to train people who would man the infrastructures being put in place across the State.
Akinsola said in the last one year, the State Government installed new and renovated existing historical monuments such as the Tinubu Square Fountain, King Ado's Statue (The First Crown King of Lagos), Prince Olofin Atekoye's Statue, Ma'ami Statue, Ojuloge Statue, New Moshood Abiola Statue, and New Gani Fawehinmi Statue.
She also revealed that work had reached 60 per cent completion on the restoration and remodeling of the Badagry Heritage Museum, while other projects in the axis have reached various completion stages.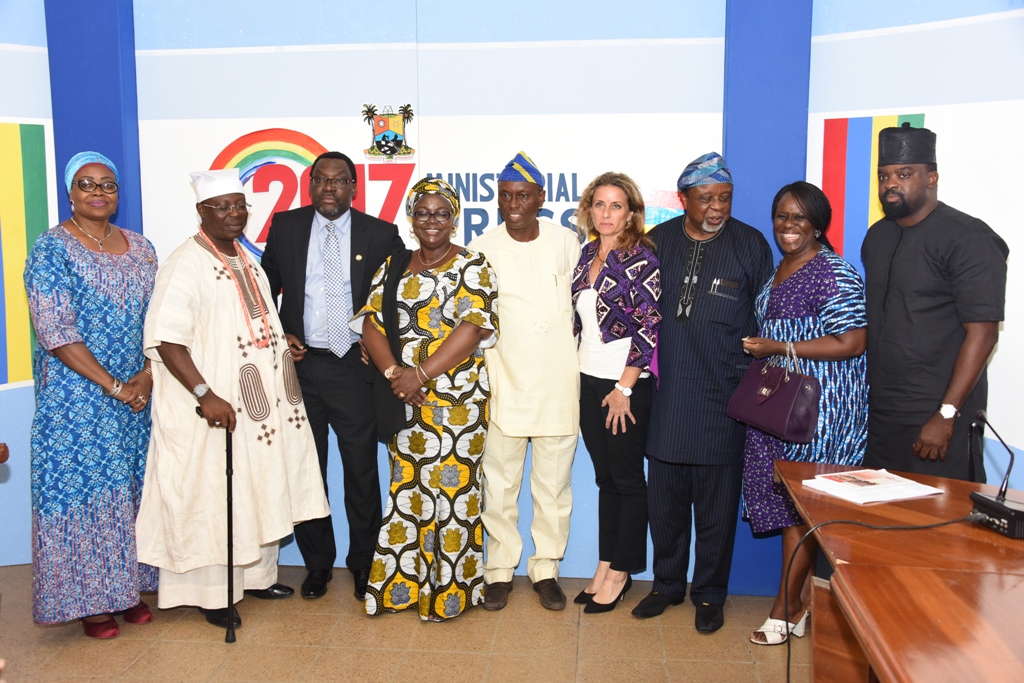 The projects are Slave Route to 'Point Of No Return' at Gberefu Island, Attenuation Wall at Gberefu Island, Ark of 'Point Of No Return' at Gberefu Island, Block of Toilets at Slave Port, Exclusive Bar at Slave Port, Mini Theatre and Performance State at Slave Port, Tourist Information Centre, renovation of former District Officer's residence at Marina Street, Vlekete Slave Market Museum, Baracoon at Slave Market, restoration and preservation of Toyimi Well and shoreline reclamation and protection at Marina, among others.
Speaking on plans for the tourism sector, Akinsola said aside the plan to construct six theatres and museum, the Presidential Lodge in Marina, Onikan recently given to the State Government by the Federal Government would be converted to Leadership Heritage Centre, while the Lagos House at Marina would be converted to Yoruba History Museum, as well as Welcome Centre and Multi-story Car Park.
"This axis will be connected to the National Museum, the new JK Randle Arcade Complex and the Freedom Park on Broad Street by a magnificent sky walk and when completed, these projects will transform the economy and boost tourism in the State," Akinsola said.
Besides, Akinsola said in the last one year, the Film and Video Censors Board of the State Government carried out enforcement in some parts of the State including Ikorodu and Ijora where pirated and unclassified local and international movies and duplicating machines worth N10million were destroyed.
She added that the Board arrested 12 suspects, out of which eight were prosecuted before Agege Magistrate Court and sentenced to six months imprisonment without option of fine.