The All Progressives Congress (APC) gubernatorial candidate in Lagos, Mr. Akinwunmi Ambode was today hosted to an interactive session by the Lagos Country Club, where he stated categorically that he will work selflessly to make Lagos a pride of the country in the next four years. He was joined at the session by his running mate, Dr. (Mrs) Oluranti Adebule.
He passionately enumerated his plans, most of which are novel, to improve upon and upgrade the standard of excellence that Lagos state is already known for. He said the state is set to experience "more of more" when continuity is elected in state come April 11.
Mr. Ambode added that, it is only wise to support the APC and his candidacy in order to sustain the steady growth experienced in the state over the past 16 years, saying, "the state at this level only deserves vertical growth, no halting or diversion of her excellence, and I intend to achieve this by giving governance back to the people".
While talking about the importance of the incoming general election, he begged the reason of the club members by urging them to vote only objectively without emotive sentiments; "this election is critical to the success of our state and the survival of the nation, it is not about individuals at all, rather, it is about our commonwealth as a people, it is about our future and our children's lives, it is about the disposable income in your pockets", he said.
He stated all of these while stating how he will achieve a safer, cleaner and more prosperous Lagos that is driven by a robust economy, and where equity, fairness and justice thrives.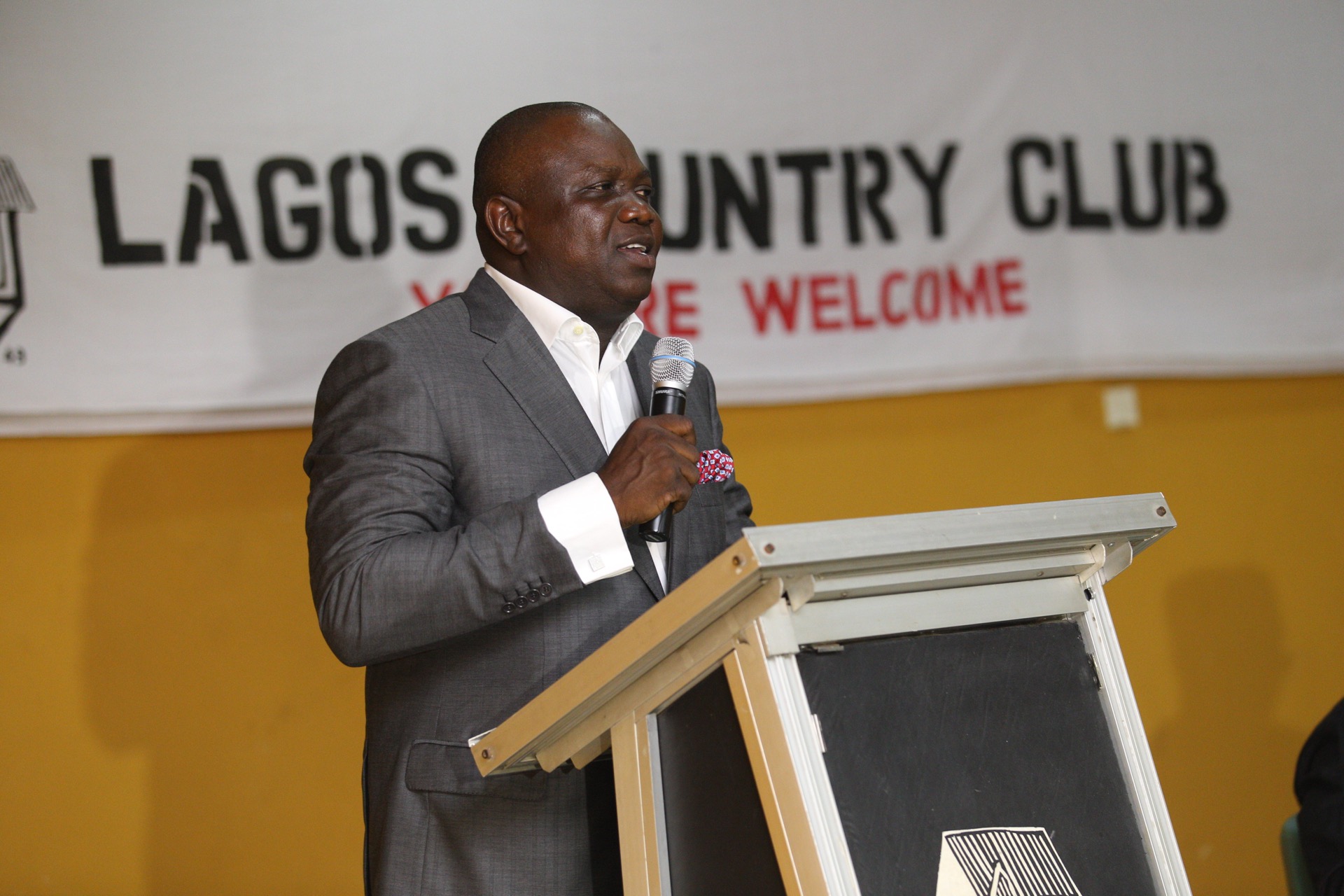 As he gave responses to the questions and concerns raised, he discussed his plans to further improve infrastructure (that will for example, ensure construction of major and inner roads together with affordable Housing schemes), upgrade the transport systems, create financial empowerment programmes that have human faces for the artisans, standardize taxes, productively engage youths, amongst other similarly novel plans.
According to him, a project 20/20/57 will see 20 roads and 20 street lights constructed in each of the 57 Local governments every year; an Employment Trust Fund will empower a bulk of youths and make talented graduates become employers of labour; a project T.H.E.S.E, that is, Tourism, Hospitality, Entertainment and Sports for Excellence, will create jobs and open Lagos for more businesses.
All of these and more he said will be fast-tracked by giving governance back to the communities and local governments, noting that such decision is informed by his experience working in that tier of government for 13 years.
"I will work in our neighborhoods more than from inside Alausa when elected. This is how I will ensure that the fruits of governance get to the people they are actually meant for. We will empower our local governments in such a way that they get directly accountable to the people", he said.
Furthermore, he said his wealth of public service experience will be employed to create capacity building programmes for the state's civil servants, while also assuring a prioritization of their welfare.
The Lagos Country Club is one of the oldest and most prestigious social clubs in Lagos, and from the moment his citation was read by ace thespian, Victor Olaotan, throughout the interaction, Ambode had visibly won the hearts of the members, as they seemed humbled by his plethora of academic and public service achievements, and also got impressed by his leadership qualities and gubernatorial prospects.