The Igbo traders in Lagos have endorsed the manifesto and the candidates of the All Progressives Congress (APC) in the forthcoming elections. The traders who came together under the aegis of the Odun-Ade Building Materials Dealers Association, stated this today during their courtesy visit to the Lagos state Governor, Governor Babatunde Fashola and the APC governorship candidate, Akinwunmi Ambode, at the Lagos state house in Marina.
Speaking through their President, Chief Modestus Umenzekwe, the Ndigbo traders expressed a lot of appreciation and confidence in the APC government, which has seen to their prosperity through an attested commitment to the values good governance.
"In consideration of your enormous devotion to national integration and progress, and also our belief in the manifesto of the APC, we have resolved to cast all our votes for APC candidates in the forthcoming elections at all levels", stated Umenzekwe.
He added, "Your Excellency Governor Fashola, we can't thank you enough for the wonderful performance, we hope and believe that the incoming governor, Mr. Akinwunmi Ambode will keep the flag flying."
Ambode appreciated their commendation and the belief invested in his capabilities, and he promised to use his experience to improve upon all the great things they have enjoyed in the past 16 years.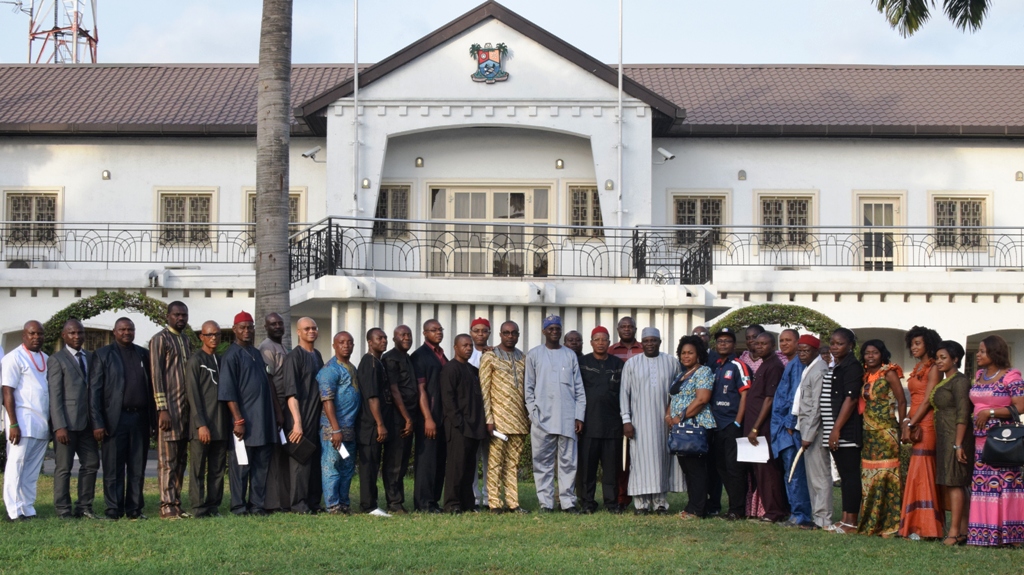 "I am one of you and I assure you that the next 4 years will be a continuation of the prosperity you have enjoyed in the past 16 years. What Lagos asks is your cooperation to remain in a prosperous mode, and I am grateful that you have given it", said a clearly elated Ambode. He added that his government will not discriminate as it is poised to deliver excellence to all Lagos residents irrespective of ethnicity.
Governor Fashola also expressed appreciation for the feedback of praise and commendation given by the Lagos Igbo traders. He stated that the APC has a party will never relent in the discharge of good governance in Lagos, adding that, "the best way to govern is to selflessly serve the people all the time and not just prior to elections".
He thanked them for seeing reason in endorsing Akinwunmi Ambode as the next Governor of the state, and also for supporting the Buhari-Osinbajo ticket. He said Ambode is the "experienced and developmental governor" that Lagos needs, as opposed to an inexperienced candidate that keeps fronting "cancellation" as his own interpretation of governance.