The leaders of the Igbo Town Unions, markets and traditional council in Lagos state today gathered at the Indoor Sports Hall of the Teslim Balogun stadium to restate their support for the gubernatorial candidate of the All Progressives Congress (APC), Mr. Akinwunmi Ambode, ahead of April 11 elections.
An Igbo Market leader, Chief Charles Ahize, said the adoption of Ambode's candidacy is hinged on their resolve to partake in the progress of Lagos, especially as it aligns with their best interests. "This is a meeting of reassurance. Since inception, the APC government in Lagos have been supportive and have also accommodated the Igbos. It is beyond doubt that the Igbos have prospered because of the enabling environment this government has given to us", said Ahize.
"They say to whom much is given, much is expected. This is why we are united to give our support to Mr. Ambode, in order to continue the good that the APC has offered every Lagosian, including Ndigbo, in the last 16 years, Ahize assured.
Pastor Okey Anorue, President Igbo Town Unions in Lagos, said the Igbos are committed to the victory of the party come Saturday. He said, "Our support is absolute, the APC and Mr. Ambode can count on us"
The leader of the Igbo traditional council in Lagos, Eze Uche Dimgba, Eze Ndigbo of Ikeja, stated that Ambode is the one they readily relate with for his public service feats and proven accounting genius that has been undoubtedly instrumental to the thriving economy of the state which favors a lot of the Igbo people.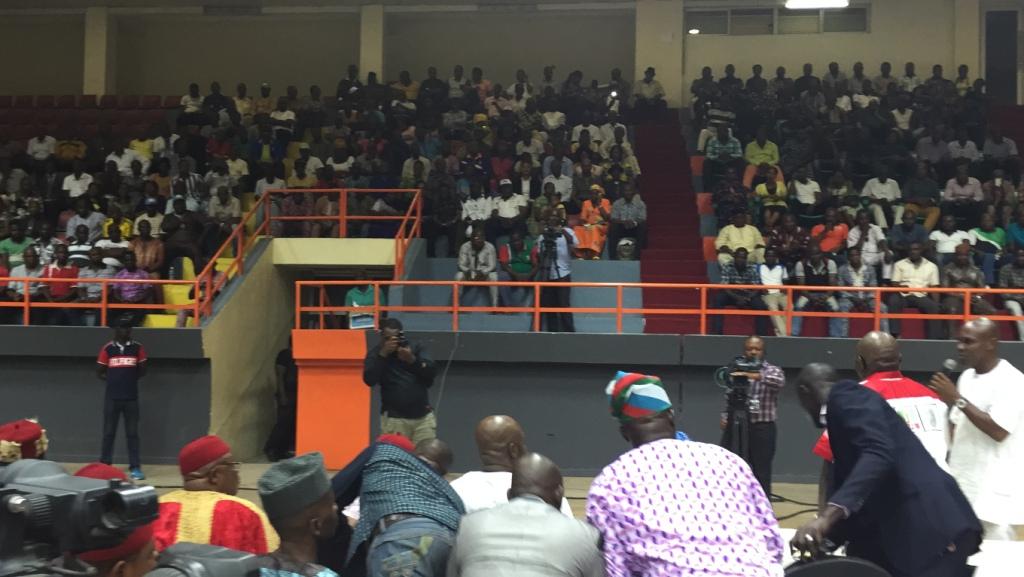 In his address Eze Dimgba said, "Indeed, our endorsement is hinged on the excellent job done by the previous Tinubu administration and the present Fashola administration in the last 15 years and 10 months, which has made Lagos the best state in Nigeria and the envy of all other states.
"We want this excellent job done by the APC in Lagos state to be sustained by the experienced and competent Ambode, and then replicated at the Federal level by a government headed by the credible, non-corrupt General Buhari".
Speaking at the event, Ambode thanked the Igbos for aligning with the progressives and he urged them to remain resolute in their quest for a better Lagos. "I appreciate your unflinching support for the APC. Lagos is our home and it is a good thing the Igbos here are interested in its progress. I will not discriminate. The prosperity that we all enjoy in the next four years will be for the benefit of all", he said.
In conclusion, Ambode noted the essence of unity in achieving the much-needed continuity in Lagos, saying that, "I am happy we are united to keep Lagos working, nothing will ever divide us. God bless the Igbos and all Lagosians".