It was the turn of the Eti-Osa Local Government Area (LGA) today to express total support and acceptance for the All Progressives Congress (APC) and its Lagos state governorship candidate, Mr. Akinwunmi Ambode, during the APC rally held IPin the LGA. The Eti-Osa people gave an outstanding turnout which further galvanized the victorious momentum the APC keeps garnering as the election draw near.
In his address, a visibly grateful Ambode promised the people to consolidate on the feats of the present APC government when elected, with an added pledge to even do much more.
He said the economy of Lagos state is directly related to its transportation set-up, security and tourism, and added that Eti-Osa LGA will benefit tremendously from the planned 24/7 economy that will be created for the state through the upgrading and exploration of these sectors in the next four years.
"The APC government in Lagos has done well, you can all attest to that in Eti-Osa; this election is about making sure that we do much more in the next four years. There will be additional roads, 24/7 Bus-Rapid-Transport services, better security, and we'll explore the tourism potentials of this LGA in particular, to create a thriving 24/7 economy for our state", he said.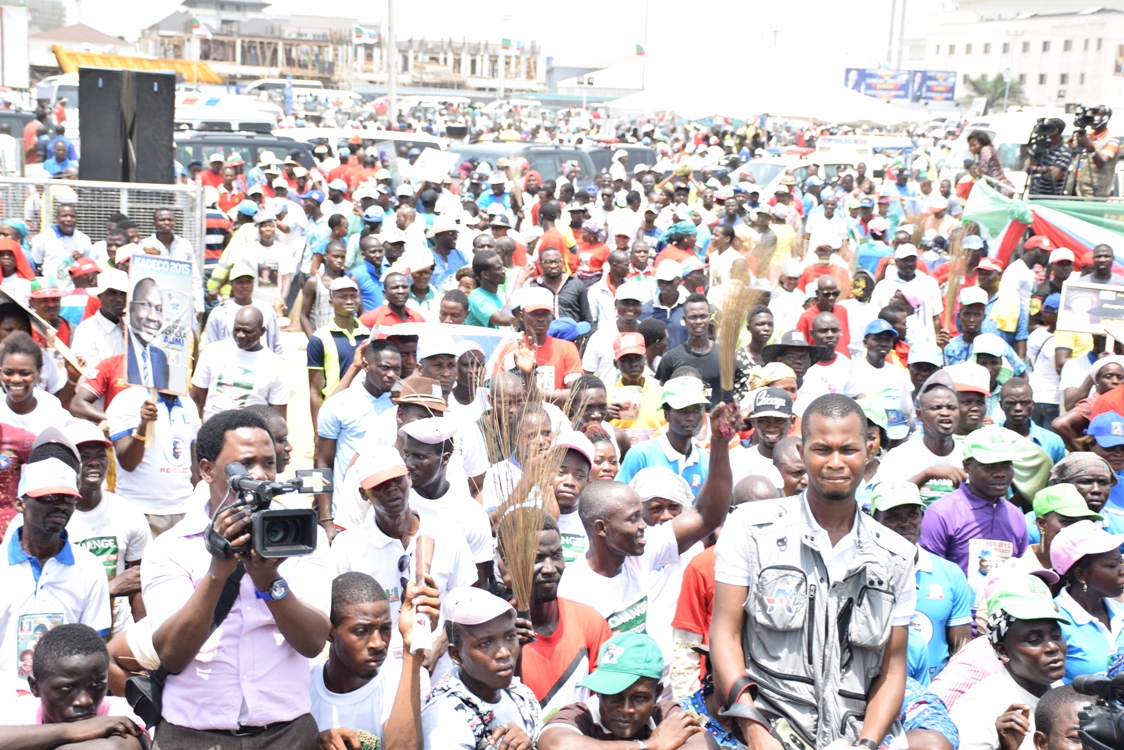 Ambode also mentioned his Employment Trust Fund programme aimed at empowering the youths, whom he described as the future of state and country.
Ambode also appraised the political structure and manifesto of the APC, which totally outwits that of the opposition, using that to urge the electorates to actively partake in the move to make good governance a mainstay in he nation.
The present APC leaders, leaders of ethnic nationalities in Eti-Osa, and a host of resident Nollywood artistes, all spoke in support of Ambode and other APC candidates at the rally, while also stressing the importance of getting the Permanent Voters Cards (PVCs) in order to truly partake in the elections meant to effect change in the country and continuity in the state.
The Governor of Lagos state, His Excellency, Babatunde Fashola (SAN) enlisted the many feats of his administration especially in the Eti-Osa, and more importantly noted that Ambode will truly consolidate well on such feats throughout the state, one of which is the 100-bedroom Hospital being built in the LGA.
He said the opposition party are a party of lies that should not be entrusted with governance at any level, hence, a vote for the APC at all levels will make good governance obtainable in the state and in all parts of the country.