The Governor of Lagos state, His Excellency, Governor Babatunde Fashola today presented Akinwunmi Ambode to a hoard of traders at the popular Ladipo Market in the Mushin Local Government Area (LGA), describing him as the next Executive governor of the state.
"The APC government has done tremendously well in this state and you all can attest to that yourselves. It is in this light that I present to you someone who understands how the delivery of good governance works, Akinwunmi Ambode, your next governor", Governor Fashola stated.
Governor Fashola further explained that the experience Ambode has garnered while working with Asiwaju Bola Tinubu and himself is "inimitable", and will be useful in the next four years to ensure that the state remains keeps working and business-friendly.
In his usual manner, Akinwunmi Ambode added cheer to the event by greeting the traders with the "Chineke Idinma" song, while thanking them for turning out to receive him and the Governor.
"Lagos is a land of opportunity, and the success of this market and it's traders continues to confirm that. What I bring to you is a promise that our government will not encourage discrimination of any form. We will run a government of inclusion for the good of all".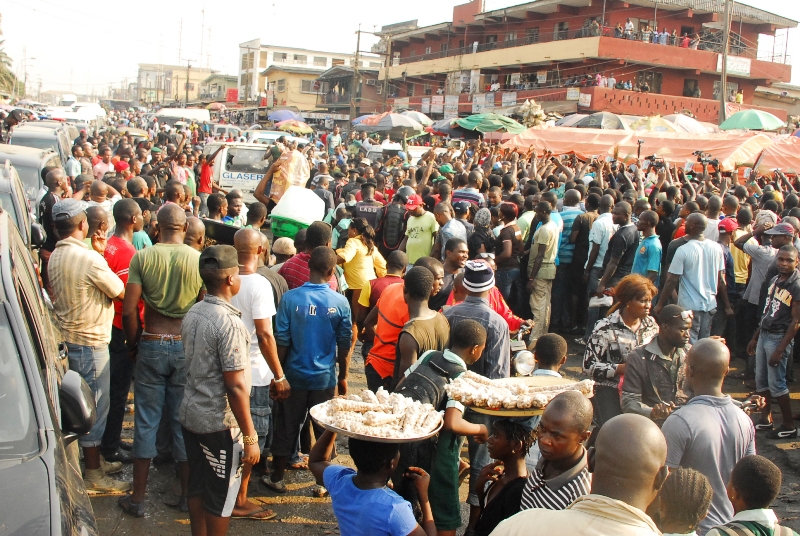 He promised to apply more business-friendly policies to make their businesses thrive better, adding that he will help create an enabling environment which involves giving better infrastructure, a better road network, and a pedestrian bridge to the area.
"I appreciate your show of support today, but there is still a lot to do. The present political momentum in this state and in the country is in support of good governance, therefore I urge you all to vote for the APC both in Lagos and at the centre, in order to ensure adequate prosperity for us all", said Ambode conclusively.
The President of the Ladipo market traders, Mr. Ikechukwu Anumanu, was positive in his response by stating that the Ladipo market is for the APC. In his words, "Ladipo is APC, for us, it is forward ever and backward never. We totally accept Mr. Akinwunmi Ambode as our next governor."
The Lagos Commissioner for Budget and Economic Planning, Mr. Ben Akabueze and the state's APC Publicity Secretary, Mr. Joe Igbokwe, also spoke at the event to canvass votes for the much-loved gubernatorial candidate.