The governorship candidate of the All Progressives Congress (APC) in Lagos state, Mr Akinwunmi Ambode, was present at a well-conducted 3rd National Convention Presidential Primary of the party held at the Teslim Balogun stadium, Lagos.
In a democratic manner similar to that through which Akinwunmi Ambode himself recently emerged victorious as the party's gubernatorial flag bearer in Lagos, the APC conducted a successful presidential primary election which yielded General Muhammadu Buhari as the winner.
The Dr. Kayode Fayemi-led National planning committee lived up to its promise of delivering a well-conducted primary and convention where 7,214 accredited delegates participated. The whole event was characterized by a strong sense of unity, brotherliness, progressiveness, devotion and change.
Speaking through their national chairman, Chief John Oyegun, the APC introduced a manifesto of "hope, aspiration and help", to kick off an eventful convention.
Akinwunmi Ambode earlier expressed his pride in being a product of a party like the APC where processes work well, and was happy to be involved in the almost 2-day proceedings, both as a keen observer and as a gubernatorial flag bearer.
He was warmly received by the Lagos State delegates as well as delegates of other states.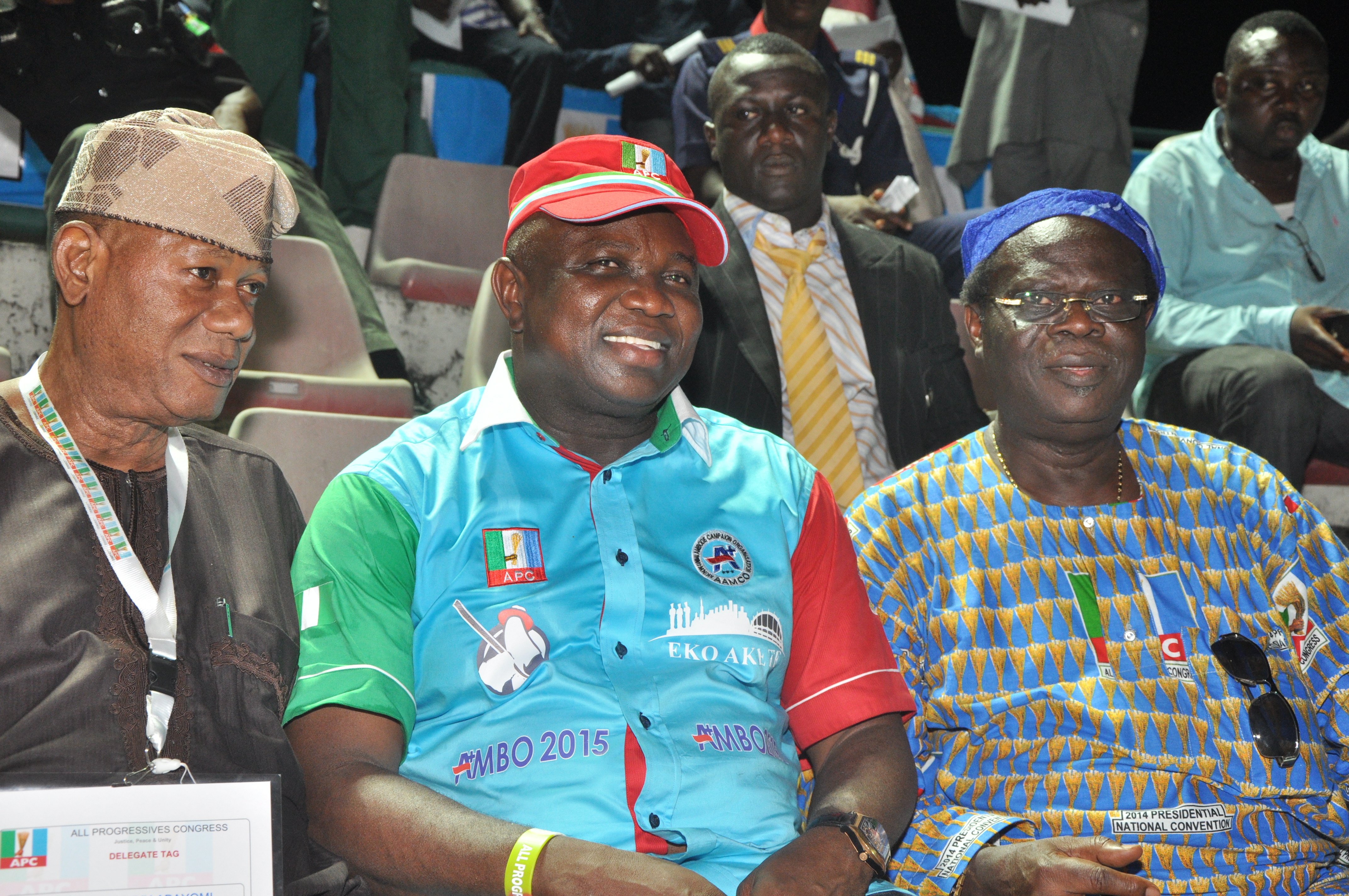 All Progressives Congress (APC) State Leader in Lagos State, Alhaji Badmus Abayomi, APC Governorship candidate for Lagos State, Akinwunmi Ambode and Deputy State Chairman APC Lagos State, Cardinal James Omolaja Odunmbaku at the 3rd National Convention Presidential Primary of the Party in Lagos.
Mr. Ambode also met with top party stalwarts and chieftains from all parts of the country, most of who congratulated him for the victory at the primary and engaged him in productive discuss.
The Presidential primary was adjudged a free, fair and transparent one. And, in the spirit of sportsmanship, the presidential aspirants took turns to congratulate and promise concerted support for the winner, General Muhammadu Buhari to make sure that the CHANGE Nigeria deserves is achieved.
Akinwunmi Ambode eulogized the party for laying down standards of internal democracy which other parties should consider emulating.