The train of our Quarterly Town Hall meeting has arrived in Ojo, the home of our dependable and reliable Deputy Governor – Dr. Mrs. Idiat Oluranti Adebule. I salute the good people of Ojo and the Lagos West Senatorial Zone. We are very happy to be here with you today.
This edition of the Town Hall meeting coincides with the 50th Anniversary Celebration of the creation of our State so I will begin by congratulating every Lagosian on this Golden Jubilee anniversary. Our special appreciation and gratitude go to our founding founders and predecessors who have worked assiduously in the last five decades for the growth and progress of Lagos State.
We appreciate the vision, tenacity of purpose and hard work which helped to shape our past and laid the foundation on which to build the prosperous future of our dear State.
Today's Town Hall Meeting is not to discuss what we have done but to listen to the people of Ojo axis and to lay out our plans for this. But for the benefit of many, let me run through some of the highlights of the last quarter.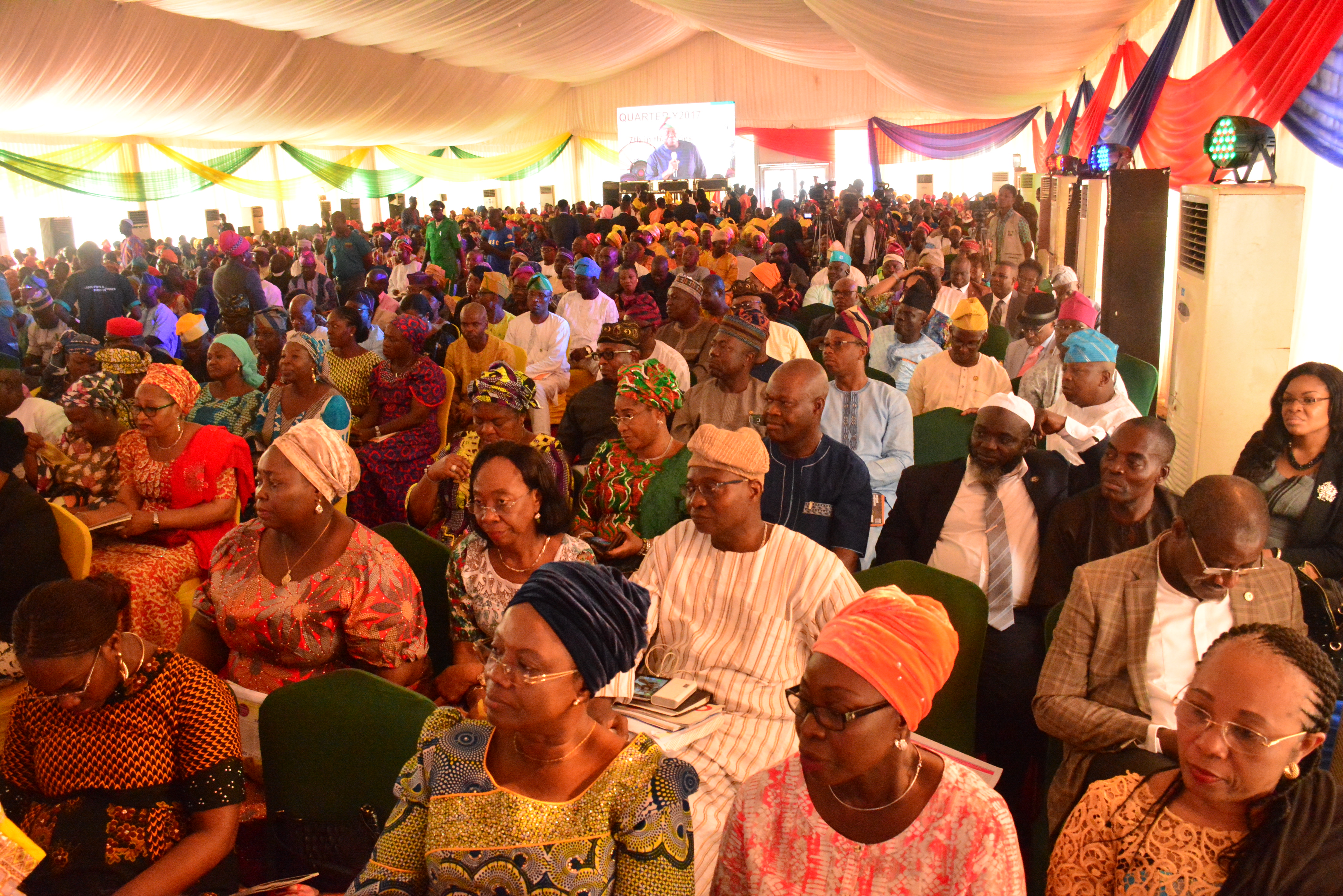 SAFETY AND SECURITY
The Neighburhood Watch was rebranded and launched as the Lagos Neighbourhood Safety Corps and provided with equipment to combat illegal activities within the populace. The Neighbourhood Corps will complement the efforts of the police in curbing crime and criminality in the state.
SPORTS
The State successfully hosted the second edition of the Lagos Marathon and attracted international attention through larger participation of foreign athletes.
JOB CREATION
The Lagos State Employment Trust Fund continues to fulfil its mandate of providing subsidized loans to our entrepreneurs. The Fund has now approved loans of N1.7 billion to 1,400 businesses, and out of this, N1.2 billion has already been disbursed to 800 people. By the end of this month, loans to another 1,000 businesses will be approved, taking the total loans approved above 2,000. To further serve Lagos residents, the Fund will soon open the application process for skills development and training to help our unemployed youths take up existing jobs within the Lagos economy. I urge you to visit the Fund's website or their liaison offices in the Local Governments to apply for their various programs.
ROAD INFRASTRUCTURE
The following road projects were completed:
·         Bridge linking Aboru to Abesan, in Agbado Oke-Odo Local Council of Alimosho Local Government Area and adjoining inner roads.
·         Construction of Aradagun- Iworo – Ajido Phase 1, Bridge
·         Rehabilitation of Bankole Oki Street, Ikoyi in Eti-Osa L.G.A.
·         Rehabilitation of Alli Dada Road in Oshodi-Isolo L.G.A.
·         Completion of the construction of the 2nd Pedestrian Bridge at   Ojota, Kosofe local Government.
·         Rehabilitation of Admiralty Way in Lekki Peninsular Scheme 1
·         Rehabilitation of Omotayo Banwo/Kola Iyaomolere Street in Kosofe
ECONOMY
We inaugurated an Economic Advisory Team comprising 12 (twelve) renowned, tested and versatile individuals to render advice that will accelerate the Lagos State Development Plan.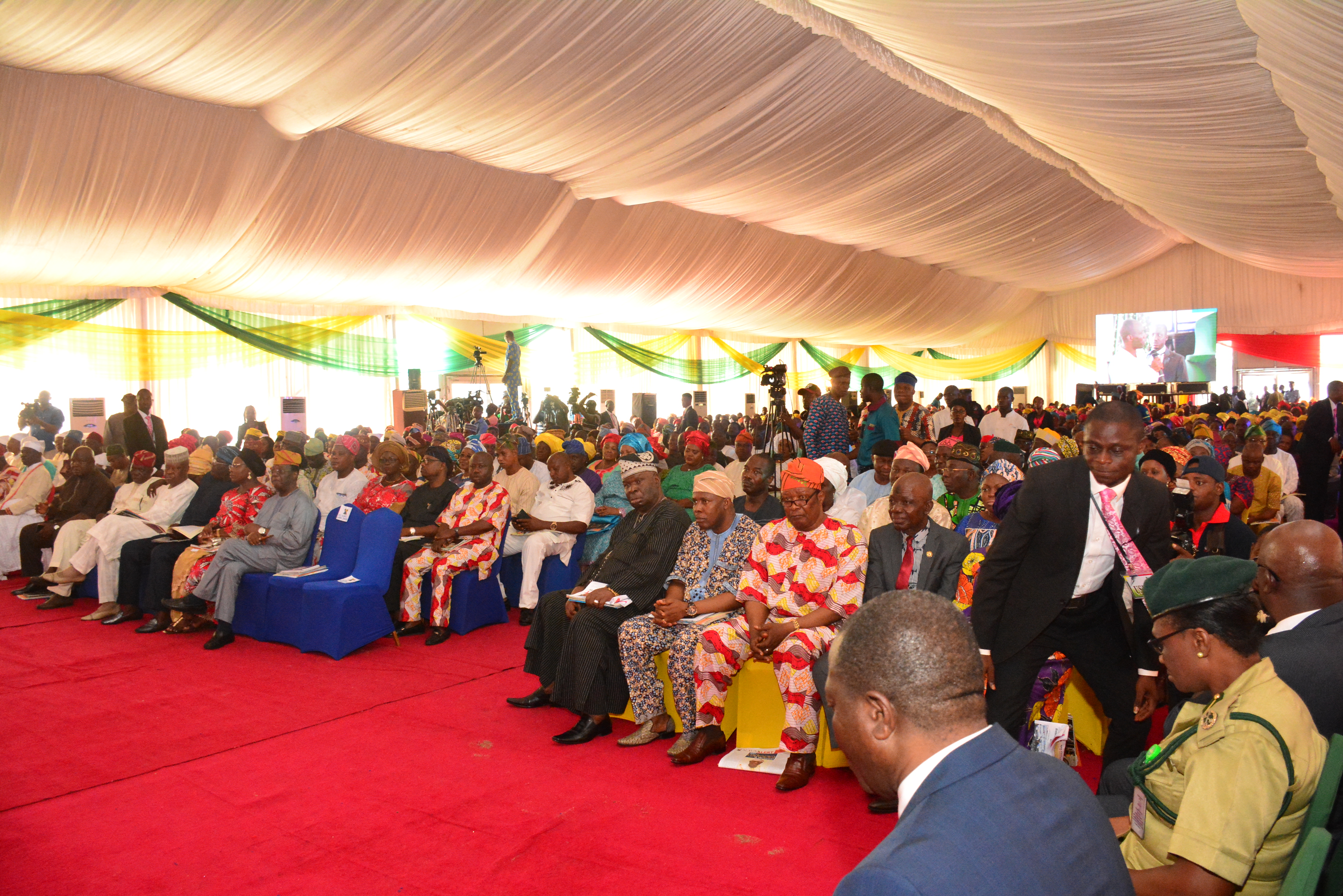 HOUSING
The first set of beneficiaries of the newly designed Lagos Rent-To-Own Initiative have moved into the allocated housing units and become home owners under the scheme.
More housing units are already being built in Sangotedo in Eti-Osa, Ajara in Badagry, Igbogbo in Ikorodu and Egan-Igando in Alimosho.
AGRICULTURE
We have commenced the upgrade of the 167-hectare Songhai Model Farm in Avia-Igborosun, Badagry to encourage organic agriculture and train citizens interested in agro-business for local consumption or export.
We trained 540 fishermen across the State on the use of fishing equipment to improve their skills as well as optimize their understanding of the trade and boost income.
EDUCATION
18 public Secondary schools were equipped with state-of-the-art libraries across Education Districts.
The Lagos Digital Library, an online repository of education, is also being deployed to improve the learning experience of the students and equip them with information technology skills and access.
INFORMATION TECHNOLOGY
We launched the first-of-its-kind in Lagos, internet-based mobile app – Citizens Gate – for instant interaction between government. The major objective of this project is to bring government closer to the people.
OUTLOOK FOR THIS QUARTER
In this quarter, we intend to kick start the implementation of the Cleaner Lagos Initiatives, implement the construction of 181 roads across the 57 LGs/LCDAs, complete the Abule-Egba and Ajah flyover bridges, further signalization of Lekki – Ajah express road and continuation of Road network upgrade in all the 3 Senatorial Zones.
Furthermore, initiatives for Tourism will be intensified by commencing Development of Heritage Centre for Leadership (Presidential Lodge), Lagos History Centre, J.K Randle Centre, Transformation of the Onikan Museum, Development of tourism hubs in Lagos-West, Lagos-East, Construction of 6 Cultural Theatres in Alimosho,Badagry, Epe, Ikorodu, Ikeja and Lagos Mainland, and continuation of Epe and Badagry Waterfront development as well as other tourist potentials in the area.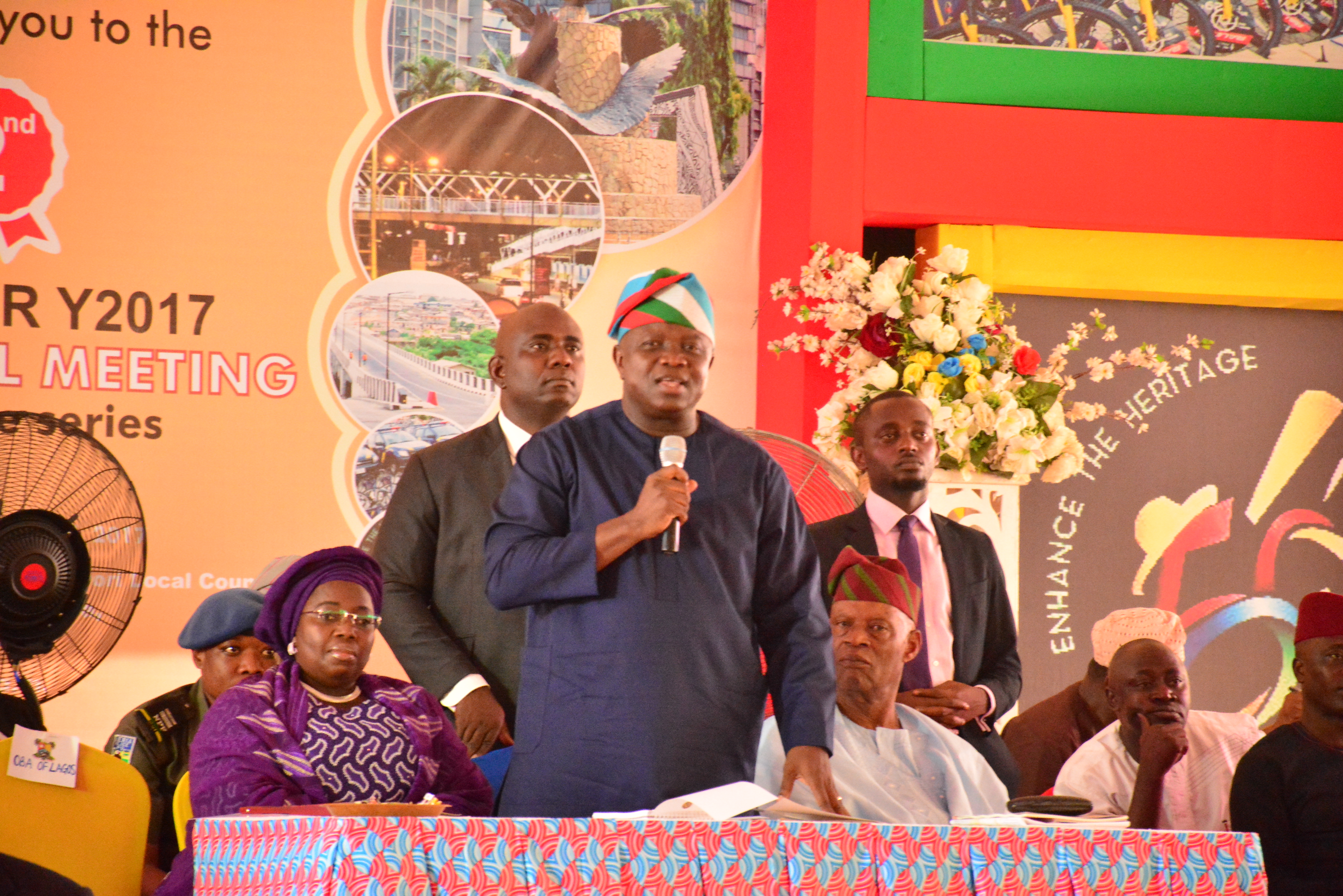 CONCLUSION
At 50, we have every reason to celebrate our dear State and our collective achievements. I enjoin everyone to be part of the activities lined for the celebration of Lagos Golden Jubilee because you have all been part of the success story of Eko Akete – the Centre of Excellence.
I thank our party – the All Progressives Congress – for the opportunity and support in ensuring that this administration is a part of its success story. To all our party leaders and members, let us join hands and ensure continued success for this administration.
Our administration remains committed to advancing the Lagos Mega City Project through judicious use of your continued regular payment of taxes.
Let me also use this opportunity to remind everyone of the need to ensure a clean environment and cooperate with health personnel to prevent outbreak of diseases in our communities. Always remain safety conscious and promptly report any suspicious individuals, groups or activities to the security agencies.
On my part I remain committed to the pledge I made to make Lagos work for everyone. I wish you all a happy anniversary celebration!
God bless Lagos State.
God bless Nigeria.
God bless you all.
Itesiwaju Ipinle Eko, lo je wa logun.
Mr. Akinwunmi Ambode
Governor of Lagos State
21st April, 2017