I am delighted to see you once again after the celebration of the last Community Development Day on 7th December, 2017. On that occasion, l reiterated our administration's commitment to collaborate and support CDAs in the initiation and implementation of community based development projects.
Apart from being in line with our policy of inclusive governance, this approach will guarantee ownership and protection of such projects by the communities. I also recall my commendation to Community Development Associations for implementing self-help projects to complement Government developmental projects in their Communities.
I am aware that these projects have contributed immensely to making our communities more liveable for residents. I must commend you all for the various projects that have been initiated and funded from voluntary levies and donations by community members. On behalf of the State government, I say thank you to all of you for appreciating the fact that voluntary community efforts is required to facilitate growth and development.
Based on the report gathered from the routine inspection of Community projects, the need for government intervention to ensure the completion of some of these ongoing self-help projects which are on the verge of being abandoned due to paucity of funds, has become very compelling. We strongly believe that these projects were well conceived and would impact positively on the living standards of residents of their respective communities.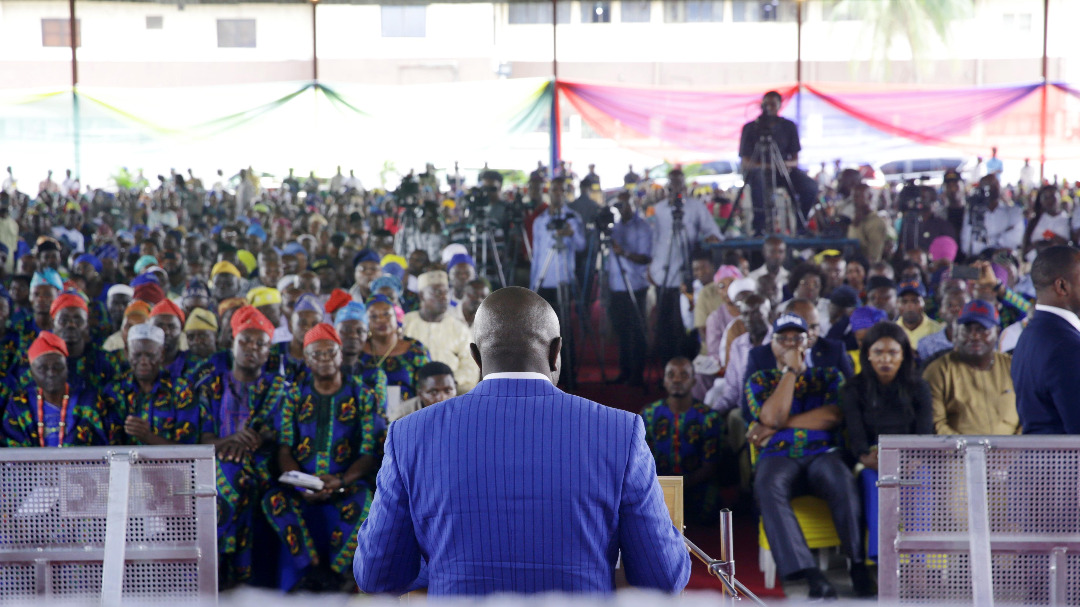 Distinguished Ladies and Gentlemen, today's occasion is historic; we are presenting financial support of 500,000,000 Naira Grant to 274 Community Development Associations to enable them complete their various self-help projects which had been executed to an appreciable level. Let me emphasise that this will be a continuous exercise. Other deserving Community Development Associations will also be considered in the next phase of this presentation.
I am happy to note that this volume of grant is historic.  Beyond the 275 projects being supported, all the divisions of the State have been covered.
Projects ranging from community halls, street light, transformers, police post, drainage, health centres have been included in our grants released today.
The message remains the same.  We are committed to good governance and inclusive leadership.  We know your efforts remain selfless to all your communities.  We are partners in governance and we will always support you.
I congratulate the leadership and members of the CDAs that are benefitting from this support initiative. It is my expectation that all the self-help projects covered by this grant will be completed as soon as possible for the usage and benefit of residents.
Let me use this opportunity to appeal to all our people to take responsibility for the protection of the various amenities provided to make our communities more liveable. These amenities belong to you because their provision was made possible by your taxes. Let us therefore protect them against vandalisation and all acts that will result in the reduction of the facilities life span.
I thank you all for your kind attention.