PROTOCOLS
Today marks a milestone in the history of our dear State. I have just sworn-in 37 Cabinet members, who are joining me to complete the Executive team of dedicated Lagosians that will move Lagos forward.
My sincere appreciation to the Right-Honourable Speaker and all the Honourable members of the House of Assembly; though multi-party in outlook, jointly and unanimously cleared all our Commissioners and Special Advisers for the event of today. By this action, we have all demonstrated that it is more about the prosperity of Lagos, than any other motive.
Lagos State is the fourth largest economy in Africa with a GDP of One Hundred and Thirty-One Billion Dollars ($131bn) equaling that of 42 other countries in Africa. Lagos has a rapidly growing middle class of presently over Four Million people with youths constituting Sixty Per Cent (60%) of its population. Not only is Lagos the nerve center of Nigeria's economy, it bears more than Ninety Per Cent (90%) of all the Foreign Direct Investment into Nigeria in the last few months.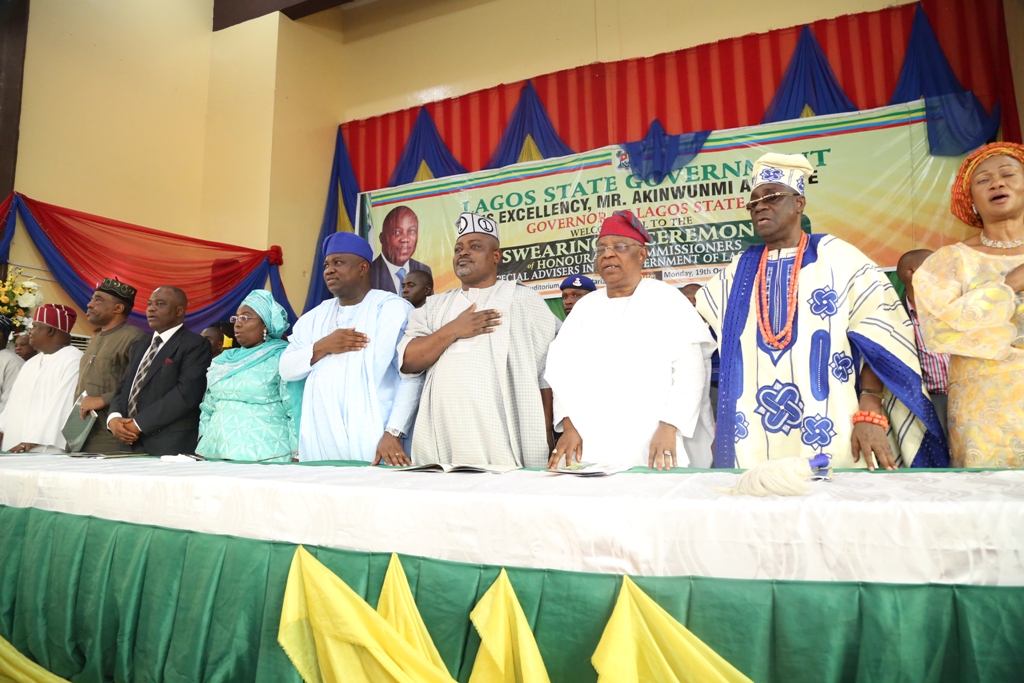 The challenges that come with the boisterious profile of the State as one of the world's fastest growing cosmopolitan City-State are as many as the opportunities that abound in it. Lagos is a magnet for many Nigerians who want to pursue the Nigerian dream. The dream that wherever you are from, regardless of tribe or creed, you can achieve what you wish. This is the Lagos dream.
Developing befitting infrastructure to cope with the exponential growth in Lagos population and its rapid urbanization requires hard thinking and ingenious solutions. Despite that One-Fifth of Lagos is covered in water, Lagosians today rely almost entirely on land transportation system. The addition of thousands of new people and automobiles to Lagos demography on daily basis, inevitably puts unbearable pressure on road networks and traffic situation. Relying on traditional modes and methods for protecting our people in an age in which men of the underworld use sophisticated weapons and transport to commit crimes and escape from crime scenes leaves our people vulnerable. Leaving the potential of our teeming youths unutilized will severely undermine the economic well-being of the State and its people in the long-run.
As Commissioners and Special Advisers, Lagos charges you to develop ingenious means of transporting its people across the land. You are to implement decisions that will combat crimes and secure our people. Lagosians call on you to create job opportunities for our youths and attract investments into the State.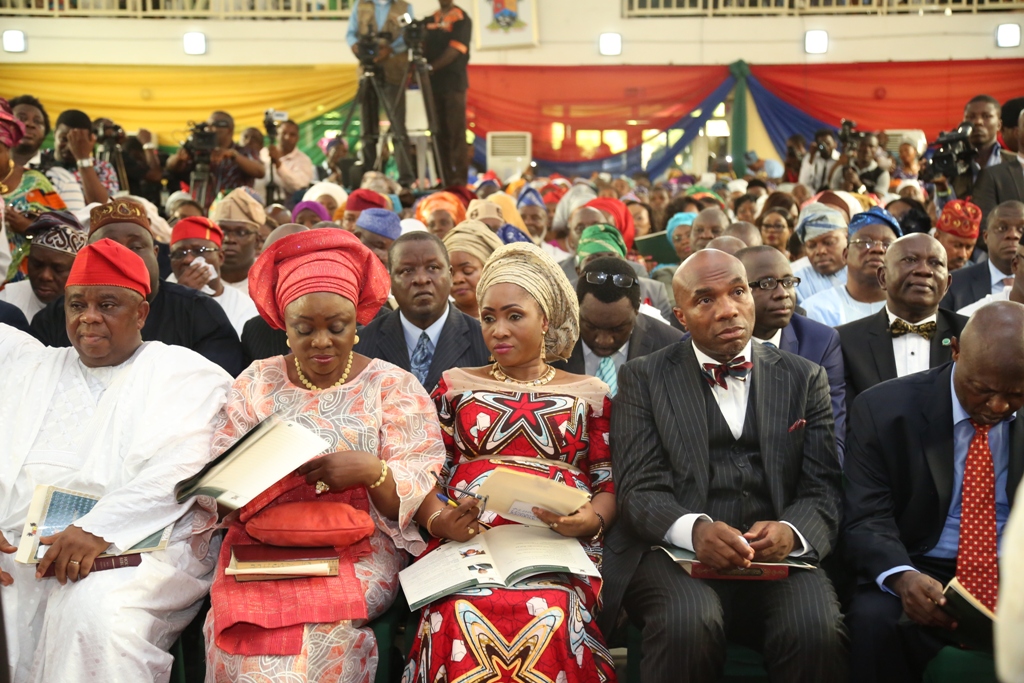 Ladies and gentlemen, as with most nations with a mono-economy, Nigeria is going through an interesting time. The continuous fall in crude oil prices means vastly dwindling revenues for Nigeria. In turn, States will have less and less money to fund capital projects and face enormous challenges in catering for their people.
The future of any modern State to provide infrastructure and effectively cater for its people lies critically in its ability to generate stable revenues and resources to drive growth. In the last four months, our government has worked hard to lay a solid foundation to drive effective governance. Our decisions have stabilized the financial economy of the State despite inherited heavy financial liabilities. We have vastly reduced the cost of governance without bail-outs from the federal Government and our reforms will be continuous.
To our Commissioners and Special Advisers, this government demands your absolute loyalty. Your primary allegiance is to the people of Lagos, irrespective of creed or colour. You must dedicate yourselves to the service of Lagos State. Your work must reflect what Lagos stands for – Leadership, Accountability, Good Governance, Opportunities and Service.
My fellow colleagues in the cabinet, Lagos is on the brink of greatness and you have all been given this platform to write your names in Gold. You must work to leave a legacy that will be spoken of in glowing terms in years to come. Lagos is the most promising emerging City-State in Africa today. We have all the ingredients to compete globally in all sectors; and we must. We owe it to the people of Lagos and to ourselves. You are today, being handed the reins to the government of Lagos State and together, we must fulfil the massive potentials of our State.
I congratulate you all on your appointment and charge you to immediately get to work and justify this responsibility that has been placed on you.
You have been assigned respective portfolios and you are to assume duty immediately.
I look forward to working with you to deliver, a cleaner, safer and more prosperous Lagos State.
Thank you.