Wife of the President of Nigeria, Mrs. Aisha Muhammadu Buhari, has urged Muslims across the country, not to abandon the spirit of Ramadan after the fasting period.
She said this while distributing Ramadan gifts to members of NASFAT, Ansar-ul-deen, and the Hausa community in Lagos State.
Represented at the event by wife of the Lagos State governor, Mrs. Bolanle Ambode, the president's wife noted that Ramadan represented love, peace, forgiveness, peaceful co-existence and extending helping hand to the less privileged.
 She said that the holy Prophet held those tenets in high esteem and lived his whole life around them, adding that the entire sacrifice of fasting would only achieve its purpose, if Muslims continued with those principles beyond Ramadan.
Mrs Buhari noted further that Nigeria needed peaceful co-existence, unity and mutual love to strengthen the social bond and to help the country overcome all challenges.
According to her, "The lessons of Ramadan should go beyond the fasting period. As Muslims, we must carry on the banner of love, peace, friendship and mutual co-existence beyond the season. It is only by doing so that we can strengthen the social bond between us and keep the country united to overcome all challenges".
Responding on behalf of the beneficiaries, the chief Missioner, NASFAT society of Nigeria, Shelk Abdullahi Akinbode thanked Mrs. Aisha Buhari for her kindness and for staying connected with people at the grassroots from far-away Aso Rock. He assured that the beneficiaries would use the fasting period to re-connect properly with Allah and carry the principles of the holy month beyond the period of fasting.
In another development, Mrs. Buhari had called for  cultural transformation and an end to wicked and inhuman widowhood rites imposed on Nigerian women.
She made the call in Ikoyi, at the celebration of the widow's day, organized by the United Nations Information Centre and Hope for Life Foundation, where she was represented by Mrs. Bolanle Ambode, wife of the governor of Lagos State.
Aisha lamented the life-threatening widowhood rituals to which Nigerian women were subjected, and advised the widows to seek economic empowerment to live above cheap temptations.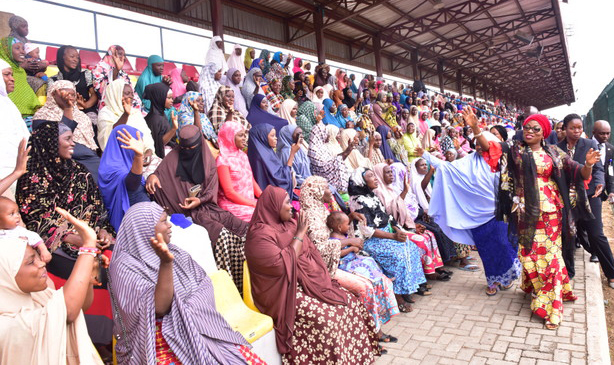 Delivering the UN secretary-general's address, director, United Nations Information Centre in Nigeria, Mr. Ronald Kayanja, commended Lagos State for providing the model to follow regarding the welfare of women and children.
He urged everyone to support the widows by not stigmatizing them and by ensuring they did not suffer any form of discrimination or sexual abuse.