Today we are here to discuss and review the activities of an initiative that was established a decade ago and has grown to become a key instrument in the provision of security of lives and property in Lagos. It is historic because the government and people of our dear state collectively resolved Ten years ago to take their destiny in their own hands and improve security in the State even when the constitution is clear that Security is the exclusive remit of the Federal government.
Security is perhaps the single most expensive venture of government and the most important responsibility of government. Insecurity is capable of disrupting any worthwhile activity. It can cripple businesses and dreams. It can reduce financial success to ruins in minutes. The government and good citizens in our country today understand that security is the backbone of every human activity. Even private organizations usually commit a reasonable amount of their resources in securing their Assets.
The Chairman and Executive Secretary of the Fund have both spoken about the circumstances that led to this collective enterprise christened the Lagos State Security Trust Fund. For me, this is another dividend of your continued insistence on electing progressive leaders in our State and we should all be proud of what we have achieved together.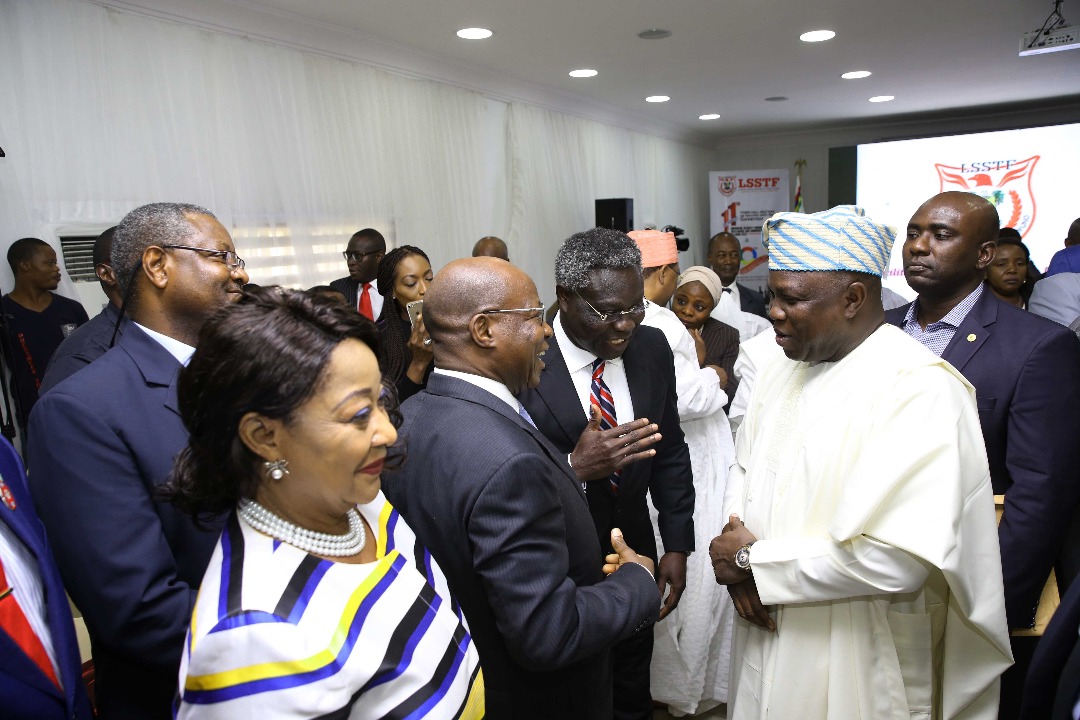 The fact is that in Lagos we face complex security challenges on a daily basis because of the massive daily migration to the State, the wide mix of cultures and beliefs in our cosmopolitan city-State as well as inadequate policing in numbers and funding.
The Inspector General of Police, Mr. Ibrahim Idris, in a presentation in July 2017 stated that in 2016 the police was allocated N 16.1 billion for capital development but only N 10 billion was released not minding the report in 2008 of the M.D. Yusuf Reform Committee whose recommendations included an estimate of N 2.8 trillion over a period of 5 years (i.e. N 560 billion yearly) to effectively reform and transform the Nigeria Police.
This clearly shows the calamitous funding challenge in providing general security for our people. As it stands, we must collectively act in our own interest to ensure that the criminals do not take over our space and we would then have to do a hundred times more to regain it. The time to act is now, especially as we are gaining the upper hand. It may seem tough but trust me, the alternative is devastating!
At the Lagos State Security Council, we develop and review strategies which, with the cooperation of all security agencies, have been able to nip in the bud situations that might have had devastating consequences. But with all the strategies and best intentions in the world, these actions would not have been possible without the needed resources provided through the Security Trust Fund.
The Security Chiefs at the State Security Council agree with me that we need to deploy more technologically advanced techniques and equipment of policing especially as we do not have the manpower required to police 22 million people.
Technology can reach where man cannot. This is why your state has invested in mobile CCTV vans with control units, provision of drones, robotic bomb disposal equipment, tracker, bomb detectors, mobile scanners etc. The State has also commenced the installation of CCTV cameras and is in talks for the purchase of surveillance aircraft that carry special cameras with 3D imagery, infrared and thermal imagery which can effectively gather intelligence in all parts of the State and would assist significantly in dealing with the menace of kidnapping.
It is pertinent to note that these criminals have not relented in their pursuit of evil, and they continue to test our resolve as crime is a business. We must demonstrate that we are prepared to do whatever it takes to make it exceedingly difficult for these criminals to succeed in their evil plots and in the event that they do, we will apprehend them and bring them to justice. In order to bring policing even closer to the people I have requested the IGP to create 2 additional police area commands which the State is ready to build and equip.
Be assured that the Lagos State Government is committed to rid our society of those that opt for crime. Our continued provision of equipment and logistics for the security agencies operating in Lagos is evident to this. Our government will also continue to provide state of the art infrastructure in order to achieve our vision of making Lagos a safe, prosperous and smart mega city.
As responsible citizens and worthy stakeholders, you also have crucial part to play for the enhancement of security in the State. Please install CCTV cameras in your various organizations to help expand the reach of Law enforcement agents in the event of any security breach. We still need your continued support in providing equipment and logistics for the police and other security agencies through your contributions to the Lagos State Security Trust Fund.
Distinguished ladies and gentlemen, I am grateful for the contributions of organisations and individuals that have continued to partner with us in the quest to build an effective security infrastructure in Lagos and I urge you to do more. As for those who are yet to come on board, remember that "when it rains, it falls on everybody's house".  And to security agents who risk their lives on a daily basis on our behalf, especially those we are honoring today, please accept our sincere gratitude for your unrivaled sacrifice.
Finally, I thank the Chairman, Mr. Oye Hassan-Odukale, and Board of the Security Trust Fund for the exemplary work you have done and for the transparent account of the funds entrusted to you. This has gone a long way in creating confidence in the eyes of our donors and encouraged them to do more.
I wish to use this opportunity to reiterate the commitment of this administration to make our State safe and secure only for all law abiding citizens, individuals and corporate bodies. We shall not relent in our efforts to ensure proper and adequate equipping of our security agencies to ensure we deliver a safe, secure and prosperous Lagos.
I thank you for listening!
Akinwunmi Ambode
Governor of Lagos State
December 11th, 2017