As Lagos joined the rest of world to mark this year's International Women's Day celebration, wife of the Lagos State Governor, Mrs. Bolanle Ambode has called for the removal of barriers impeding the progress of women in the country.
 Speaking at the Women's Day celebration held at the Police College,  Ikeja,  Lagos on Thursday, Mrs. Ambode said womenmust be ready to challenge stereotypes and should rise up to question old established practices that were not women-friendly.
 "We must remove barriers that stand in the way of the progress of women.  When we stand together, we can achieve anything and any obstacle can be pulled down.
 "We must nominate and support women for emerging opportunities, whenever they arise. Supporting one another is a duty we owe and must carry out every time for women to move on, "she said.
 The First Lady said though grounds remained to be covered, women must not lose sight of where they were coming from, hence the need to celebrate their achievements always.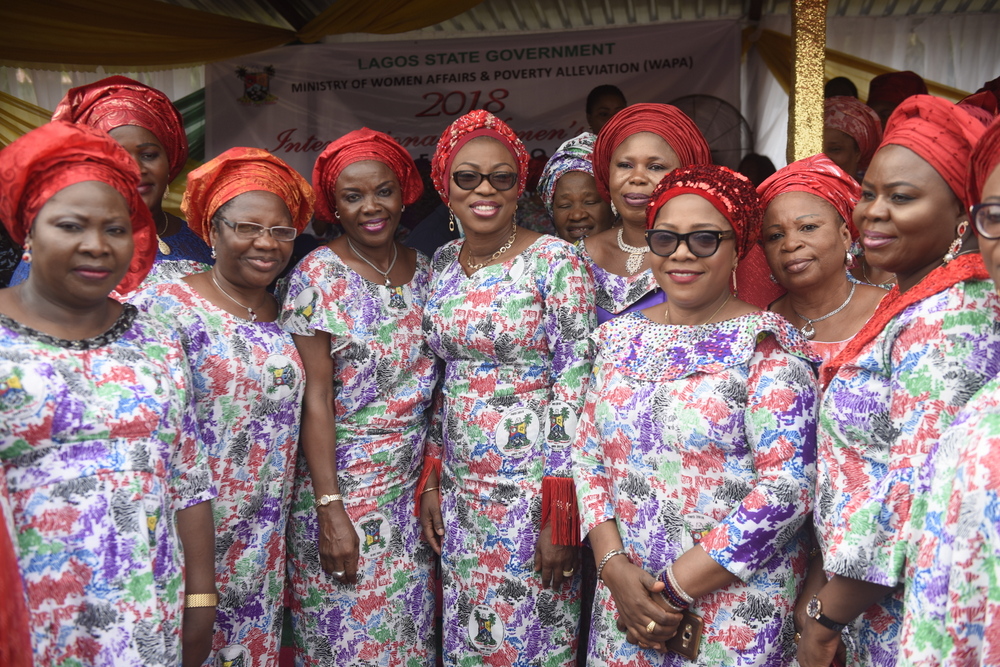 Mrs. Ambode stated that the theme of this year's celebration, "Press for Progress" was suitable as it gave assurance of greater successes as women pressed further.
She identified literacy, health, economic empowerment, politics and governance, as areas of noticeable success for women, stressing that they served as impetus of courage for women to press further for progress.
 The Governor's wife  submitted that while gender parity would not be achieved overnight, it certainly would not take eternity.
 Also speaking, Lagos State Governor, Akinwunmi Ambode reiterated his administration's commitment to protect and uphold the dignity of women in the State.
 "We will continue to give maximum support to all agencies and institutions established to promote the welfare and economic empowerment of women. In line with our administration's inclusive policy, we shall continue to provide equal opportunities for all citizens without prejudice to gender and socio-economic background.
 Ambode, who was represented by the former Secretary to the State Government, Princess Aderenle Adeniran-Ogunsanya said the theme of the celebration was apt as it reminded women of the need to be steadfast and not relent in advocating for positive change and moving forward in all areas of human endeavour.
 "Beyond the traditional role of home keeping as mothers and wives, there is a lot women can contribute to national development. It is an indispensable fact that some progress have been made over the years as a result of sustained advocacy by government institutions, and most especially, non-governmental organisations.
Commissioner for Women Affairs and Poverty Alleviation, WAPA, Dr. Lola Akande charged men to make commitment to wage war against domestic violence and all forms of discrimination against women.
 She also implored them to be ambassadors in the campaign to restore fully, the dignity and rights of women, seeing them as partners in the task of raising successful children from peaceful and progressive homes.
In attendance were Chief (Mrs.) Kemi Nelson, APC Southwest Women Leader; State Exco members, body of permanent secretaries,  chairmen of Local governments, COWLSO members, Artisans, market women, different political groups, etc.
March 8 every year is observed worldwide as International Women's Day, to celebrate the achievements of women, beam the searchlight on challenges facing them and to push global activism for total women's emancipation.