…Empowers 2,000 Others, Organizations With Grants, Assistive Technologies, Mobility Aids
Lagos State Governor, Mr. Akinwunmi Ambode on Wednesday announced that in line with the promise he made at a recent Town Hall Meeting held in Ojo, the State Government would soon distribute letters of employment to 250 persons living with disabilities who would be deployed to the State Civil Service as well as the Local Government Areas and Local Council Development Areas (LCDAs).
The Governor also in furtherance of his promise to run an all-inclusive government, distributed various assistive technologies, mobility aids and financial grants to 2,000 persons living with disabilities and Non-Governmental Organizations (NGOs) involved in taking care of such categories of people.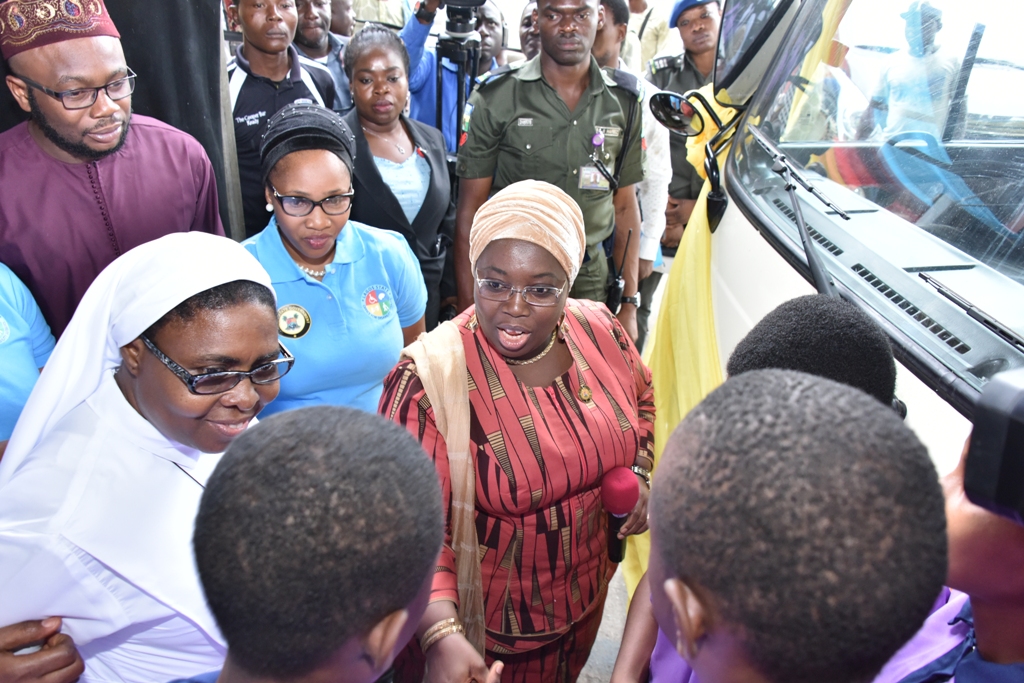 Items distributed included brand new 30-seater Hyundai and 12-seater Hyundai Buses, 500 White Canes, 1 Index Express Embosser with Duxbury Braille Translation Software, 10 Accessible Desktop Computers With Jaws Screen Reader, 20 Tactile Metric Sets, 100 Taylor Frame, 60 Magic White Boards, 6 Magnetic Boards, 300 Wheel Chairs, 50 Special Wheel Chairs (Rough Riders for people with Spinal Cord Injury), and 25 Computer sets for people living with hearing impairment.
In addition, 10 NGOs dealing with issues of disability in the State were given N500, 000 each as grants, while 500 people with disabilities received N100, 000 each as financial empowerment.
Speaking at the presentation ceremony held at De Blue Roof, LTV8 in Ikeja, Governor Ambode, who was represented by the State's Deputy Governor, Dr Idiat Adebule, said the development was a major testament to the commitment of his administration to demonstrate in practical terms the commitment to ensure an all-inclusive government and to empower persons living with disabilities to become wealth creators and employers of labour.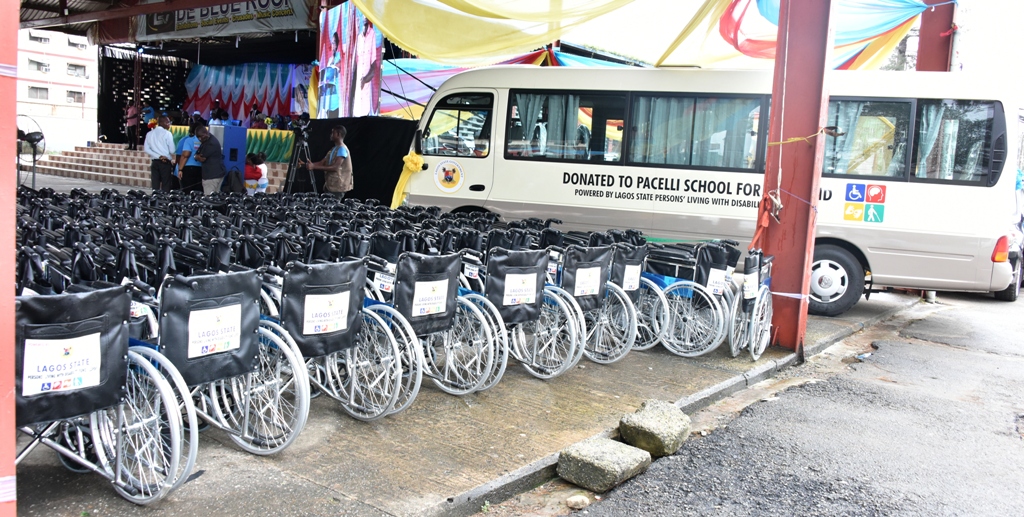 He said: "To reinforce our determination to support persons living with disabilities to realise their dream, a N500million Trust Fund was established last year on the first anniversary of this government for the welfare of persons with disabilities in Lagos State. This was followed with the inauguration of a board to ensure judicious management of the Fund.
"Today, we are witnessing the presentation of this Fund to the first set of beneficiaries. Our focus is to move away from the previous charitable orientation of empowerment towards a more socially and economically oriented approach of enablement that will make people living with disabilities to become wealth creators and employers of labour.
"For the first phase of the programme, we are presenting vehicles, equipment, funds to enable individuals, homes and NGOs take charge of their future, start businesses and create wealth for themselves," Governor Ambode said.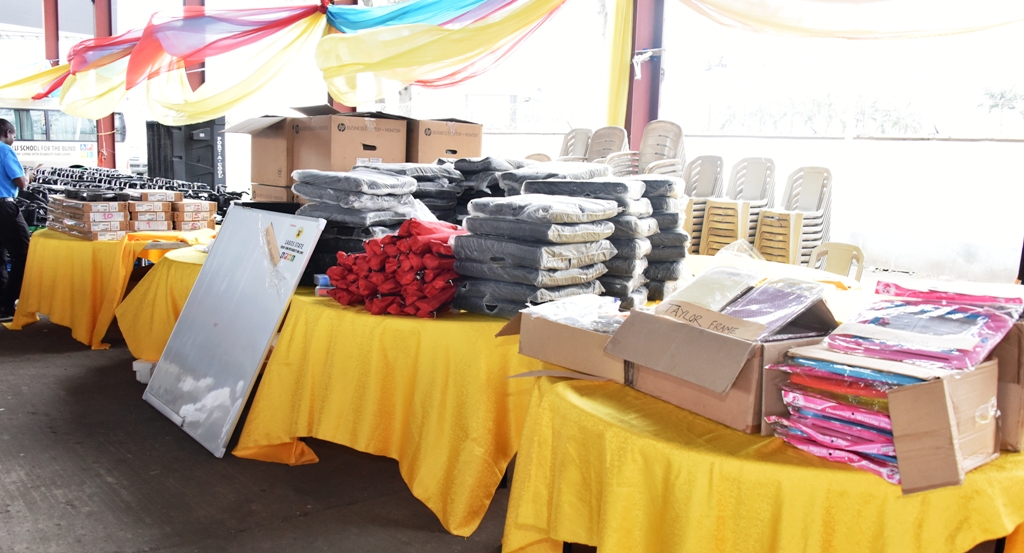 While congratulating the beneficiaries, the Governor urged them to remain strong, steadfast, committed to their enterprise and make judicious use of the items and funds given to them, saying that their success would go a long way in changing the perception of those who are skeptical about their abilities.
The Governor also assured those yet to benefit from the Fund that the scheme would soon get to them, just as he charged members and governing board of the Lagos State Office of Disability Affairs (LASODA) to work harder to ensure that greater number of people are supported under the programme before the end of the year.
Besides, Governor Ambode said: "Let us use this opportunity to assure all that in fulfillment of the promise made during the Town Hall Meeting at Ojo, 250 people with disabilities will soon receive letters of employment into the State Civil Service as well as Local Government and Local Council Development Areas (LCDAs) across the State.
"We are already leading the way and it is my expectation that individuals, private and corporate entities will partner with the State Government by contributing generously to the Trust Fund."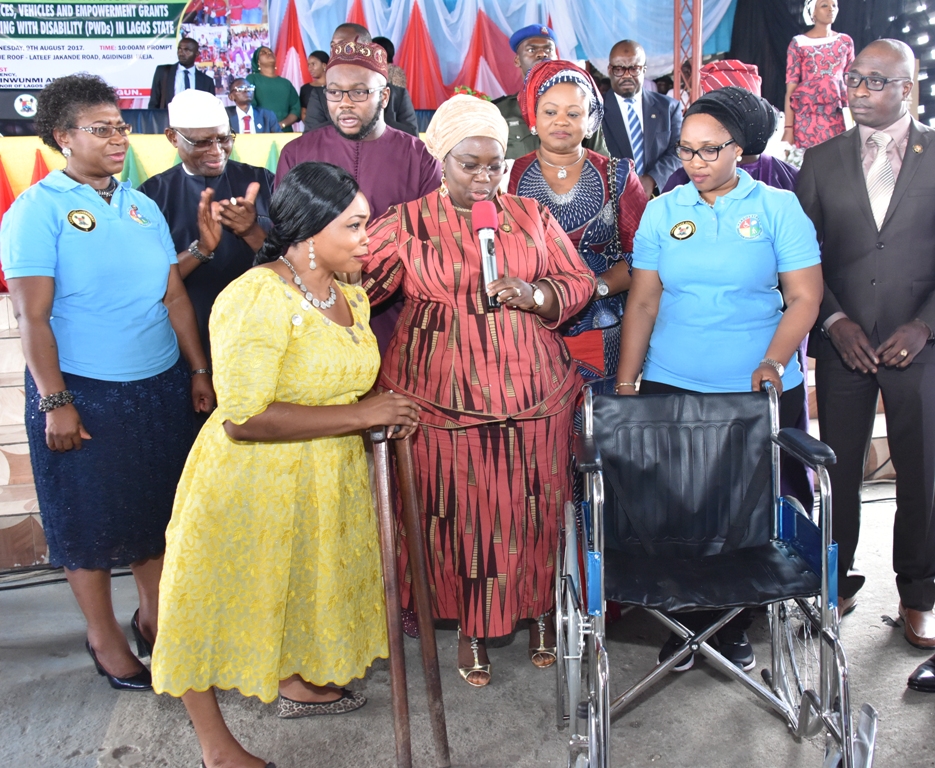 Speaking on behalf of the beneficiaries, Principal of Pacelli School for the Visually Impaired/Blind located in Surulere, Sister Jane Onyeneri said the gesture by Governor Ambode was highly commendable coming at a time the country was grappling with economic challenges.
She said by the development, Governor Ambode had demonstrated that "he is a man of his words and ready to fulfill whatever promise made to the people."
Also, Chairperson of Joint National Association Of Persons Living With Disability, Lagos State Chapter, Deaconess Beyioku Alasa and Mainland Coordinator of People Living With Disabilities, Mr Kehinde Oshilaja, commended Governor Ambode for his commitment to the welfare of people with disabilities, saying that the development had indeed proved that the Governor is a man of integrity who is always ready to fulfill whatever promises made.