…Distributes Cash, Skill Support Equipment, Others
To celebrate the 2017 International Widows' Day, wife of the Lagos State Governor, Mrs. Bolanle Ambode on Thursday empowered at least 103 widows across age category with financial assistance, equipment support and skills training programme, during an event organized by her foundation, Hope for Women in Nigeria Initiative, HOFOWEM, at Oregun, Ikeja.
Empowerment materials distributed to the women included deep freezers, industrial gas cookers, photocopiers, grinding machines, embroidery machines, professional cameras, refrigerators, whipping machines and ovens, bag sewing machines, grinding machines, among others.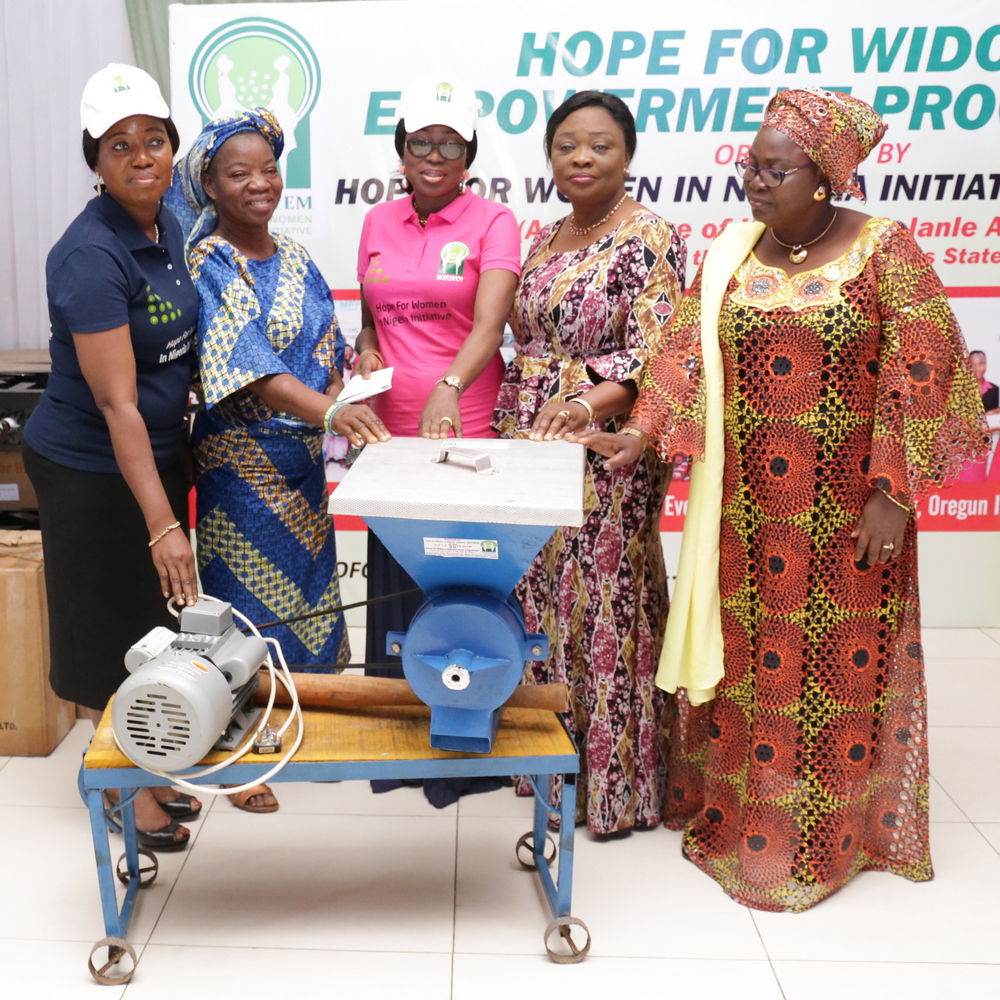 Speaking at the event, Mrs. Ambode noted that her foundation was established with the overriding objective of addressing major challenges confronting women and children, including poverty.
She said widows as some of the most vulnerable in society, needed support, hence the move by the foundation to empower them for self-reliance towards earning regular personal income.
According to her, "We had carefully studied the situation and discovered that this category of persons is the hardest hit by social circumstances around them. This is the reason our Foundation is focusing on them namely: the children, women, widows, the youth and the aged women".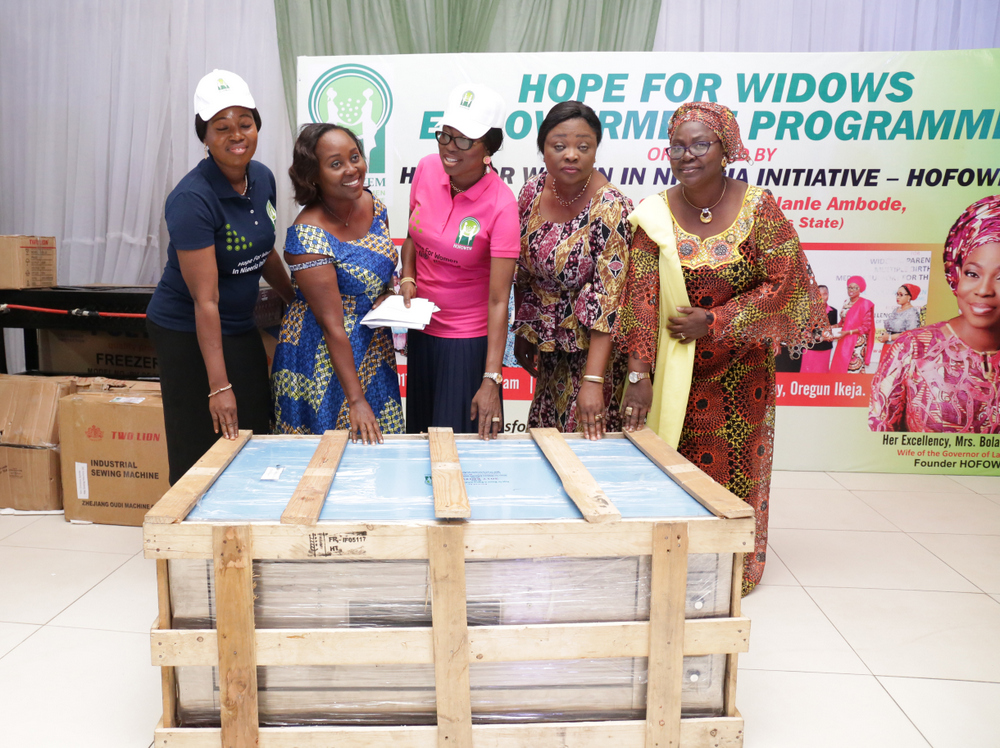 "Some days back, the world celebrated the 2017 edition of the Widow's Day and to commemorate this, HOFOWEM decided to raise the stakes, packaging this programme for 103 widows still in their active years. This is to help them have a means of income", she said.
Speaking further, she said the foundation decided to enlist the relatively younger widows for training in skills of their choice, to go with monthly allowance and would be supported with business equipment upon graduation, while the other two categories of women would get equipment support or financial assistance to expand their businesses.
'This arrangement is designed to guarantee for you a stable means of income, to help meet your needs, those of your children, as well as your loved ones. It is hoped that this will bring more self-confidence for you, joy into your hearts and smiles to your faces', she remarked.
Mrs. Ambode counseled the widows not to confuse their path with their destination.
She said, "To the beneficiaries, I live you with these words of encouragement, do not confuse your path with your destination. Just because it is stormy now does not mean you aren't headed for sunshine. Always believe that something wonderful is about to happen to you. Never give up hope".
The Governor's wife, who thanked Power Oil and the Bank of Industry for collaborating with the foundation, as well as individual and corporate supporters, stressed that the foundation was working to complement the children and women-friendly programs of the state government.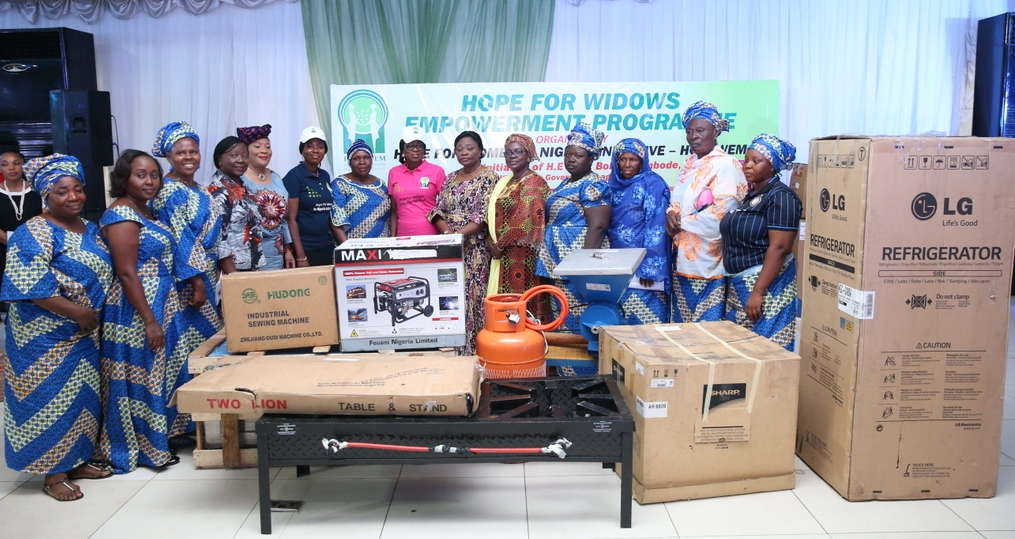 Earlier, Chief Executive Officer of the foundation, Ms. Oyefunke Adeleke, who thanked the founder for approving and supporting the empowerment programme, recalled the several challenges facing widows, promising that the foundation would continue to seek succor for them as it had done in the past.
According to her, "At HOFOWEM, we believe in putting smiles on the faces of those we come across and this we would continue to do, especially with the less privileged in our society. Everybody deserves somebody who makes them look forward to tomorrow. And that is who we are at HOFOWEM, providing the shoulder to lean on".
While educating the women on their rights under the law, Mrs. Omotola Rotimi, listed various forms of social infraction and widow abuses against them contrary to law, adding however, that they should always approach relevant agencies of the state government, for legal help towards redress for free of charge.
She said, "The greatest weapon of war against all forms of abuse is speaking out. Once a victim develops the courage to speak out and seek help, the problem is half solved. This is because without the victim there will be no war to fight".
For help, she urged the women to approach the Office of the Administrator-General and Public Trustee; Directorate of Citizen's Rights; Office of the Public Defender; Family Court; Ministry of Women Affairs and Poverty Alleviation; the Police or call emergency numbers 08036256457, 07032165181, 112 or 767.
Commissioner for Women Affairs in the State, Hon Lola Akande, Mrs. Susan Akande and Mrs Eniola Akinsete in their remarks urged the women to take advantage of the various skill acquisition centres in the state and the financial support to be provided by Bank of Industry at zero interest.
Responding on behalf of the beneficiaries in an emotion-ladden remarks Mrs. Celestina Osundiya, commended Mrs. Ambode for what she described as her thoughtfulness, kindness and unequalled passion to improve the welfare of less privileged persons.