The duo of Miss Oladunni Akisanmi and Master Agwu Victory James, have bagged the second edition of the annual university scholarship award of the education endowment fund, of the Hope for Women in Nigeria Initiative (HOFOWEM), pet project of Mrs. Bolanle Ambode, wife of the governor of Lagos State.
Presenting the scholarship at the HOFOWEM office, Oregun, Mrs. Ambode commended the students for excelling in the selection process and for their brilliant performances in their school certificate examination and the Joint Admission Matriculation Examination (JAMB).
According to her, "I congratulate you for your brilliant performance at all levels of your examination. I do not want you to lose focus, but to intensify your effort. This is just the beginning, you need to concentrate on your studies, shun bad peer group influence, be good ambassadors of your families and schools and make us proud too".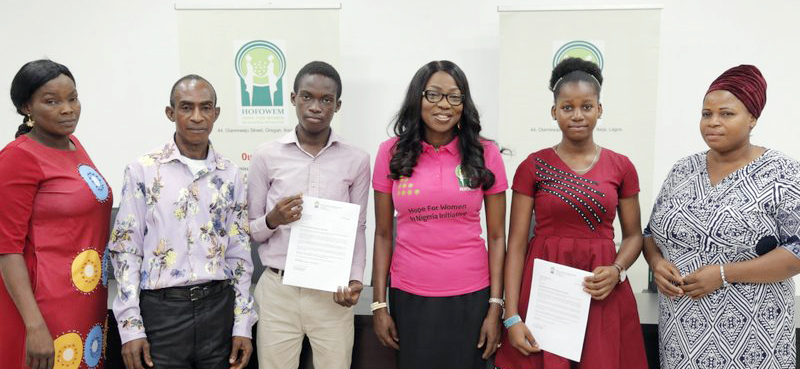 She noted that the scholarship aside of funding the education of the bright students, would serve to encourage others that are financially deprived, to pursue their dreams with diligence.
She said, "The scholarship scheme was established to encourage indigent but brilliant underprivileged students in public secondary schools in Lagos State, to pursue degree programmes of their choice in any Nigerian higher institution of learning. It is to encourage serious students that being financially deprived is not the end of a dream".
While urging them to continue to pursue their dream and aim at being the best they can be, she hinted that courses supported by the scholarship were those that addressed critical societal issues like engineering, environment, food and security, education and public health among others.
Mrs. Ambode disclosed that the HOFOWEM Education Scholarship Scheme, would continue to fund the tertiary education of indigent brilliant students in Lagos state, in the spirit of the Sustainable Development Goals (SDGs), which specifically called for more scholarships for human capital development.
While appreciating the founder and HOFOWEM education team, the duo expressed joy that finally their efforts were not in vain.
They pledged to be great ambassadors, adding that the hope rekindled by the foundation would not diminish neither would they give up on any challenge.
Speaking on behalf of the parents, Mr. Agwu Sunday reflected that they had given up on how to fund the education of the children despite their brilliance, noting that the intervention of the foundation changed the story.
The HOFOWEM Education Scholarship Endowment Fund, gives annual scholarship to fund tertiary education of brilliant but indigent students in public secondary schools in Lagos State, in any Nigerian higher institution of learning.