…Says Centre Will Give Hope Of Survival To Sickle Cell Victims
Lagos State Governor, Mr. Akinwunmi Ambode on Monday pledged the support of the state government to see to the completion of the Bone Marrow Transplant Centre at the Lagos University Teaching Hospital (LUTH), which will go a long way to save the lives of those suffering sickle cell disorder.
The Governor spoke when the Chairman, Sickle Cell Foundation Nigeria (SCFN), Professor Olu Akinyanju and National Direction and Chief Executive Officer of the Foundation, Anneite Akinsete, paid him a courtesy visit at the Lagos House, Alausa, Ikeja, where he was adopted as the Patron of the Sickle Cell Club, Lagos, Nigeria, a position only previously occupied only by former Governor of Lagos State, Asiwaju Bola Ahmed Tinubu.
Commending the Foundation for intervening and providing succor to victims of Sickle Cell in Nigeria, Governor Ambode expressed optimism that the establishment of the Centre will be a major breakthrough, saying that the state government will provide support in line with the cardinal programmes of his administration to touch as many lives as possible.
"I want to say that I am surrounded by people who have sickle cell disorder, so I understand the depth of what you are doing. In my private life, I have also tried to touch lives, but again I want to commit officially here that we would support the establishment of that Bone Marrow Stem Cell Technology, even though it's in LUTH, Lagos state as part of our own contribution, we would make sure that it takes off next year".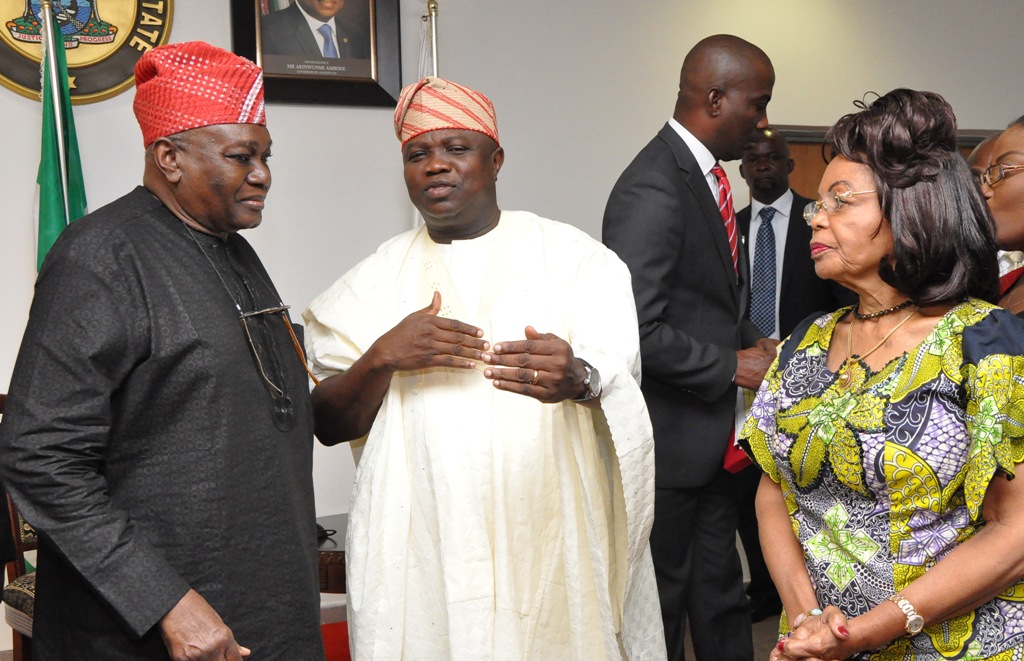 "The reason is very simple; we've already sent like five patients to Rome and have come back and that technology has proven that we can go away from our past belief always thinking that people with sickle cell are condemned to death. But this new technology is a proof that we can save lives. As far as this is situated in Lagos, we as a government must ensure that everyone who visits that centre, somebody's live must be saved and we are committed to doing that", he said.
The Governor also thanked the Foundation for deeming it fit to adopt him as a Patron of the Lagos Sickle Cell Club, saying it was for him, a great honour to be accorded the privilege to contribute his own quota to alleviate the sufferings of sickle cell victims.
"I know what sickle cell disorder means to the average Nigerian family. Like you rightly pointed out, every extended family in Nigeria is affected by this and for a non-governmental organisation to come up and be in existence for almost two decades with the strides that you have actually articulated in the speech speaks volume about your level of commitment and your need to touch humanity which is something that also touches me".
"Whatever it is that we have had in terms of partnership with the ministry of health, we are going to scale that up because I know that it is not only on your own level that we can form relationship but relationship that brings value and a win-win situation to all of us. I know that doing that, we would have been doing that major assignment given to us by God and that is touching humanity and I want to thank you greatly for bestowing this honour on me", he said.
Earlier, Professor Akinyanju said the visit to Governor Ambode was to commemorate his adoption as Patron of the Sickle Cell Club Lagos and also solicit for continued partnership and support of the state government, saying it will go a long way to benefit victims of the disorder and their families.