Wife of Lagos State Governor, Mrs. Bolanle Ambode on Tuesday stressed the importance of relaxation for healthy living, just as she urged the people to embrace such in the interest of living healthier and longer.
Mrs. Ambode, who spoke in Lagos at the 2015 Christmas Family Fun Share organized by the Lagos State Parks and Gardens Agency (LASPARK), said much as Lagosians love their jobs and businesses as hardworking people, it was equally important for people to cultivate the habit of relaxation so as to live longer and healthier to enjoy the money they have worked for.
The programme, which took place at the Ndubuisi Kanu Park, Mobolaji Johnson Avenue in Ikeja, was organized by LASPARK in conjunction with Ourkraft Ventures.
While declaring the programme open, Mrs. Ambode said as the people are relaxing and having fun especially in this festive season, they must be vigilant and keep an eye on their belongings, especially their children.
She recalled that LASPARK surfaced a few years ago to transform the landscape of the State, as well as the relaxation habit of Lagosians, adding that the agency had effectively and diligently carried out its mandate.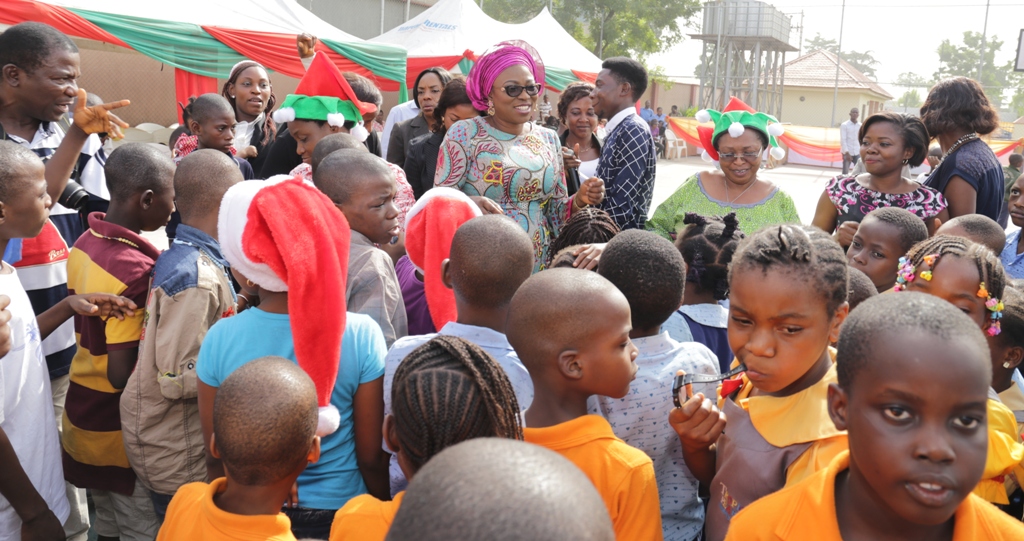 "This mandate, it (LASPARK) has so diligently carried out as evident in the constantly changing landscape of the State, courtesy of the alluring parks and gardens that dot the loops and corners, which were once neglected and abused."
"The direct result of this is the equally changing attitude of Lagosians to fun and relaxation."
"After the hustle and bustle of these months, it is only necessary that we unwind and relax with members of our family, hence this Family Fun Share. To us, family means putting your arms around each other and being there for each other," Mrs. Ambode said.
Earlier, the Managing Director of LASPARK, Dr. Mrs Titi Anibaba thanked Mrs. Ambode for coming out to mark the event with the children just as she urged Lagosians to take out time during the yuletide period to share happy moments with their families and friends.