Lagos State Governor, Mr. Akinwunmi Ambode on Friday said that the State Government would no longer tolerate any form of child abuse, domestic violence, child trafficking or violation of any law on the development of children in the state warning that perpetrators would be dealt with in accordance with the provision of the law.
Governor Ambode who was speaking at the Children's Day celebration organised by the Lagos  State Ministry of Education at the Police College ground, Ikeja said that in the recent times, there  has been  a noticeable increase in child abuse,  raping, kidnapping , deliberate neglect  and above all, child trafficking   in the country.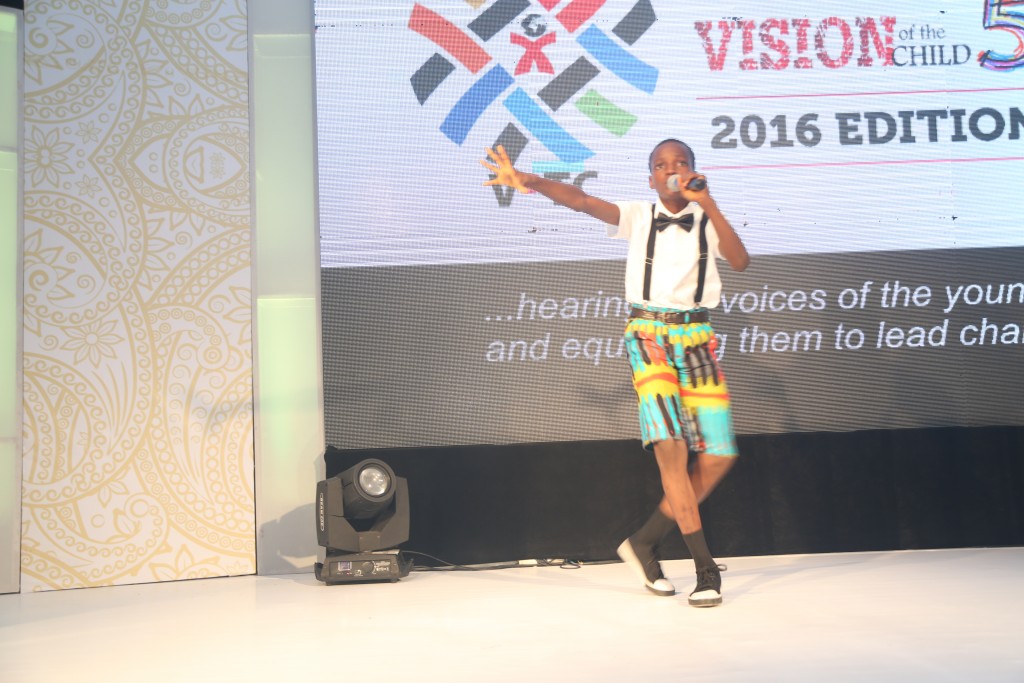 The Governor who said that these acts constitute serious criminal offences warned that his government would not tolerate any of these acts in any part of the state.
He therefore warned perpetrators of these acts to desist as his government is battle ready to deal decisively with anyone caught in the act. The governor expressed sadness that this criminal act is becoming a norm in our society today rather than being an aberration.
Governor Ambode who was represented by his deputy, Dr. Idiat Oluranti Adebule disclosed that recent findings from Violence against Children (VAC) survey indicated that children under the age of 18 in Nigeria are being abused in the society, most especially by those that they refer to as their family members.
The Governor while assuring children that his administration has taken a holistic approach in protecting them against an abuse or unjust treatment, disclosed   that security operatives have been put on the alert to arrest and prosecute anyone that abuses or infringes on their fundamental rights.
"My beloved children, let me assure you all of our determination and commitment towards ensuring that anyone who engages  in any form of abuse and violence against any child shall be appropriately dealt with under the law'' the governor warned.
He reminded them that his administration has demonstrated its zero tolerance for child abuse, kidnapping or violence against children with the prompt approach taken to recover three kidnapped students of Babington Macaulay Seminary, Ikorodu.
He assured that not only that he would ensure that those  behind the act are  legally dealt with, he has directed all security operatives including the police to provide security around all public schools in the state to forestall a re-occurrence.
Describing the theme of the year 2016 Children's Day celebration: Stop Violence Against Children as instructive, the governor stated that his administration is investing heavily in creating a conducive environment for them to develop their talents.
He said, "A testament of our government commitment to your future and nurturing of your talents is the budgetary provision of the sum of N113.3billion in the year 2016 budget for the education sector''.
While congratulating them for the success of the celebration, Ambode urged children to work harder and be focused in their academic pursuits so that government huge investment in their education would not be a waste.
On her part, wife of the Governor, Mr. Bolanle Ambode said Lagos State has continued to lead from the front in placing priority in the well being of children, however adding that there was still more grounds to cover in several areas.
Mrs. Ambode who was represented by the wife of the Secretary to the State Government, Professor Ibiyemi Bello, commended the activities of various women and children-interest Non Governmental Organisations, saying that they have done much in the area of promoting public awareness on child rights, as well as challenges facing them.
"However, I urge them to intensify efforts in the area of campaign against domestic violence and child marriage. These are unacceptable social evils that have simply refused to disappear from our society," Mrs. Ambode said.