The Year 2017 remains a significant year in the history of Lagos State as we celebrated our Golden Jubilee anniversary colourfully and successfully. The year provided an opportunity not only for celebration but also for significant progress in our drive to becoming a globally competitive economy.
I want to sincerely thank all Lagosians, our leaders, statesmen and citizens for their superlative support thus far, most especially our tax payers throughout Year 2017.
In the outgoing year, we changed the face of Lagos for good in spite of the economic, social and security challenges as our investment in critical infrastructure development paid off and are visible across the length and breadth of the State.
Although the Nigeria economy is still fragile and just coming out of recession, commitment to our people made us work harder to deliver results as we continue our reforms to ensure a safer and more prosperous Lagos. Today, we are proud to say that our collective efforts and transformations have contributed immensely to the improvement of Nigeria's ranking in the World Bank's Global Index on the ease of doing business.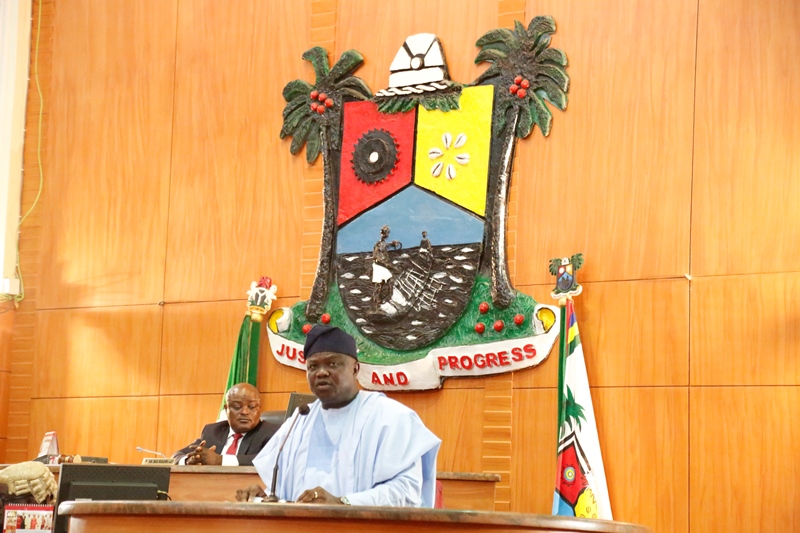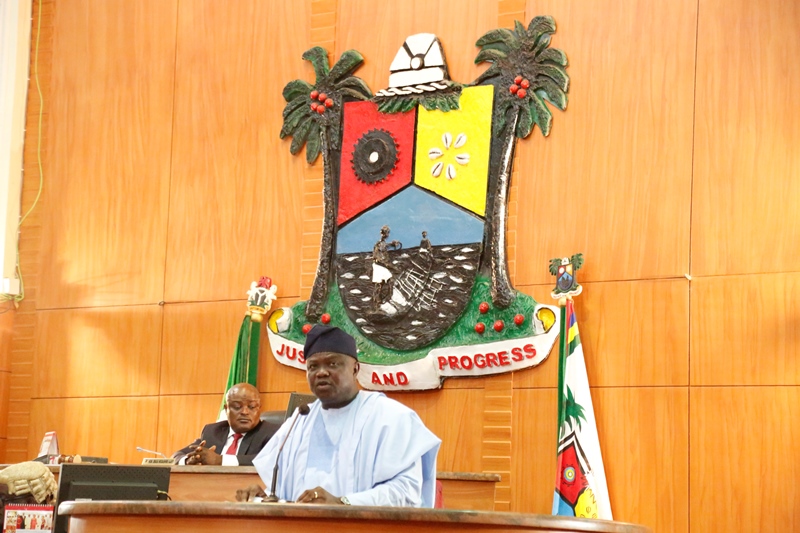 To get a clear picture of the economic challenges that have confronted our government, it is necessary to restate some important indicators. Crude oil prices have been dwindling from $US100.40 in 2014, $US 52.65 in 2015, $US43.81in 2016 to $US46.39 in 2017. Exchange rate increased from N156.44 in 2014 to N305.24 in 2017. The impact of this has been a sharp reduction in the inflow from the (Federal Government) Federation account and a huge increase in the cost of project delivery.
Despite this situation, our government has been able to initiate and deliver more high quality and high impact projects; more than ever before. We have achieved this using a mix of astute financial management and prudency; increasing our internally generated revenues, adequate allocation of resources across all sectors and an all-inclusive governance approach.
It is significant to note that our administration has not contracted any new external loan to fund our projects since assumption of office. We have only completed transactions which were already in place before we assumed office. This administration inherited external loans from various past administrations which make up 60% of all our loans. This figure is made up of some loans that have been running since 1989, about 30 years ago; and were contracted at an average of N80 to $US1. Today these loans are being repaid at an average rate of N305 to $US1 translating to 205% increase in the loan repayment rate.
The State has incurred huge exchange losses on its external loans this year, 2017. The exchange loss represent 35% of the State external loans stock due to exchange rate slump of the Naira from N197.50 to $1 to N305 to $1. This is one of the side effects of an economy in recession.
Irrespective of these losses, it will be inappropriate to say that Lagos State has a high debt burden when situated with the level of development and infrastructural growth enjoyed presently by the State. We are certain that the loans have continually been used for the wellbeing of all Lagosians.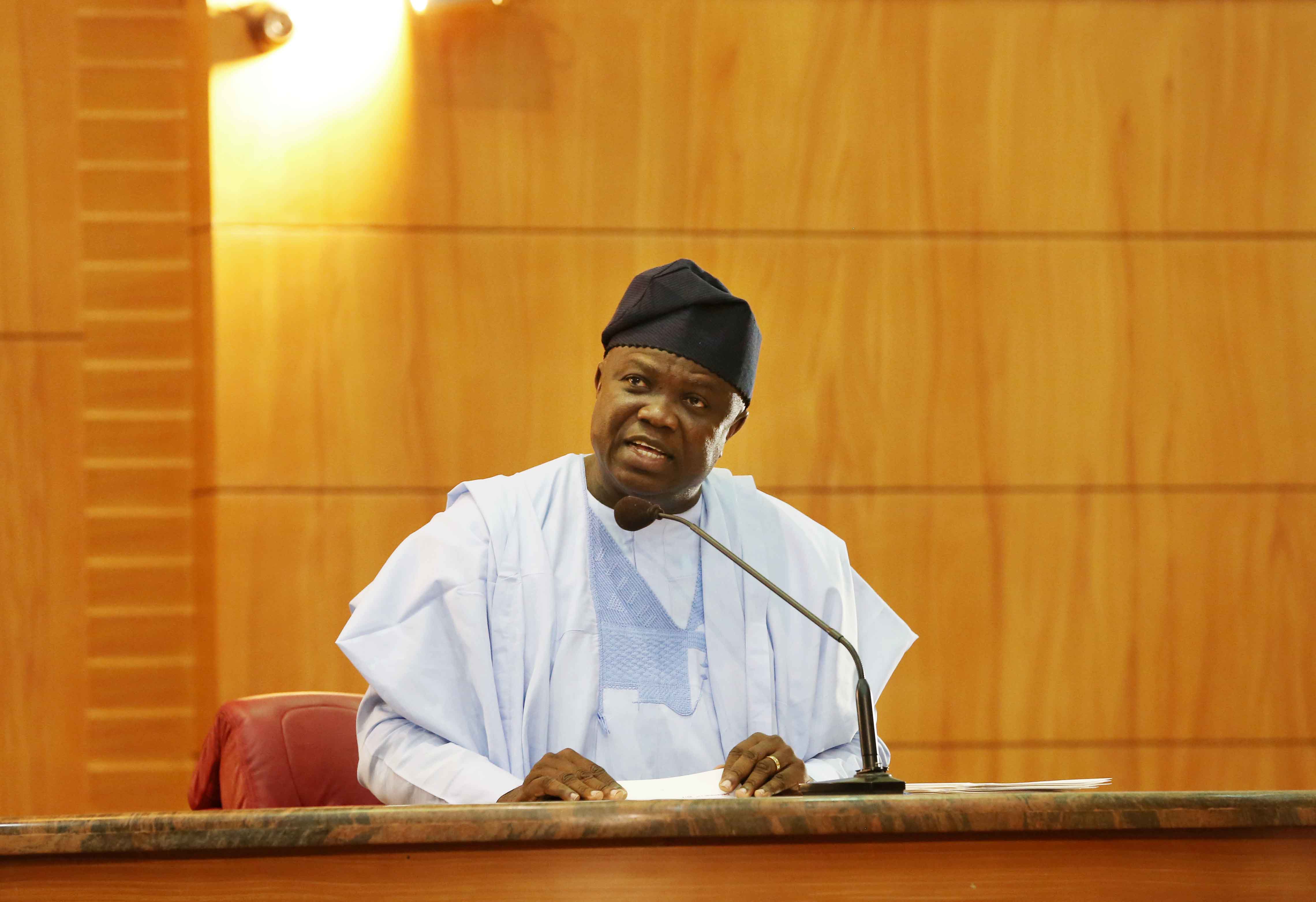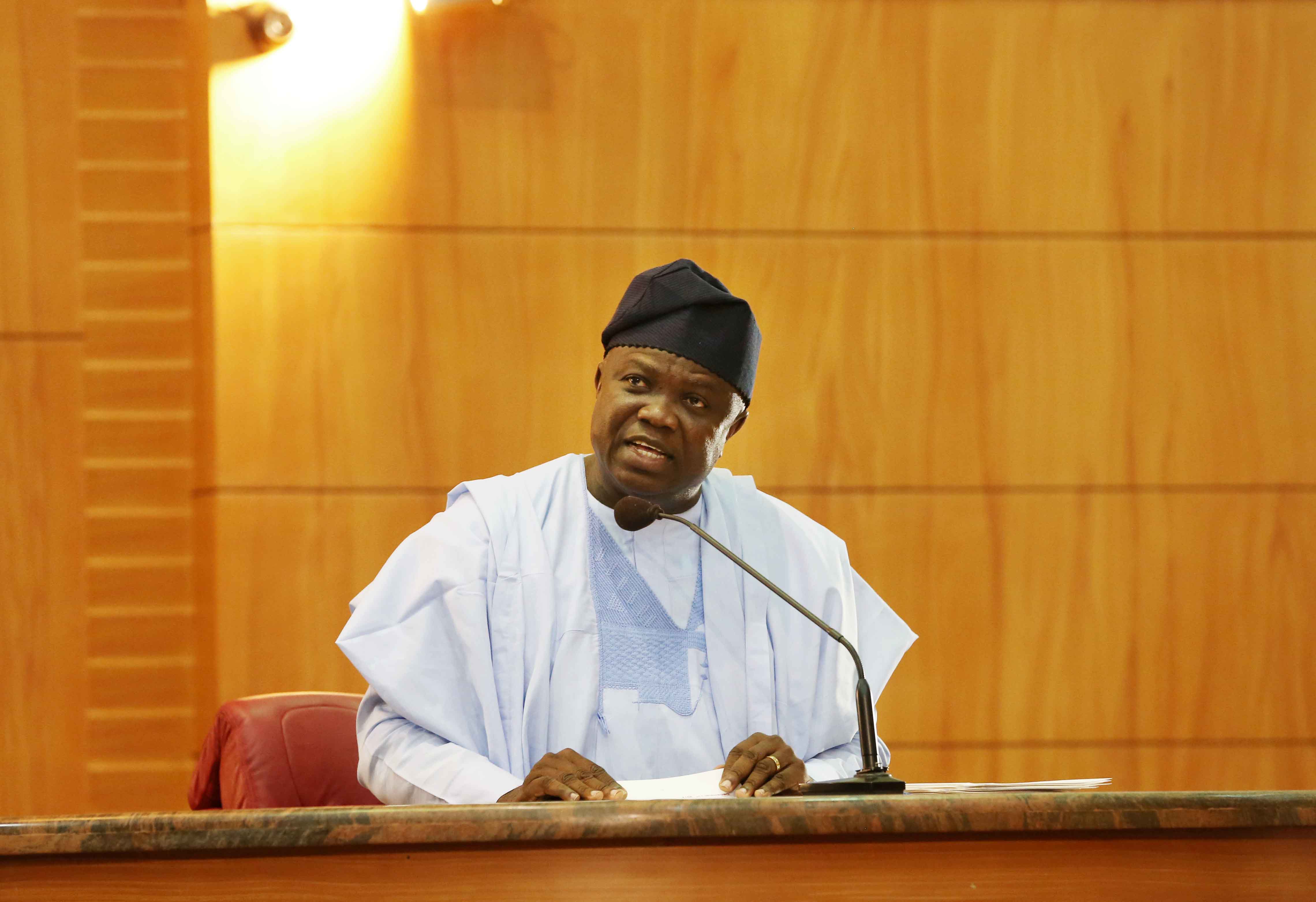 Despite the additional burden arising from devaluation of the Naira, our debt service ratio remains very strong on the back of our impressive revenue performance. The State's net debt stock of N874.38bn represents just about 3% of the State GDP, while the Debt service charge to Revenue ratio stood at 15.61% compared to 13.32% in 2016 and 12.45% in 2015. I am proud to report to you that, today, your State remains financially strong and the most vibrant economy in the Nigerian landspace.
As part of the State's commitment to fiscal sustainability we have continued to ensure that our deficit financing of capital projects remain within global benchmarks and our ratings internationally and locally have reflected our prudent management of public finance.
The Year 2017 Golden Jubilee budget of N812.998billion was approved and signed into Law on January, 9th 2017 to fulfill the expectations and priorities of our people. As at November 2017, the 11 month period Revenue performed at N448.396bn/76% compared to full year's performances in 2016 of N449.609bn/83% and N399.382bn/82% for 2015.
Suffice it to say that the overall budget performance stood at 74% as at November 2017 and it is projected to close at 80% by the end of the year 2017.
The State average contribution to the National Gross Domestic Product (GDP) from 2015-2017 remains strong at about 30%.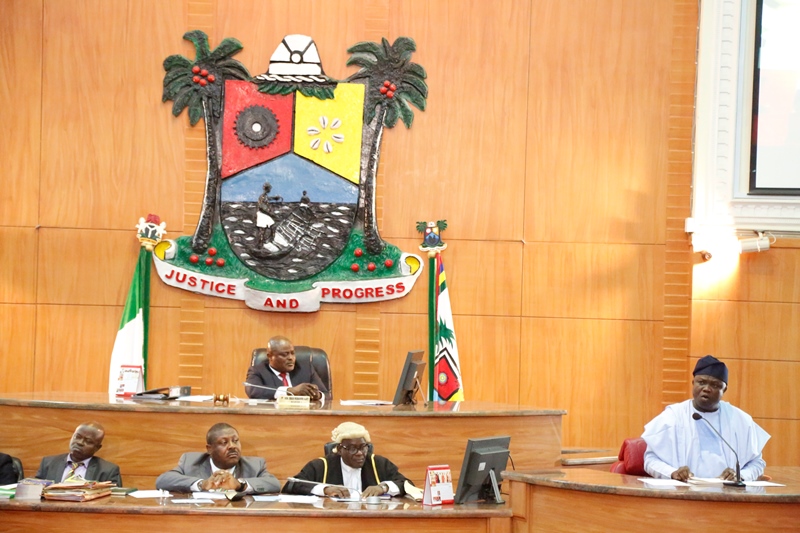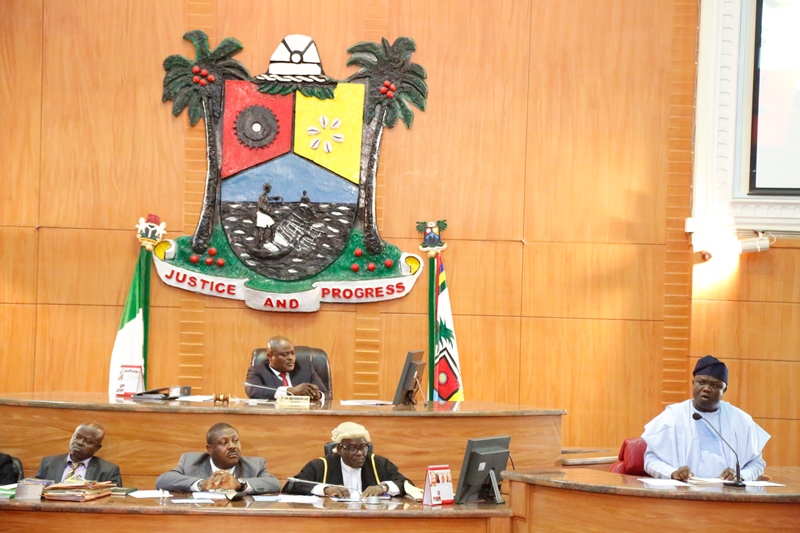 Mr. Speaker, Honourable Members, distinguished guests, ladies and gentlemen, despite our modest achievements in 2017, there is still much work ahead and we must not relent in our efforts to give our people the best by way of continuous and efficient service delivery. Lagos has always been a trailblazer and we must consolidate on the economic gains made so far by initiating people-friendly programmes and projects that will attract more economic improvement in Y2018.
It is our resolve in Y2018 to strive and complete all on-going projects in order to meet their specified completion period and embark on new strategic projects. We intend to improve on our Internally Generated Revenue (IGR) in the face of the dwindling accruable revenue allocation from the Federal Government, sustain our vision on wealth creation and poverty alleviation.
The proposed Y2018 budget christened 'Budget of Progress and Development' has a size of N1, 046,121,181,680 (N1, 046tn). The budget will be used to consolidate on infrastructure, education, transportation/traffic management, security and health with an added emphasis on mandatory capacity building for civil servants, all teachers in public secondary / primary schools, officers in the health service sector and women & youth empowerment alongside our Medium and Small/Micro Size Entrepreneurs (MSMSE's).
The proposed budget amount represents an increase of 28.67% over Y2017 budget with the following key components:
Recurrent Expenditure                            – N347.039bn
Capital Expenditure                                – N699.082bn
Capital/Recurrent Ratio                              – 67:33
The estimate of total revenue for year 2018 is N897.423billion of which N720.123billion will be generated internally. A total of N148.699billion will be sourced through deficit financing within our medium term expenditure framework.
Our investment in new technology and the reforms put in place will galvanize the efficiency of our revenue collection from our citizens.
The highlights of sectoral allocation for Y2018 include;
S/N
COFOG
Y2018 Proposed Budget
Total
Allocation
%
Allocation
1
General Public Services
171,623,009,348
16.41
2
Public Order and Safety
46,612,667,911
4.46
3
Economic Affairs
473,866,339,451
45.30
4
Environmental Protection
54,582,814,610
5.22
5
Housing and Community Amenities
59,904,562,576
5.73
6
Health
92,676,040,222
8.86
7
Recreation, Culture and Religion
12,511,216,257
1.20
8
Education
126,302,213,428
12.07
9
Social Protection
8,042,317,877
0.77
 
Total
1,046,121,181,680
100
In 2018, economic affairs will continue to dominate and get the largest allocation of the budget as there is a lot to be achieved in the coming year.
Mr. Speaker and Honourable Members, it is our desire to maintain the tempo of continuous construction, rehabilitation, upgrading and maintenance of network of roads throughout the length and breadth of the State including those within the boundaries of Lagos and Ogun States.
With the favourable weather conditions prevailing now, this year's Local Government Roads totaling 181 will be commenced as contractors will be mobilized immediately.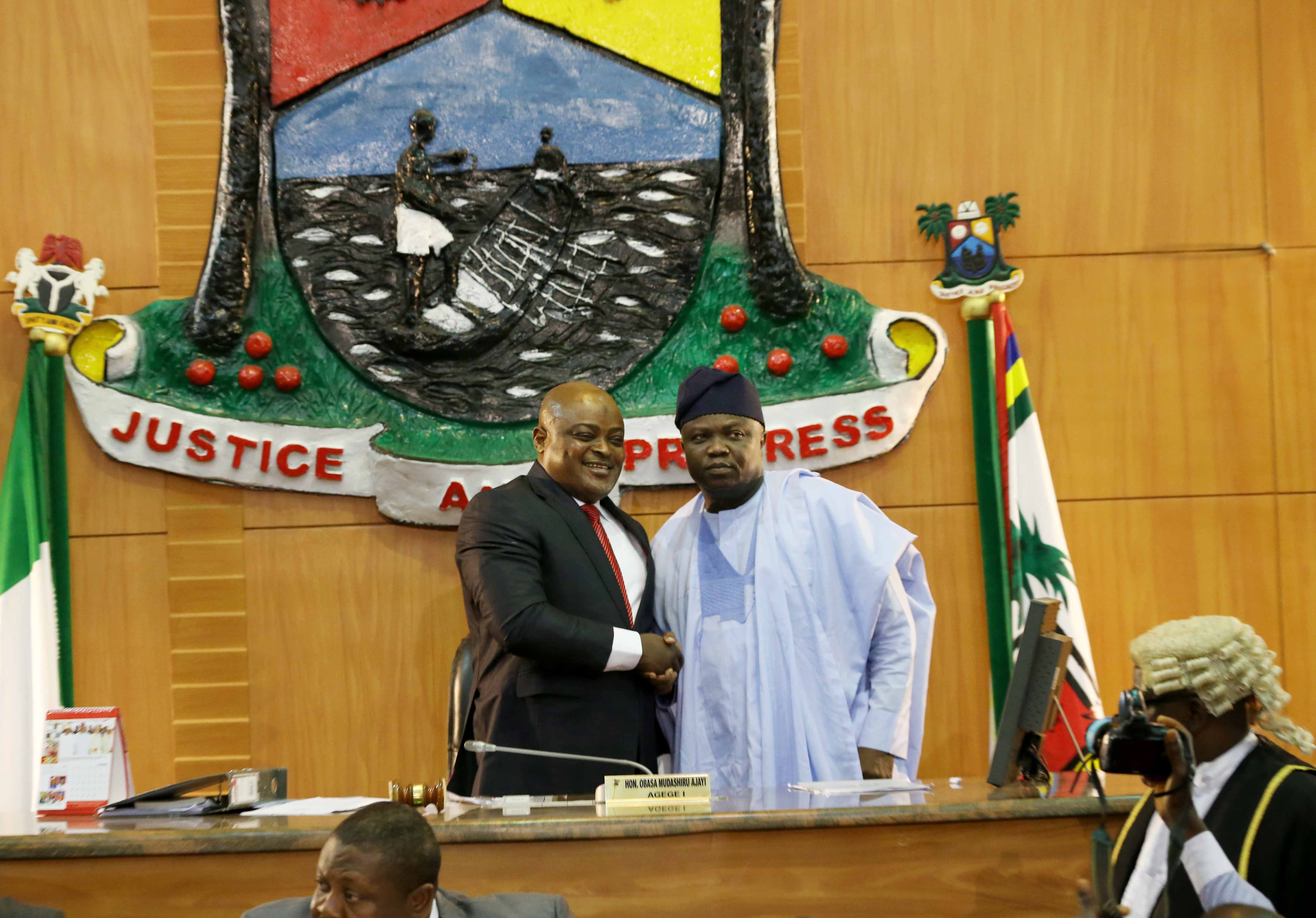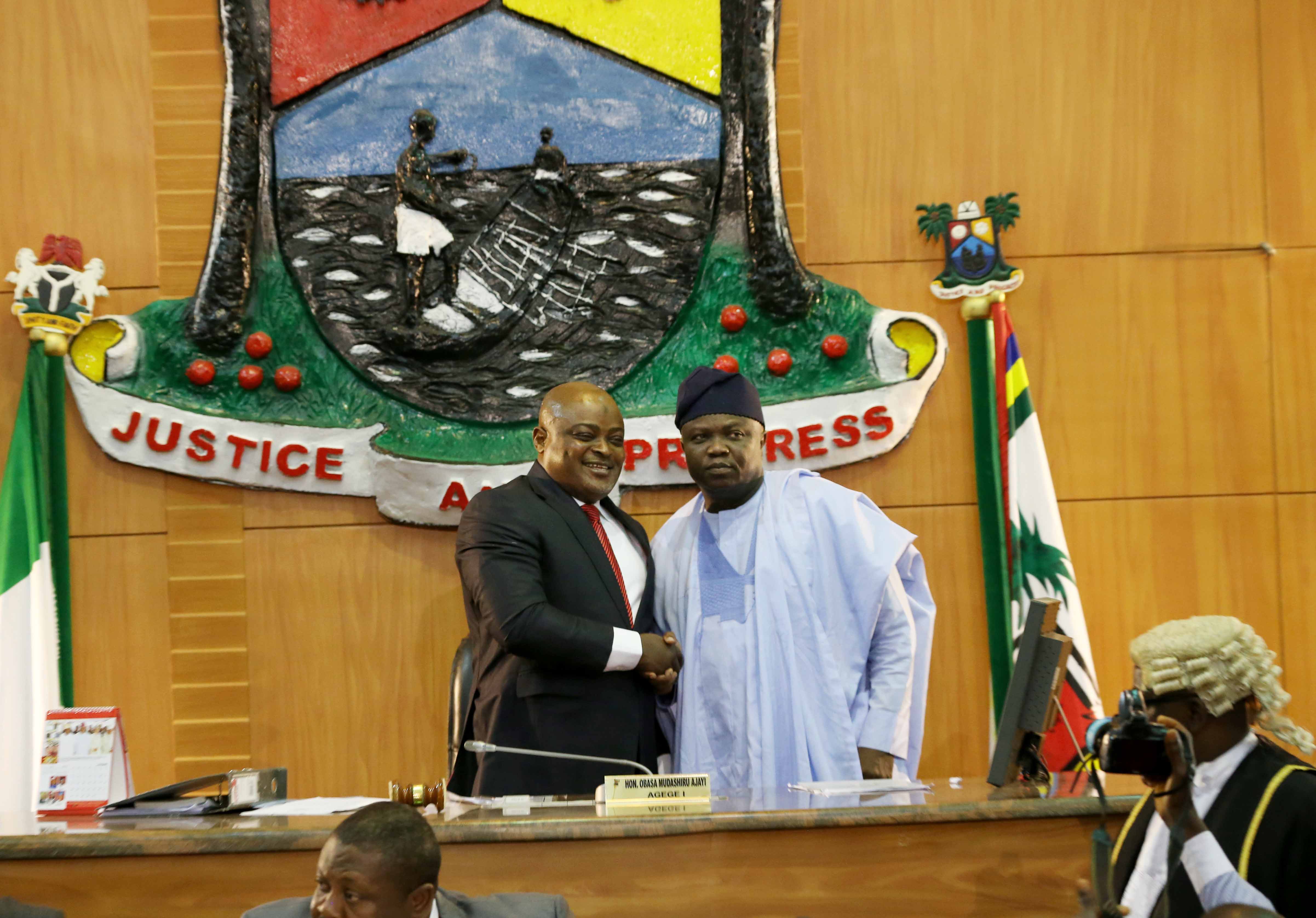 We have made provisions for continuous gridlock resolution, junction improvement, construction of more laybys and advancement of signalization that will improve traffic congestion especially along the Lekki-Epe corridor.
Other key projects that we have provided for include:
The Agege Pen Cinema flyover,
Alternative routes through Oke-Ira in Eti-Osa to Epe-Lekki expressway,
The 8km regional road to serve as alternative route to connect Victoria Garden City (VGC) with Freedom Road in Lekki Phase I.
Completion of the on-going reconstruction of Oshodi International Airport Road into a 10-lane road
The BRT Lane from Oshodi to Abule-Egba
We will consolidate on the Lagos bus reform project with the introduction of high and medium capacity buses, construction and completion of bus depots at Oshodi, Anthony, Yaba and many more.
In the area of job creation, we will construct an ICT Focus Incubator Centre in Yaba while the development of Imota and Igbonla Light Industrial Park as well as the provision of additional small scale industrial estate at Shala will commence. The State Employment Trust Fund will disburse more funds to Lagosians to support business and stimulate the economy.
From feedback of Lagosians, more emphasis will be placed on the successes already recorded by the Employment Trust Fund to get more of our unemployed youths into gainful employment.
The process leading to the movement of Mile 12 market to Imota which commenced in Y2016 has reached an advanced stage and we will complete the infrastructure in the new location in good time to pave way for relocation next year.
We will vigorously pursue our planned direct intervention in the power value chain towards generating 3,000MW Embedded Power Programme; a 3-year plan to achieving 24/7 power supply for the State. The challenge of inadequate power supply must be resolved for our economy to perform optimally and we believe the provision of this essential utility can no longer be left in the hands of the Federal Government alone to solve. We must complement each other for the overall development of our nation.
We will continue to rekindle our efforts in the area of Tourism, Sports, Arts and Culture by ensuring that our objective of making the State the tourism, sporting and entertainment hub of our nation is conscientiously pursued. In order to achieve this we will focus on these projects:
Completion of the 5 new Art Theatres in Alimosho, Ikorodu, Badagry, Epe and Ikeja.
Establish a Heritage Centre at the former Federal Presidential State House recently handed over to our government
Build a world class museum between the fomer Presidential Lodge and the State House, Marina.
Fast-track construction of the proposed 4 new stadia in Igbogbo, Epe, Badagry and Ajeromi Ifelodun(Ajegunle).
Complete the on-going Epe and Badagry Marina projects that will turn both areas into world class destination for tourists and adventure seekers.
We are mindful of the housing needs of the citizens that is why we are poised on completing all on-going housing projects especially those at Gbagada, Igbogbo, Iponri, Igando, Omole Phase I, Sangotedo and Ajara-Badagry for delivery to our subscribers under the Rent-to-Own policy of this administration.
Distinguished Guests, Ladies and Gentlemen, this budget has something for everyone, young and old, man or woman, including the physically challenged in line with our vision of making Lagos work for all. We shall also make massive investments in the area of Healthcare, Health Insurance, Education, Food Security and General Public Service.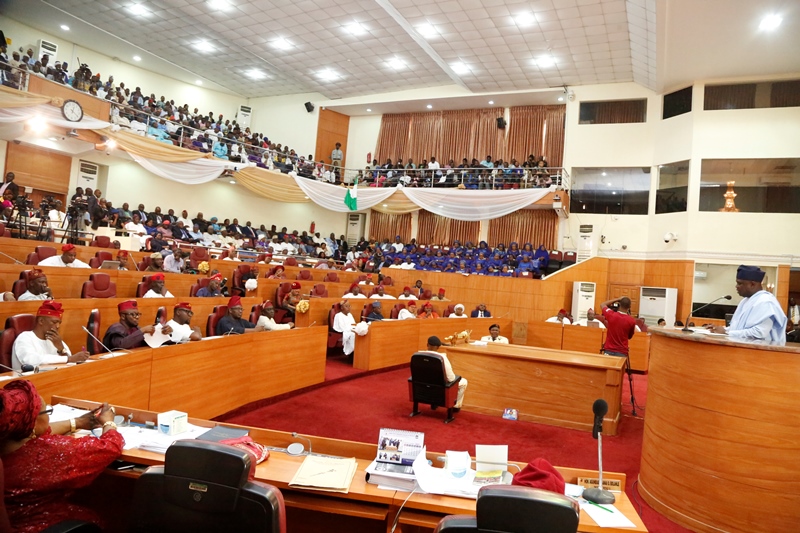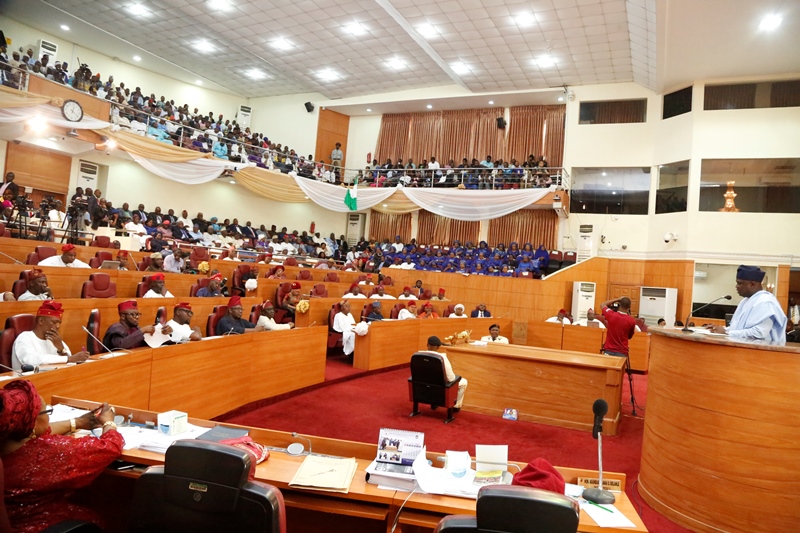 I want to use this opportunity to acknowledge the cooperation and support received from the citizens of Lagos, members of the Business Community, Professional Bodies, Non-governmental Organizations and the State Civil Servants in years past. We thank you all for the support while soliciting for your continuous collaboration.
Our modest achievements so far had been made possible by the citizens that have been paying their taxes willingly and faithfully. It is expedient for me therefore to appeal to all our citizens and corporate entities to perform their civic responsibility by paying their taxes as and when due.
As we commence our Cleaner Lagos Initiative Programme, I strongly appeal to all citizens to embrace the Public Utility Levy that will commence in January 2018 for a cleaner, healthier Lagos.
The success of the proposed 2018 budget will rest on our commitment to succeed, drive to be self -sustaining and accelerate growth in both infrastructural and economic reforms, through revenue enhancement especially on fiscalization of consumption taxes, re-enactment of Land Use Law and implementation of physical planning regulations amongst others. As a result, we all have a huge responsibility at ensuring that the 2018 budgetary estimates become a reality as we take another giant stride in the history of our sustainable fiscal responsibilities.
In line with our tradition, the Honourable Commissioner for Finance will provide further breakdown of the proposed Y2018 budgetary estimates to the public later today.
I have left my commendation and appreciation of the House of Assembly for last so that the message of dutiful and selfless work rendered by this Assembly is well delivered. I am yet to see any House of Assembly in the country that is as dynamic and robust as the Lagos State House of Assembly.
Mr. Speaker, we are grateful for your leadership and continuous cooperation with the other arms of government. Honourable Members, I thank you all for your support.
Mr. Speaker and Honourable Members of this hallowed Chamber, our Royal Fathers, Distinguished Guests, gentlemen of the press, Ladies and Gentlemen, I wish you all Merry Christmas and a prosperous Y2018 in advance. Thank you for listening.
Itesiwaju Ipinle Eko Lo Je wa Logun!!
Akinwunmi Ambode
Governor of Lagos State