The governorship candidate of the All Progressives Congress (APC), Mr. Akinwunmi Ambode, has highlighted that Security and the Creation of More Jobs, are the two key areas where his government will focus.
He stated this today as a guest on the "Owuro Lawa" and "Lagos This Morning" shows held at the LTV and Eko FM studios in Agidingbi, Ikeja, Lagos.
The governorship candidate also used the opportunity to inform his listeners about his many other programmes intended to elevate governance in Lagos to another level.
He said, "As a thorough and experienced administrator who has served our dear state meritoriously for 27 years, I am simply determined to continue in that mode of service. I have been accustomed to the values of Leadership since my teenage years, and I believe all of these puts me in a good position to serve our dear state in the next four years".
Speaking about his foray into politics, Mr. Ambode stated that, "I am enjoying the challenge of politics simply because for me, it's being all about service."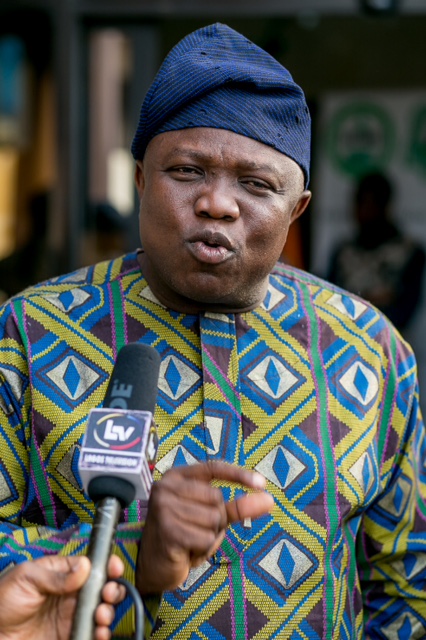 He added, "There has been a paradigm shift in the political landscape, where the expectations of the governed have in way demanded a level of professionalism in the kind of politics we play. And, that has been evident in the way I have run my campaign in the past one year"
On rural development, he added that he intends to reduce the massive urban drift by creating wealth in such areas, "My plans for rural development is basically economic livability and viability, essentially by giving governance back to the local governments, complimenting the activities from the government at the centre", Ambode said.
Ambode also promised to bring reforms that will upscale and inject a new-level of efficiency into the civil service. He added, "I will look into the welfare of all civil servants to the best of my ability".
Ambode identified with the importance of the media and communication in governance and as such promised "huge investments and capacity-building programmes" intended to internationalize the activities of the Lagos state broadcasting establishments.
He went on to link qualitative education to job creation and a thriving economy. He said, "The introduction of technology, vocational and technical curricula into our schools and educational institutions will give needed exposure to our teenagers and youths and then equip them with requirements for a thriving economy, and thus, bridge the unemployment gap. This is what we want in our Lagos".
His final words to his listeners, "I see a safe, secure and more prosperous Lagos driven by qualitative service, equity and justice. I see a Lagos where every Nigerian resident therein will enjoy the fruits of good governance. Keep voting for the APC, and together, we will make our state and nation even greater"