The All Progressives Congress (APC) gubernatorial candidate in Lagos, Mr. Akinwunmi Ambode, today met with the artisans in Ikorodu, a move meant to further intimate them with his plans at making their livelihood better. It was also intended to identify with their concerns and expectations, all of which he satisfactorily addressed.
The different groups of artisans took turns to heap praises on the person of Ambode and the party APC, while also urging him to ensure that the government engages their expertise(s) much more, as that is the only way they can contribute their quota in the development of the state.
In his response, Mr. Ambode noted that his manifesto has provisions to integrate their expertise and businesses into the Lagos economy. In his words, "We have a well-thought out economic master plan that will upgrade and then integrate every business in Lagos, including yours, to form a level of development that will benefit all and bring prosperity".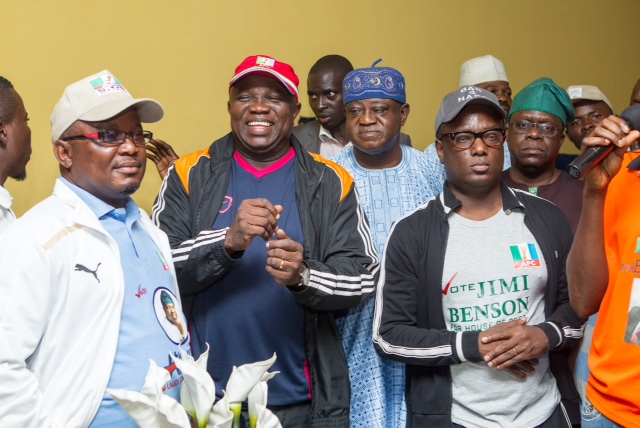 Ambode was thankful of the support shown, and said "the party is ready to even do more, especially when the present government at the centre is "changed", noting that with the believe and their votes, it will be achieved.
Also present at the meeting was Hon Nurudeen Sholaja, the APC Candidate for the Lagos state House of Assembly (LSHA) in Ikorodu constituency II, Hon. Sanai Agunbiade, the LSHA member representing Ikorodu constituency I, and the APC candidate for the Federal House of Representatives in Ikorodu Constituency, Hon. Jimi Benson.
No fewer than 30 different associations were present at the event, many people f which were the Association of Barbers, Vulcanizers, Okada riders, Tricycle drivers, Tailors, Mechanics, the Students, the Ikorodu Division Solution Alliance, the Nigeria Union of Local Government Employees (N.U.L.G.E), the NIGERIAN Union of Journalists, Hair stylists, among others.