It is with the greatest pride that I stand here before you on the occasion of the 50th anniversary of our dear State. I was only 4 years old when the State was created and little did I know that I would be standing, fifty years later, as Governor of God's greatest gift to Nigeria and Africa.
Some years back, I wrote a newspaper article exalting the qualities of our State and its rich history on its 47th anniversary without knowing what laid ahead. It is therefore with the greatest sense of gratitude that I thank God for making it possible for me to partake significantly in this historic celebration of Lagos at 50.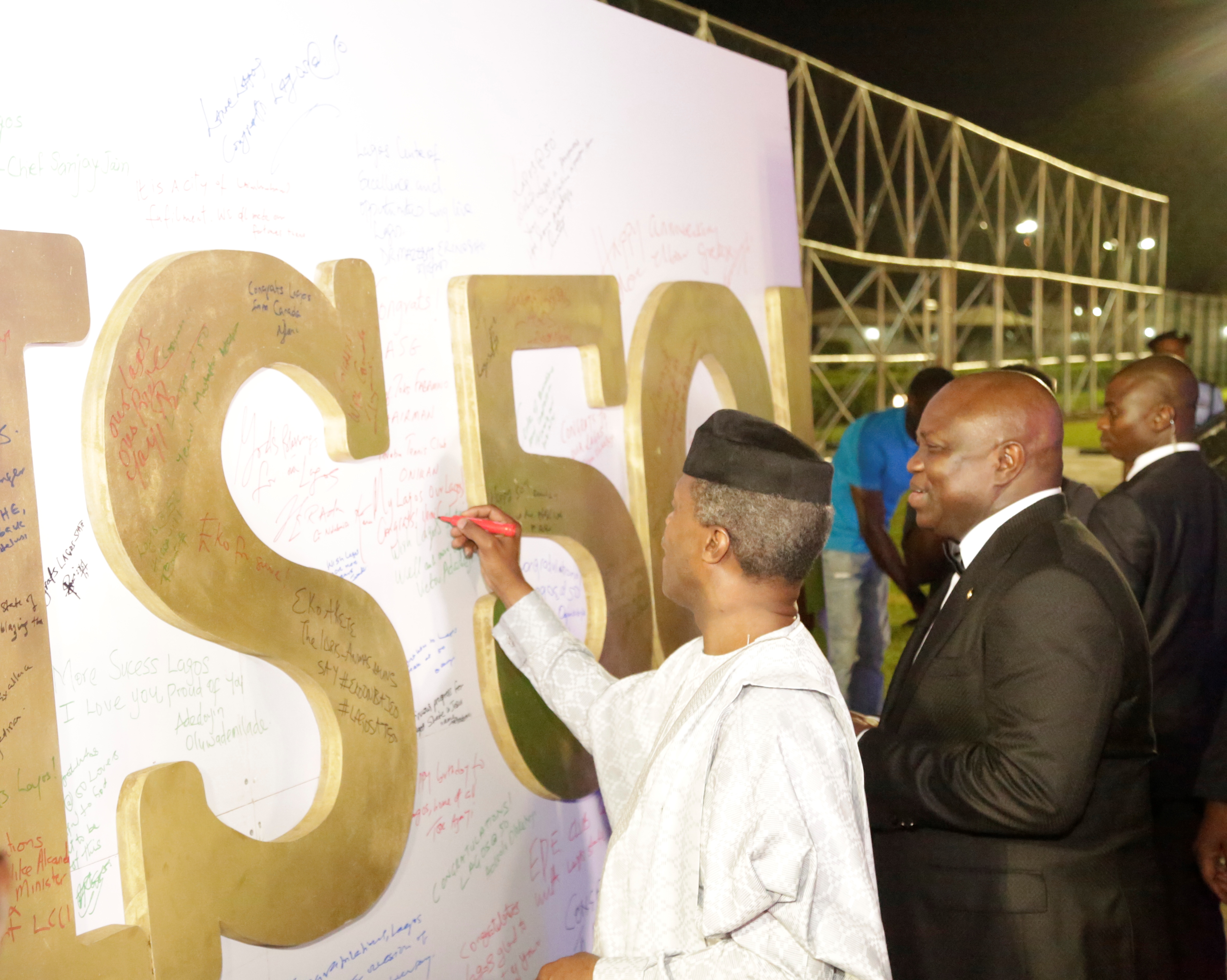 Your Excellencies, distinguished ladies and gentlemen, when you read through the first speech of the first governor of this State, Brigadier General Mobolaji Johnson, you will understand where Lagosians are coming from.
I quote "The Lagos State for which many of you have yearned over the years has arrived. The 27th of May 1967 is a day of which our fathers and mothers in their several ways worked and prayed, not perhaps in so many words, but certainly in their unshakeable belief that the people who live in these areas are entitled to devote their undoubted talents and rich cultural heritage to the development and upliftment of their land and all its peoples, and in their own way."
That entitlement and devotion to use our God-given talents and heritage to develop Lagos is the main reason for our success story. Fifty years after, we look back with gratitude to all our founding fathers and mothers; both living and past heroes and we all say a big thank you to all of you. God bless you always.

Most importantly, we thank General Yakubu Gowon, the then Head of State, who signed the decree that established Lagos State as part of the Twelve States created from the regions and Lagos Colony.
Ladies and Gentlemen, I have attempted to put down a praise poetry for Lagos. What you can refer to as "Oriki" in cultural parlance.
Lagos, the smallest, the richest, the oldest,
Untouched or divided since creation,
Most populous, most prosperous, most cosmopolitan,
A State with vibrant energy and its unique soul;
Highly receptive to both hardworking and lazy people,
Land of Opportunities,
In Lagos, fortune favours the brave;
There are many cities across the world with Lagos as their name;
But our own Lagos is the most promising, centre of Excellence;
Welcome to the capital of prosperity…
Today, as we celebrate 50 years of greatness in Lagos, we are conscious of the fact that we also stand on the cusp of history, and it is our responsibility to make the next 50 years even more productive and memorable, worthy of bigger celebrations by those who will come after us.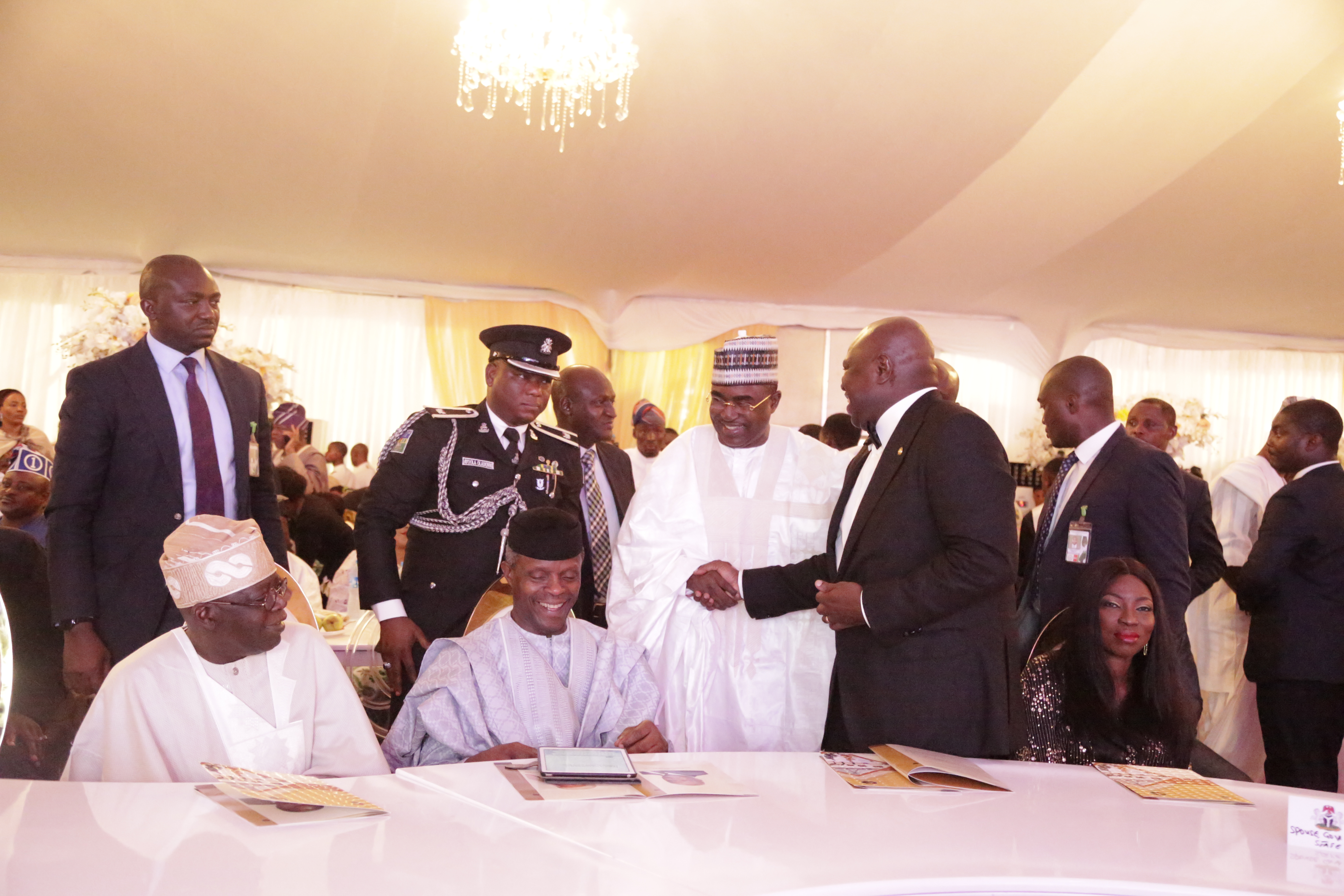 Ladies and Gentlemen, fellow Lagosians, the vision for the future is clear. We foresee a smart city much more in line with the other great cities of the world, where clean and decent living, seamless and efficient transportation as well as sustainable environmental practices are the norm rather than the exception.
Your Excellencies, I join millions of Lagosians to appreciate and commend our past governors, thirteen of them, for their selfless service to the State and the Nation.
I want to sincerely wish Mr. President Muhammadu Buhari, a quick recovery. We all know about his love for Lagos and undoubtedly would have been here if he was around.
To the Acting President, Prof. Yemi Osinbajo, your contributions to the growth and development of Lagos State are legendary. To demonstrate this, you flew in from Italy to be with us tonight. Thank you so much, your Excellency.
To all our fathers and mothers, we cannot be more grateful for bequeathing to us a great State that is destined for global attention.
Your Excellencies, ladies and gentlemen, we are prepared and we are able. We are confident that with today's efforts, we stand on the right side of history – the history of a greater Lagos, as we begin the journey of the next 50 years.
I thank you all.
Itesiwaju Ipinle Eko lojewalogun.