It is my pleasure to be here today at the Twenty-First (21st) Convocation Ceremony of the Lagos State University. I am particularly honoured to be presiding over this memorable occasion as the Visitor to the University. For me, this day provides a unique opportunity to share in this celebration and also have a firsthand assessment of the progress we have achieved in our transformation plan for this University.
I appreciate the effort of the distinguished personalities that make up the Governing Council of this noble institution. I salute the dedication and professionalism with which you have co-ordinated the affairs of this institution.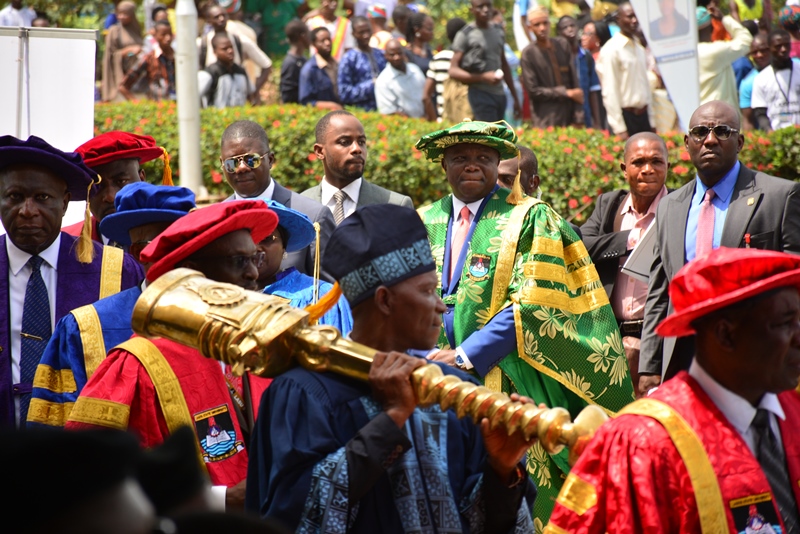 I also commend the University Management team led by the Vice Chancellor, Professor Olanrewaju Adigun Fagbohun for their pragmatic approach to Administration. The result of your efforts to return the Lagos State University to its pride of place amongst committee of Universities is evident for all to see. You have replaced unpleasant news about our institution with fascinating news of all round achievements from both staff and students.
Last year, the National Universities Commission (NUC) ranked the Lagos State University as the 11th best University in Nigeria and the best State University in Nigeria. The next step for us, which is my challenge to the Governing Council, Management, Staff and Students of this University, is to be amongst the best 5 Universities in Nigeria by 2020 and the Preferred University of Choice by 2025.
You will recall that at the 20th Convocation of our institution last year, I made a commitment that our Government will invest massively here and upgrade its status to that obtainable anywhere around the world provided all stakeholders can ensure that peace reigns on Campus. One of the results of that is the accreditation of this institution's School of Dentistry; the only State University to have an accredited School of Dentistry.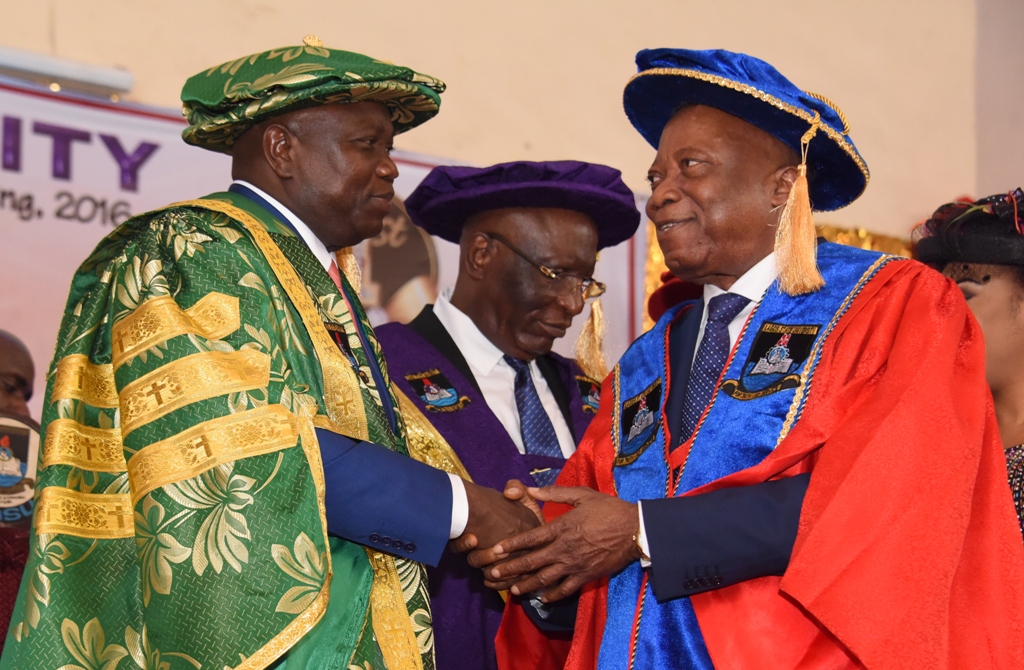 We will continue to invest in physical and social infrastructure in this University. We have many projects nearing completion and these legacy projects when completed will no doubt change the entire overview of the landscape of the university. One of these projects is a PPP arrangement to deliver a 6,000 bed hostel for LASU.
It is worthy to mention that the Lagos State University effectively hosted and provided necessary facilities and equipment for the training of final year students from all our Tertiary institutions in Lagos State during the Thirteen (13) weeks Intensive Training tagged "Ready Set, Work".
This initiative of our Government is aimed at raising future World class Entrepreneurs and Captains of industries from amongst our students. Since it is a continuous programme, I want to implore our students to take it seriously because it is an opportunity that is not readily available elsewhere.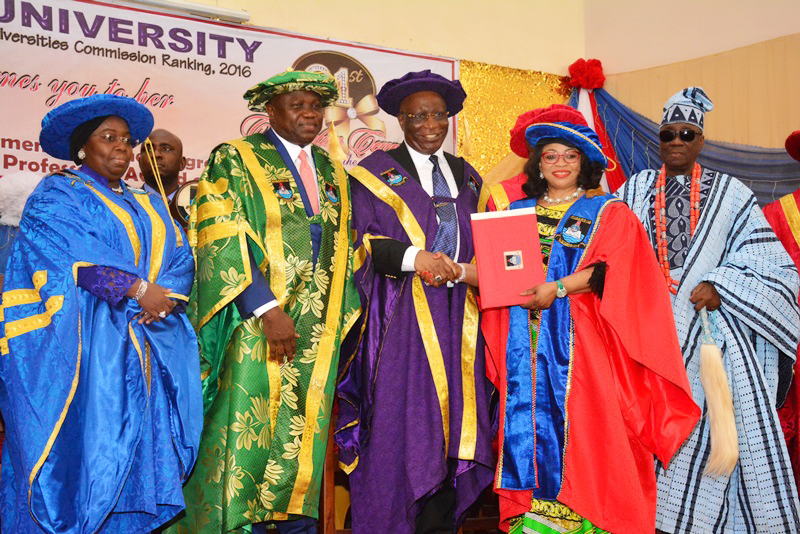 In the 2016 programme, 500 final year students were selected from Lagos State University (LASU) and 100 of them gained internship or apprenticeship placements in companies and SMEs across the State. This year, LASU will have 1,200 participants and in addition, LASU will also be a center for the programme.
With programs such as these, we will continue to develop the capacity of our tertiary institutions to produce graduates who are immediately employable upon entry into the labour market.
Permit me to also use this medium to acknowledge the eminent personalities that are being awarded Honorary Doctorate degrees on this day, Chief Kessington Adebutu and Mrs. Folorunsho Alakija. You are both exceptional individuals who have contributed in no small measure to the development of Lagos State. Going by your track records, you are truly deserving of this award and I say, congratulations.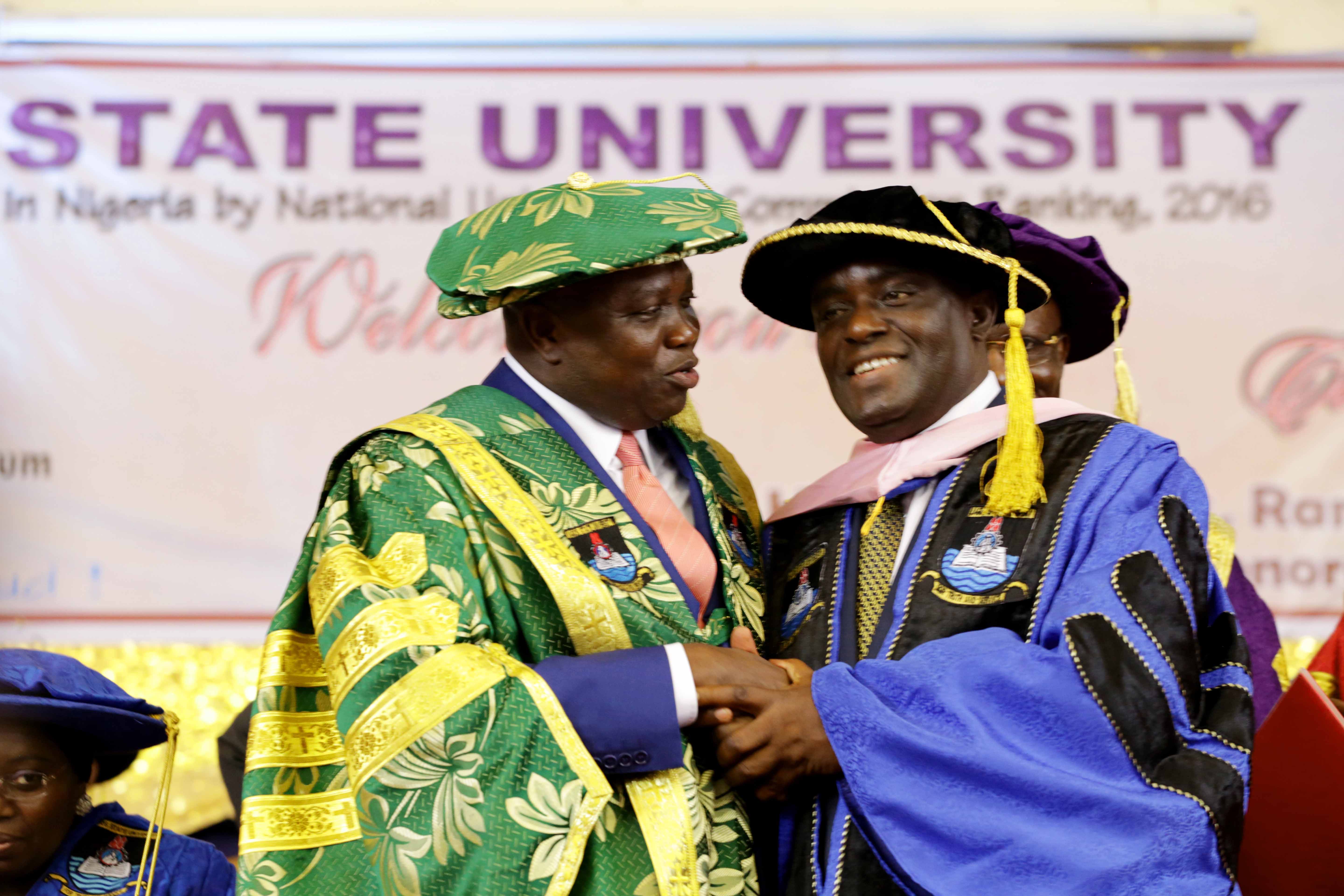 To our distinguished professor, I say more power to your elbow. I pray that God continue to strengthen you in improving the frontiers of knowledge not only in Nigeria but all around the world.
Finally, I congratulate All the Graduands that are today being awarded Higher Degrees (Postgraduate Diplomas, Academic and Professional Masters Degree) as well as the Doctor of Philosophy (PH.D) Degrees. You have been equipped with knowledge to make a difference. I charge you all to go out and conquer the world. Make LASU proud. Make Lagos State Proud. Make Nigeria proud.
I thank you for your attention and God bless you all.
"Itesiwaju Ipinle Eko Lo Je wa Logun"